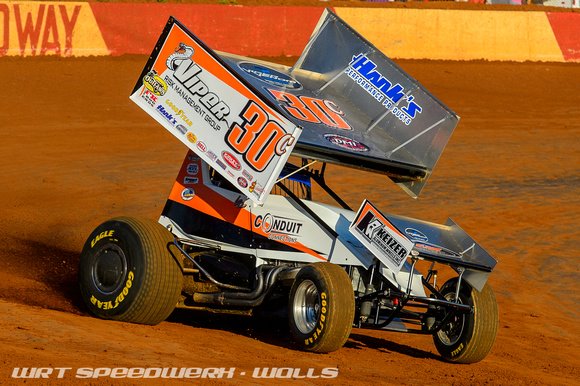 PETERSEN MEDIA
Lance Dewease is in the midst of the busiest part of his schedule, as the veteran driver ran the first half of Ohio Speedweek last week, and has now kicked of the tretourous PA Speedweek this past weekend.
"I'm just blessed to live in this part of the country, and have a team that is capable of racing so much," said Dewease.
On Tuesday night, Dewease concluded his version of the UNOH All Star Circuit of Champions Ohio Speedweek at the Sharon Speedway, an event many competitors wish they had skipped.
"Tuesday night was just awful," he said. "In the feature 20 out of 22 drivers lost tires, including three guys who went through two."
With 43 drivers in attendance, Dewease timed his Viper Risk Management Group/Wings Unlimited/Hank's Performance Products entry in 27th fastest putting him in the third heat race.
A sixth place finish forced Dewease through the semi, where he ran third and got the transfer into the A main.
Lining up 23rd on the grid, Dewease slowly began working his way forward on the very slick and abrasive track.
On the 18th lap, tire troubles began, and Dewease slowly moved up due to attrition, as he nursed his right rear.
On the 28th circuit, Dewease's number was called as he lost a right rear, and was forced to the pits to make a change.
After doing so, he was able to come back out and record an 18th place finish.
"That's never fun racing like that, but there was 23 other cars who had to deal with it as well."
Dewease and his team headed back to Pennsylvania following the race to compete locally at the Williams Grove Speedway on Friday night, before kicking of Pennsylvania Speedweek on Saturday night.
Starting on the pole of his heat race, Dewease faded back to the third spot at the finish , which put him in the ninth starting spot in the feature event.
Dewease was just okay in the feature event as he was able to work his way forward just two spots to finish seventh in the feature.
Saturday night marked the opening of speedweek, and it did not go the way Dewease had hoped.
Timing in 16th out of 30 cars, Dewease was able to score a 5th place finish and transfer into the feature.
Starting in the 16th spot in the feature, Dewease admittedly struggled in the feature as he fought his car, and simply couldn't get going forward.
As Dewease searched around the high-speed facility to find a line that would work, he wasn't able to do so, and ended the night with a 16th place finish.
"That's not the way we had hoped to start speedweek, " said Dewease. "We were absolutely horrible."
Sunday night PA Speedweek took over the Big Diamond Speedway in Pottsville, PA.
Dewease's qualifying effort put him on the front row of his heat race, which he won, lined him up in the eighth spot for the A main.
In the feature, Dewease had a very good car, as he quickly worked his way into the top five.
As the caution waved on the seventh lap, Dewease sat in the fifth spot.
Not getting a great restart, Dewease worked his way up to the fourth spot at the halfway point, where he would go on to finish as he chased Brian Monteith, Danny Dietrich, and Daryn Pitman across the stripe.
"We were pretty good at Big Diamon," Dewease said. "Hopefully we can keep this up and have a pretty good week."
Dewease would like to thank Viper Risk Management Group, Wings Unlimited,
Hank's Performance Products, Schaeffer Racing Oils,
Penske Racing Shock,s
FK Rodends,
Keizer Aluminum Wheels,
DMI Racing Components,
Astro Titanium,
Morrison Racing Engines,
Tom Shockey Collision, Kirkey Seats, FW Graphics,
WRT Web Designs,
WRT SpeedWerx, ViperVenom Fuels, and Schoenfeld Headers for their continued support.
ON TAP: LD30 is in action Tuesday night at Grandview as they kick off 6 races in 6 nights to cap off their eight race speedweek.
STAY CONNECTED: Stay up to speed with Lance by visiting his website, www.lancedewease.com.