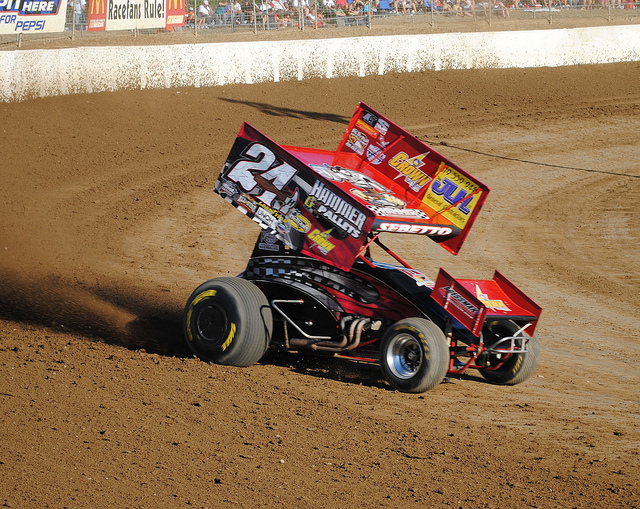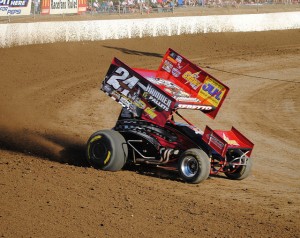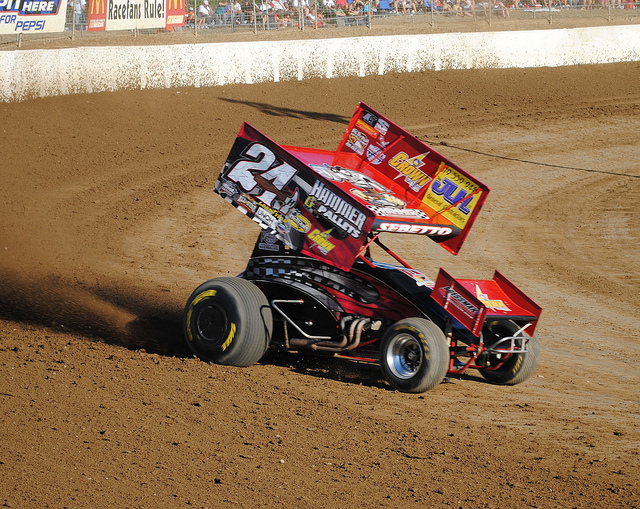 From Brian Liskai
Attica OH — (July 20, 2012) — Bryan Sebetto held off a late race charge by Philo Gressman to take the 410 win and pad his point lead in the Kistler Racing Products FAST (Fremont Attica Sprint Title) Championship Series at Attica Raceway Park Friday. And it was Christmas come early for Rusty Schenk and Steve Rando, as the pair celebrated their birthdays with wins in the late model and 305 sprints respectively.
Sebetto, the defending FAST champion, led all 30 laps of the O'Reilly Auto Parts 410 Sprints feature, but it wasn't easy, as Gressman made it very interesting the last three laps. But, Sebetto would drive to his third win of the year at Attica on Smith Family Foods/Quality Welding Night.
"It took me forever to find out how to enter tune one right and I only hit it right about five times at the end of the race. And then I got to them lapped cars and there was one on the top and one on the bottom and the middle was no-man's land and I knew it. So I knew I just had to follow Matt (Linder) around the top and pray that Phil didn't get to me. I tried to give it away there at the end," said Sebetto beside his Crown Battery, Gressman Powersports, Hammer Pallets, JLH General Contractors, Meggit Powder Coating backed machine.
"It was dusty getting into turn one and I couldn't see my line…I just kind of pointed it and went. I'm glad it stuck and Phil drove a heck of a race and he drove me hard and clean and I appreciate that," added Sebetto whose car carries backing from R3 Nutrition, Big D's Pizza and Keizer Wheels.
"This car has been good all year. That just shows how hard Randy and Lisa (Hammer) work to put this car on the race track and Aaron and Guhn and Timmy P. and everyone that helps out and all the great sponsors and stand behind us and keep great equipment on the race track," continued Sebetto.
McClure, Ohio's Rusty Schlenk battled with Jeff Babcock through most of the 25-lap Summit Racing Equipment UMP Late Model feature before taking the lead with nine laps to go. Schlenk would then hold off Ryan Missler to earn his third win of the year at Attica to give himself a great 26th birthday present.
"Everyone kept asking me if I was going to win on my birthday…it's been awhile since I've won. This is Ron Zeller's car and he's always been #1 so we support the #1 when we're driving his car. We've been lined up for a win about three times in this thing and we just couldn't get any luck. I'm glad I finally got to put it in victory lane for him," said Schlenk beside his Lazer Chassis, Kercher Engines, Micro-Armor Lubricants, Main & Company, Zeller Automotive backed machine.
"I've been lazy all week too and I didn't want to have to work this hard tonight…it's my birthday. I knew where the car was fast but when the leader is out there running the line he needs to run…and he (Babcock) was doing exactly what he needed to do I had to kind of find a line that worked. Once we got in the open the car was awesome. I just needed to find the line that worked to get around him," added Schlenk. "Ron put this car together for us and it's awesome."
In the Fremont Fence 305 Sprints, Steve Rando, who celebrated his 28th birthday just two days ago, would lead all 25 laps and survive a late race restart to claim his first win of the season and third career victory at Attica.
"I had to work all day on my birthday, but I'll take a win tonight and we'll go celebrate tonight," said Rando beside his W.W. Demolitions, Kistler Engines, David Fabricators, Attitudes Hair Salon, Northcoast Seeling backed machine. "This time last year I broke my shoulder in two spots so this is a lot better."
"I started the year with my old car and then we switched over to this car and it handles so much better and I'm learning a lot about set-ups and tonight the car just felt awesome. In these cars we don't have mirrors so I didn't know how far we were ahead," added Rando. "I have to thank Paul Kistler for building my motor…if it weren't for him I wouldn't be here. I have to thank Kistler Racing Products, El Tolendo…my uncle Mike, MMZ, my uncle Butch, Loadmaster Trailers, C&T Muffler, and my parents. Too bad my dad's not here, he's having problems with his back…he'll be upset that he's not here."
Sebetto and Mike Linder would bring the field to the green in the 410 sprint feature. Sebetto would rocket away to a big lead while Linder battled with Greg Wilson, Phil Gressman and Dave Blaney. The caution would fly on lap four for Todd Heller who stopped on the back stretch, keeping a flying Sebetto out of lapped traffic.
On the restart, Sebetto would pull away while Linder battled with Gressman for second. A multi-car pile-up in turn two on the next lap, which saw Chris Andrews on his side and involved Blaney, Duane Zablocki, Stuart Brubaker and Matt Linder, would prevent Sebetto from driving away from the pack.
Again on the restart Sebetto would drive away, leaving Linder and Gressman to battle for second with Wilson, Jody Keegan, Dean Jacobs, Brandon Martin an Craig Mintz in pursuit. Another caution on lap eight for Travis Philo would again prevent Sebetto from entering lapped traffic but would also erase another big lead.
On the ensuing restart, Gressman, who had taken second just a lap prior to the yellow, would dive to Sebetto's inside. But, Sebetto would use the high line to rocket away. Again, just as Sebetto was setting sail, the caution would fly, this time for a Brian Smith spin.
This time on the restart, Sebetto would drive away from Gressman as Linder, Wilson, Jacobs, Keegan, Mintz and Martin gave chase. After a spirited battle over several laps, Wilson would take third on lap 16.
Sebetto's big lead disappeared on lap 18 when Brad Bowman coasted to a stop. This time on the restart Gressman drove to Sebetto's inside as the two raced side-by-side for the lead. Gressman would inch into the lead on lap 19 as Sebetto drove to his outside. The duo battled side-by-side the next lap until Sebetto was able to hit his outside marks and drive back into the lead on lap 21.
As Sebetto caught the rear of the field on lap 24, Gressman now had his hands full with Wilson with Linder, Jacobs, Martin and Keegan giving chase. With just two laps to go, Gressman and Wilson had caught Sebetto who was patiently trying to negotiate through lapped traffic. As they took the white flag, Gressman was racing to Sebetto's inside as the duo battled began trading slide jobs. Gressman would dive under Sebetto in turns one and two and Sebetto would return the favor in the next two corners.
As they raced to the checkered, Sebetto was able to maintain his momentum and take the win by a car length over Gressman with Wilson, Linder and Martin rounding out the top five.
In the 25-lap late model feature, John Mayes Jr. and Dusty Moore would lead the field to the green, with Mayes gaining the upper hand as fourth-starter Kyle Perry drove into second and Babock took third. Babcock would grab second on lap two with the caution flying on lap four for Ky Harper.
On the restart, something went amiss with Mayes, as he faded and eventually pulled off, handing the lead to Babcock as Schlenk moved into second. A caution would fly for Brandon Perkins who stopped on lap eight.
Babcock would rocket away on the restart with Schlenk trying to hold off Mike Bores for second while Perry, Justin Chance and Ryan Missler would give chase.
With 10 laps recorded, Schlenk had caught Babock and the duo would wage a tremendous battle over the next six laps before Schlenk would take the lead on lap 16. Babcock would continue to apply pressure before the caution would fly on lap 19 for a B.J. Gregory/Ken Hahn scuffle.
On the restart Schlenk continued to have his hands full with Babock, with Bores racing hard with Missler for third. On lap 23, the caution would appear for debris, and on the restart, Schlenk pulled away as something happened to Babock as he quickly fell back through the pack.
Missler would quickly close on Schlenk, but ran out of time. Chance, Bores and Larry Kingside would round out the top five.
Rando and Dustin Stroup would bring the 305 sprint field to the green with Rando quickly jumping out front with Stroup, John Ivy, Nate Reeser, Jason Keckler and Nate Dussel in pursuit. But before a lap could be completed, Kurt Huber would spin and Jeremy Duposki would tip over.
When the green reappeared, Rando would drive away with Stroup comfortably in second while Ivy, Reeser, Dussel, Paige Polyak and Tyler Gunn gave chase. Jess Stiger would spin on lap seven to bunch up the field, but Rando was simply too strong on the restarts as he pulled away from Stroup, Ivy, Reeser and Keckler.
Rando would race into lapped traffic on lap 14, but Stroup could not close. The final caution would fly on lap 16 for debris, during which time Stroup stopped as his car jumped out of gear. On the restart, Rando was simply too strong as he pulled away from Ivy, Reeser, Dustin Dinan, Dussel, Gunn and Polyak.
Rando would race into lapped traffic with two laps remaining, but he picked his way through sent on to the win over Ivy, Reeser, Dinan and Dussel.
Attica Raceway Park will be back in action Friday, July 27 with the 410 and 305 sprints and American Late Model Series in action. For more information go to www.atticaracewaypark.com
Attica Raceway Park – 7/20/2012
Smith Family Foods & Quality Welding Night
O'Reilly Auto Parts 410 Sprints (24 Cars)
[#]-Starting Position
Heat 1 – Nitro Black Performance by Engine Pro (8 Laps – Top 5 finishers transfer to the A-feature)
1. 53-Phil Gressman[1] ; 2. 3-Mike Linder[4] ; 3. 97-Dean Jacobs[5] ; 4. 2+-Brian Smith[2] ; 5. 5R-Byron Reed[6] ; 6. 35-Stuart Brubaker[3] ; 7. 5T-Travis Philo[8] ; 8. 9Z-Duane Zablocki[7]
Heat 2 – Summit Racing Equipment (8 Laps – Top 5 finishers transfer to the A-feature)
1. 24H-Bryan Sebetto[2] ; 2. W20-Greg Wilson[1] ; 3. O9-Craig Mintz[3] ; 4. 10-Dave Blaney[4] ; 5. 45L-Brian Lay[6] ; 6. 11N-Ed Neumeister[8] ; 7. 69-Scott Curren[5] ; 8. 7-Critter Malone[7]
Heat 3 – Ultra Shield Race Products (8 Laps – Top 5 finishers transfer to the A-feature)
1. 14H-Todd Heller[2] ; 2. 1X-Matt Linder[1] ; 3. 60-Jody Keegan[4] ; 4. 11X-Brandon Martin[8] ; 5. 55-Brad Bowman[3] ; 6. 16-Chris Andrews[7] ; 7. 12-Jarred Ridge[5] ; 8. 98-Robert Robenalt[6]
B-Main – Computer Man Inc. (10 Laps – Top 5 finishers transfer to the A-feature)
1. 35-Stuart Brubaker[1] ; 2. 16-Chris Andrews[3] ; 3. 9Z-Duane Zablocki[7] ; 4. 12-Jarred Ridge[6] ; 5. 5T-Travis Philo[4] ; 6. 11N-Ed Neumeister[2] ; 7. 69-Scott Curren[5] ; 8. 98-Robert Robenalt[9] ; 9. 7-Critter Malone[8]
A-Main – (30 Laps)
1. 24H-Bryan Sebetto[1]; 2. 53-Phil Gressman[6]; 3. W20-Greg Wilson[3]; 4. 3-Mike Linder[2]; 5. 11X-Brandon Martin[10]; 6. 97-Dean Jacobs[5]; 7. 60-Jody Keegan[8]; 8. 12-Jarred Ridge[19]; 9. 5R-Byron Reed[13]; 10. O9-Craig Mintz[11]; 11. 2+-Brian Smith[12]; 12. 45L-Brian Lay[14]; 13. 1X-Matt Linder[7]; 14. 55-Brad Bowman[15]; 15. 9Z-Duane Zablocki[18]; 16. 5T-Travis Philo[20]; 17. 10-Dave Blaney[4]; 18. 16-Chris Andrews[17]; 19. 35-Stuart Brubaker[16]; 20. 14H-Todd Heller[9]
Hard Charger: 12-Jarred Ridge[+11]
Summit Racing Equipment Late Models (27 Cars)
[#]-Starting Position
Heat 1 – Nitro Black Performance by Engine Pro (8 Laps – Top 5 finishers transfer to the A-feature)
1. 69-John Mayes Jr.[2] ; 2. 1S-Rusty Schlenk[4] ; 3. 15B-Mike Bores[6] ; 4. 2-Justin Chance[5] ; 5. 48-John Bores[3] ; 6. 92-Cody Scott[8] ; 7. O2-Jeff McCoy[7] ; 8. 83-Tim Sabo[9] ; 9. O3-Jim Gingery[1]
Heat 2 – Summit Racing Equipment (8 Laps – Top 5 finishers transfer to the A-feature)
1. O6-Kyle Perry[1] ; 2. 56-B.J. Gregory[3] ; 3. 21-Larry Kingseed[4] ; 4. 34-Ky Harper[7] ; 5. 27-Ken Hahn[8] ; 6. 12-Michael Stiltner Jr.[6] ; 7. 99-Steve Sabo[2] ; 8. 101-Chester Fitch[9] ; 9. 151-Jason Hinton[5]
Heat 3 – Ultra Shield Race Products (8 Laps – Top 5 finishers transfer to the A-feature)
1. 50Y-Ryan Missler[3] ; 2. 1-Jeff Babcock[5] ; 3. 36-Matt Irey[2] ; 4. 75-Dusty Moore[4] ; 5. 99M-John Mayes Sr.[1] ; 6. 30-Nate Potts[7] ; 7. 2D-Curtis Deisenroth[8] ; 8. O1P-Brandon Perkins[6] ; 9. 1J-Jason Stancil[9]
B-Main – Computer Man Inc. (10 Laps – Top 5 finishers transfer to the A-feature)
1. 92-Cody Scott[1] ; 2. 2D-Curtis Deisenroth[6] ; 3. O2-Jeff McCoy[4] ; 4. 99-Steve Sabo[5] ; 5. O1P-Brandon Perkins[9] ; 6. O3-Jim Gingery[10] ; 7. 83-Tim Sabo[7] ; 8. 12-Michael Stiltner Jr.[2] ; 9. 101-Chester Fitch[8] ; 10. 151-Jason Hinton[11] ; 11. 30-Nate Potts[3] ; 12. 1J-Jason Stancil[12]
A-Main – (25 Laps)
1. 1S-Rusty Schlenk[5]; 2. 50Y-Ryan Missler[12]; 3. 2-Justin Chance[7]; 4. 15B-Mike Bores[8]; 5. 21-Larry Kingseed[11]; 6. 36-Matt Irey[10]; 7. 34-Ky Harper[9]; 8. 92-Cody Scott[16]; 9. O6-Kyle Perry[4]; 10. O2-Jeff McCoy[18]; 11. 99-Steve Sabo[19]; 12. 27-Ken Hahn[14]; 13. 56-B.J. Gregory[6]; 14. 1-Jeff Babcock[3]; 15. 2D-Curtis Deisenroth[17]; 16. O1P-Brandon Perkins[20]; 17. 48-John Bores[13]; 18. 99M-John Mayes Sr.[15]; 19. 69-John Mayes Jr.[1]; 20. 75-Dusty Moore[2]
Hard Charger: 50Y-Ryan Missler[+10]
Fremont Fence 305 Sprints (20 Cars)
[#]-Starting Position
Heat 1 – Nitro Black Performance by Engine Pro (8 Laps – Top 8 finishers transfer to the A-feature)
1. 11F-D.J. Foos[2] ; 2. 25-Jason Keckler[1] ; 3. 68G-Tyler Gunn[4] ; 4. 5-Dustin Dinan[7] ; 5. 72C-Ross Moore[6] ; 6. 22D-Dan Hammond[3] ; 7. 94K-Kurt Huber[5]
Heat 2 – Summit Racing Equipment (8 Laps – Top 8 finishers transfer to the A-feature)
1. 1-Nate Dussel[4] ; 2. 19R-Steve Rando[1] ; 3. 27-Paige Polyak[2] ; 4. 10X-Dustin Stroup[5] ; 5. 5R-Jordan Ryan[7] ; 6. 4M-Jamie Miller[6] ; 7. 8J-Jess Stiger[3]
Heat 3 – Ultra Shield Race Products (8 Laps – Top 8 finishers transfer to the A-feature)
1. 83X-Nate Reeser[1] ; 2. 8K-Jon Ivy[5] ; 3. 36-Seth Schneider[6] ; 4. 39M-Matt Merrill[2] ; 5. 13D-Jeremy Duposki[3] ; 6. 9-Jimmy Colvin[4]
A-Main – (25 Laps)
1. 19R-Steve Rando[1]; 2. 8K-Jon Ivy[4]; 3. 83X-Nate Reeser[3]; 4. 5-Dustin Dinan[7]; 5. 1-Nate Dussel[5]; 6. 27-Paige Polyak[11]; 7. 4M-Jamie Miller[17]; 8. 68G-Tyler Gunn[9]; 9. 25-Jason Keckler[6]; 10. 10X-Dustin Stroup[2]; 11. 5R-Jordan Ryan[14]; 12. 11F-D.J. Foos[12]; 13. 36-Seth Schneider[8]; 14. 39M-Matt Merrill[10]; 15. 72C-Ross Moore[13]; 16. 22D-Dan Hammond[16]; 17. 8J-Jess Stiger[20]; 18. 94K-Kurt Huber[19]; 19. 13D-Jeremy Duposki[15]
Hard Charger: 4M-Jamie Miller[+10]