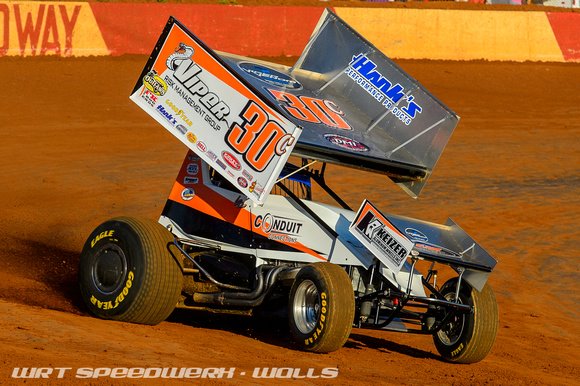 PETERSEN MEDIA
Lance Dewease was hoping to defend his turf at the Williams Grove Speedway, however early struggles put him in the back of the pack, and a brake issue ultimately sealed his fate late in the feature on Saturday night.
With 45 cars checked into the pit area, Dewease started his night by timing the Viper Risk Management Group/Wings Unlimited/Hank's Performance Parts No.30c in with the 20th best qualifying time during qualifications.
Putting him in the third row of a heat race, Dewease wasn't able to gain any ground on a very hooked up Williams Grove Speedway, and ended up finishing in the fifth spot, narrowly transferring him into the feature event.
With a high qualifying number, Dewease found his Schaeffer Racing Oils/Penske Shocks/FK Rod Ends supported machine deep in the field as he would line up in the 20th spot.
Once underway, Dewease seemed to have his hands full as he struggled to move forward.
Trying both the tricky cushion that had been built up, as well as the bottom Dewease continued to search for something to his liking.
Late in the race, Dewease lost brakes, which even made his job that more difficult as he quickly dropped even further back.
When it was all said and done, Dewease would be credited with a 25th place finish.
"We haven't timed well all year, and when you race the Outlaws it's even that much more important to time well with their format," he explained. "We struggled in the A and then lost our brakes and that pretty much killed our night."
Dewease would like to thank Viper Risk Management Group, Wings Unlimited,
Hank's Performance Products, Schaeffer Racing Oils,
Penske Racing Shocks,
FK Rodends,
Keizer Aluminum Wheels,
DMI Racing Components,
Astro Titanium,
Morrison Racing Engines,
Tom Shockey Collision, Kirkey Seats, FW Graphics,
WRT Web Designs,
WRT SpeedWerx, ViperVenom Fuels, and Schoenfeld Headers for their continued support.
ON TAP: Dewease will be in action for a pair of events this weekend with a stop at the Williams Grove Speedway on Friday and a trip to Port Royal slated for Saturday night.
STAY CONNECTED: Stay up to speed with Lance by visiting his website, www.lancedewease.com.