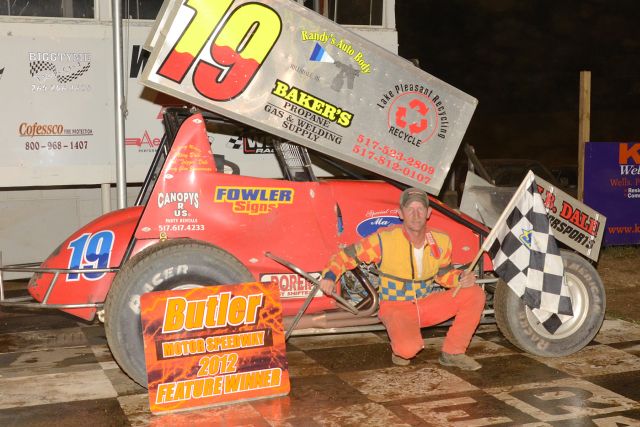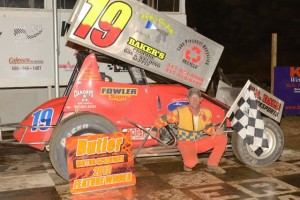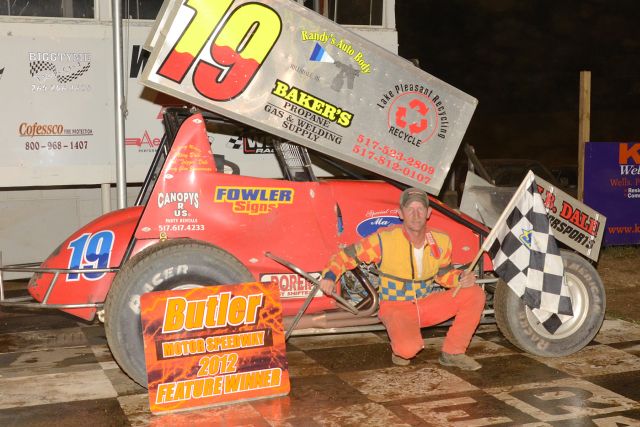 Quincy, MI — (September 15, 2012) — Doug Zimmerman captured the feature win and Winged Sprint Car track championship at the Butler Motor Speedway.  Brad Lamberson would lead the field at the drop of the green flag.  Lamberson, last weeks winner, would build his lead until a flat right rear tire would force him pitside.  With Lamberson in the pits, Zimmerman would assume the point position and go on to win the feature and his first track championship.
Butler Speedway Results – September 15, 2012
Winged Sprints
Feature: 1. 19 Doug Zimmerman , 2. 23J Chris Jones, 3. 5 Max Stambaugh, 4. 51 Roger Campbell, 5. 10J Jarrod Delong, 6. 50B Mike Burns, 7. 20A Andy Chehowski, 8. 10J Chris Jones, 9. 27B Brad Lamberson, 10. 27K Ryan Kirkendall, 11. 44 Tom Davies , 12. 39 Gerry Hart, 13. 48 Kevin Atkins, 14. 8 Aaron Huff, 15. 29S Marques Huffer
Heat Winners: Jarrod Delong, Brad Lamberson!