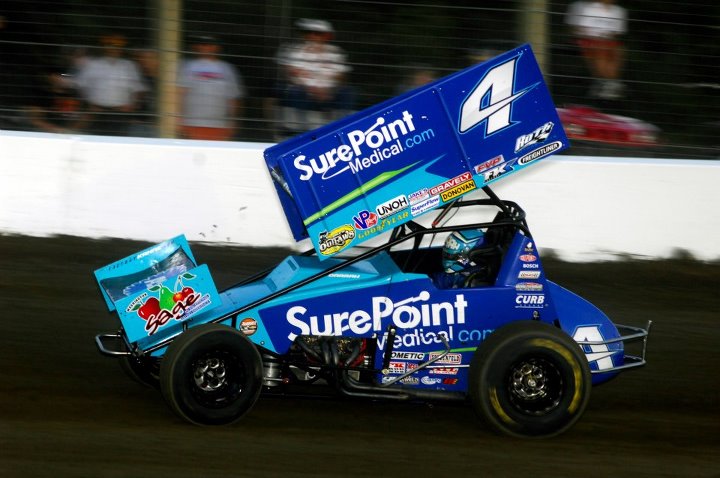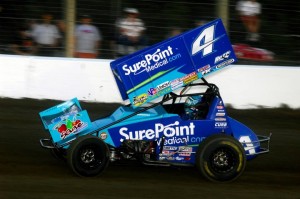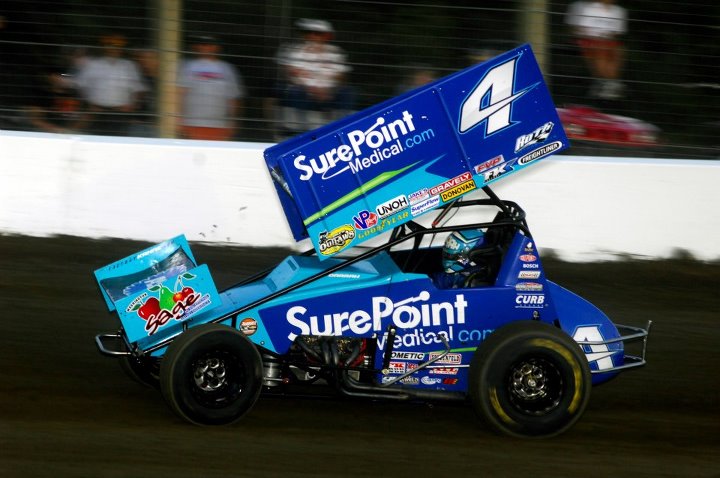 From Peterson Media
With just one year of traveling the country with the World of Outlaws under his belt, Cody Darrah still manages to visit a track for the first time on occasion as he did on Wednesday where he scored a second place at the Eagle Raceway in Eagle, NE and followed it up by charging to a seventh place finish at Lernerville in his native, Pennsylvania.
"Our SurePoint car was awesome all week," Darrah said. "Wednesday we gave it everything we had, and Saturday we did what we could on a locked down track after a huge rain storm."
Action got kicked off on Wednesday night as Darrah, and his Kasey Kahne Racing team checked into the high-banked, Eagle Raceway for their lone stop of the season.
Lining up in the fifth spot, CD4 quickly shot up to the second spot as he was hot on Sammy Swindell's heels for the top spot.
The duo reached traffic on the seventh lap, and Darrah pulled up to the rear bumper of Swindell aboard his SurePoint Medical/Schroth Racing/TI22 No.4 machine.
Racing through traffic, the duo thrilled the crowd for six laps, until the caution waved for Darrah's teammate, Joey Saldana.
Swindell used a great restart to get the jump on Darrah, but the Red Lion, PA product stayed with the wiley veteran as they clicked off four more laps, before the second and final caution waved.
On the final restart, Swindell again was able to get the jump, but Cody kept his Team ASE/Sage Fruit/Factory Kahne backed machine within shouting distance, as they again got into heavy lapped traffic.
In the end, Darrah would hold tight in the second spot, as he was unable to do anything with Swindell.
"We gave it all we had," Darrah said. "We were very strong early, but once we got into dirty air and into traffic, I wasn't able to maneuver as much, and got pretty tight. Sammy did a great job, and was the best car tonight."
After rain cancelled the scheduled Friday race at the Eldora Speedway, Darrah and his crew continued on to Pennsylvania to take on the highly touted PA Posse in the Commonwealth Clash at the Lerverville Speedway.
With a rain storm moving in early, the World of Outlaws elected to wait it out, and make for a very long night with an extremely fast racetrack.
With 31 cars on hand, Darrah timed in on a very green racetrack, and ended up 25th quick, making for a very tough night for the youngster on a very tough track to pass on.
In heat race action, Darrah was able to move from his ninth starting spot to grab the sixth and final transfer spot, and qualify for the feature event, where he would start in the 21st spot.
On a very hooked up and narrow track, Darrah was able to put his SurePoint machine anywhere on the racetrack as he carved his way forward on the familiar racetrack.
As the checkered flag waved, Darrah had advanced 14 positions, earning the KSE Hard Charger award, and ended up with a seventh place finish.
"We timed in early, and went out on a greasy track," he explained. "It was narrow all night, but to move forward is a testament to this team, and how well they prepared our car tonight."
ON TAP- Darrah hand his team will remain in his home state of Pennsylvania as they prepare for the National Open at the Williams Grove Speedway this Friday and Saturday night. The last time the Outlaws visited this track, Darrah grabbed his lone win of the 2012 season.