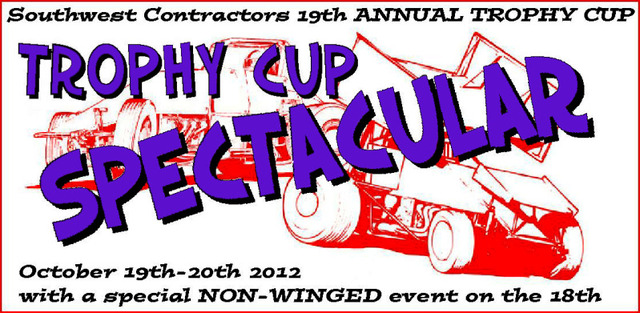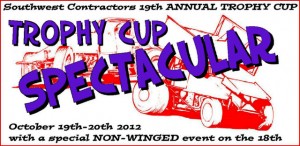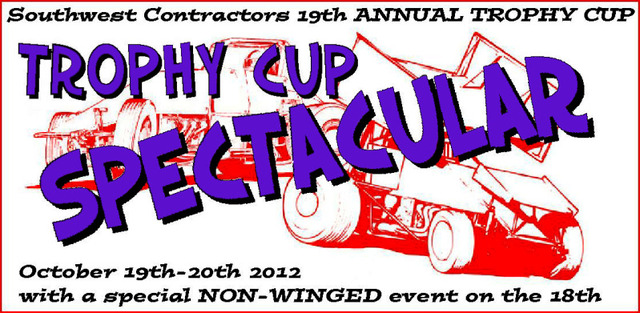 From Gary Thomas
Tulare, CA —  (September 23, 2012) — When late October approaches and the cool Fall weather kicks into gear that always means one thing for California sprint car fans and teams. It's time for the annual Trophy Cup at the always action packed Thunderbowl Raceway in Tulare and this year's 19th edition is shaping up to be one of the best ever.
With its unique format the Trophy Cup regularly produces some of the best racing seen all season. Each time a driver hits the raceway for competitive racing there are points awarded, with it all being a lead-up to the 50-lap feature on Saturday night that is completely inverted based on points accumulated up to that part of the event.
For the second time in event history the Trophy Cup will feature three-nights of racing, with a special Wingless 360 Sprint Car event presented by Southwest Contractors on tap for Thursday October 18.
Thursday night will showcase a look at the past, as the format will mirror what was seen at the very first Trophy Cup back in 1994. Nearly 50 cars are expected for the opener and will race for a one night purse of $21,000. Thursday's Wingless Sprint Car event will have a pair of main events, including a 30-lap contest, followed by a big 50-lapper that will invert all 20-cars in the main event based on points accumulated up to that part of the night.
Drivers set to thrill the crowd without the wing will include Elk Grove, CA phenom Kyle Larson, rising star Ryan Bernal of Hollister, three-time Oval Nationals winner Bud Kaeding from Campbell, talented youngster Shane Golobic of Fremont, two-time Chili Bowl Nationals champion Cory Kruseman of Ventura, Sacramento throttle-masher Kyle Hirst, 13-time Golden State 410 titlist Brent Kaeding from Campbell, Santa Maria's "Showtime" Danny Sheridan and many more.
A talented 80-car field of Winged 360 Sprint Cars is then set to do battle at the Tulare County Fairgrounds facility on Friday & Saturday, racing for an overall payout that will be nearly $90,000 for the two-nights of competition. The high-point driver for the winged portion of the event will claim a guaranteed $20,000, with all drivers making the A-main on Saturday taking home at least $2,000 in winnings.
Former Trophy Cup champions entered in this year's event include four-time winner Brent Kaeding and three-time victor Tim Kaeding of San Jose, along with single time winners Jason Meyers from Clovis, Chico's Jonathan Allard, Salinas' Ronnie Day, Fresno's Craig Stidham, Easton's Tommy Tarlton and Grass Valley's Brad Sweet. Earlier this season Tim Kaeding captured a World of Outlaws win at Thunderbowl Raceway and is always considered the man to beat at Trophy Cup.
Hoping to breakthrough for the first time in his career at the Trophy Cup will be former Golden State 410 champion Kyle Larson, who has claimed a number of accomplishments over the last few seasons. The one thing missing from his resume however, has been the Trophy Cup and it's an event that he would dearly like to add. Larson last season won the Saturday 50-lapper in one of the most dominating performances in recent memory at the Tulare Thunderbowl.
"I've been really fast at the Trophy Cup over the last handful of years, but it always seems like there's some sort of bad luck that finds me at various points of the weekend, which hasn't allowed us the chance to win the overall title," the two-time & reigning Gold Cup Race of Champions winner has said. "The Tulare Thunderbowl Raceway is my favorite track though without a doubt, so I always look forward to the Trophy Cup. Hopefully this year I can finally get that Trophy Cup title."
Other top notch competitors set for the 19th annual Trophy Cup and looking for their first score in the event will include Bixby, Oklahoma's Shane Stewart, Mechanicsburg, Pennsylvania's Lucas Wolf, Altoona, Iowa's Terry McCarl, Sacramento's Kyle Hirst, Red Lion, Pennsylvania's Cody Darrah, San Jose native Randy Hannagan, Sunnyvale, Texas' Sam Hafertepe Jr., Grand Forks, North Dakota's Mark Dobmeir, Fremont's Shane Golobic, Campbell's Bud Kaeding, Auburn's Andy Forsberg and many many more.
Returning to the Trophy Cup once again will be the "Taco Bravo Fiesta Night" on Friday and then the Saturday afternoon spaghetti feed, both located on the fairgrounds. The fiesta night will start 30 minutes after the races on Friday and the spaghetti feed will run from noon to 2:30pm on Saturday. As always the Trophy Cup benefits the Make-A-Wish Foundation like it has since the very beginning.
Tickets for all three nights of the 19th annual Southwest Contractors Trophy Cup are on sale and can be purchased by contacting the Thunderbowl Raceway box office at (559) 688-0909. Thursday tickets cost $25 for bleachers and $30 for grandstands, while Friday & Saturday cost $30 for bleachers and $35 for grandstands each night. A seating chart can be viewed at http://www.thunderbowlraceway.com
More information on the 19th annual Southwest Contractors Trophy Cup at the Tulare Thunderbowl Raceway can be found by visiting http://www.trophycup.org