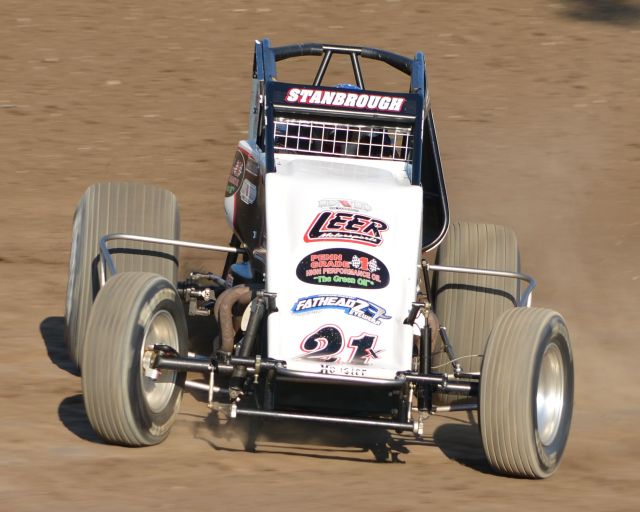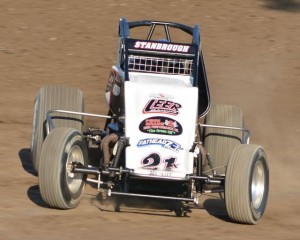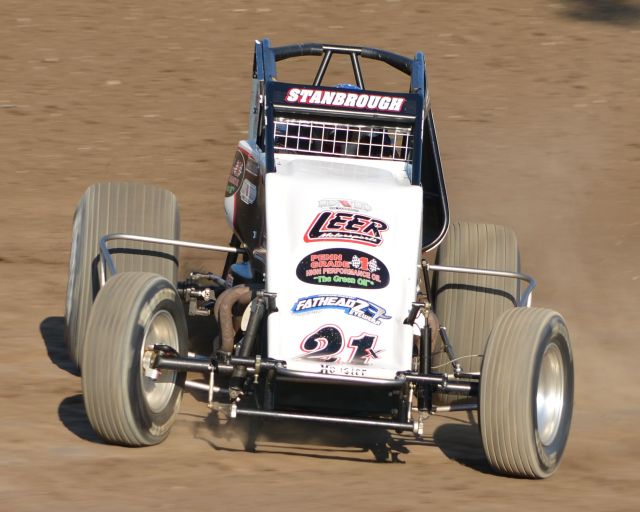 From MSCS
Haubstadt, IN — (October 3, 2012) —  The Hoosier Tire Midwest Sprint Car Series will be holding the final race of the 2012 season this Saturday night October 6th.  This will be the second annual Harvest Cup which will be highlighted by a 30 lap feature offering $4,000 to the winner.     This race will close out the season for the series and is also the last race of this season to be held at the speedway.  The night's program will also include the UMP Modified class to make it an exciting open wheel doubleheader.
The results of last weekend's City of Lawrenceburg Nationals gave all the MSCS drivers an opportunity to improve their standing in the season points with the finale only a week way.  Jon Stanbrough was able to gain an addition 4 points over Robert Ballou.  Now only eight points separate the two top drivers.  Racing this weekend on the quarter mile track at Haubstadt will determine which driver will be the new champion.  Neither driver has ever won the MSCS title but together they have accumulated 26 MSCS feature victories in their careers.  They have been a factor year after year when the green flag waves.  Both have MSCS victories this season.  Stanbrough's win came at Tri-State Speedway and Ballou won at Terre Haute.  Stanbrough also won the 2011 Harvest Cup!
The MSCS Rookie of the Year points battle has continued right on into the final night of competition.  Chet Williams and Brian Karraker had made this a dual by mid season.  Williams leads Karraker by a mere 10 points heading into the Harvest Cup.  Williams is from Newburgh, IN, and Karraker races out of Dongola, IL.
Brady Short has moved up to third in the MSCS standings.  Kyle Cummins is now fourth.  California's Damion Gardner is fifth.  Less than 50 points separates the three.  Nine different drivers still have an opportunity to earn a top 5 spot.
The MSCS Series continues to deliver surprise after surprise to fans from the realm of the unexpected.  On September 29th Chase Stockon became the 18th different sprint car driver to lead an MSCS feature this season.  This time he was the only leader in winning the City of Lawrenceburg Nationals.  His $10,000 win & Daron Clayton's $10,000 win at the Haubstadt Hustler two weeks prior were excitingly different runs.  Of the twenty-one drivers that normally start an MSCS feature, eleven could be from the list of drivers that have already won features with MSCS this season.  And one of the other competitors  might be the driver holding this weekend's surprise card.  Racing begins at 7:30!
Hoosier Tire Midwest Sprint Car Series / Current 2012 Point Standings as
of 9-30
1)            21x     Jon Stanbrough             678         Leader
2)            12       Robert Ballou             670             -8
3)            36       Brady Short               598            -80
4)             3c     Kyle Cummins               576           -102
5)            71       Damion Gardner            549           -129
6)            35       Hunter Schuerenberg       528           -150
7)            32       Chase Stockon             511           -167
8)            68       Jonathan Hendrick         490           -188
9)             3x     Dakota Jackson             479           -199
10)             10       Blake Fitzpatrick         388           -290