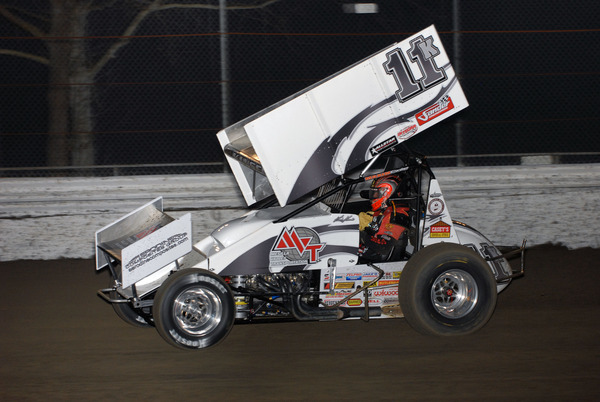 From Kraig Kinser PR
Bloomington, Ind.—Oct. 4, 2012— Super DIRT Week has been around for more than four decades, which is longer than the World of Outlaws have been in existence, and quite a few years more than Kraig Kinser has been around. The history and lore of the biggest week of racing in the Northeast is not lost on the 27-year-old though, as he made the trip to upstate New York with the World of Outlaws each fall since 2009.
Kinser takes to the track in the Hendrickcars.com Maxim with the World of Outlaws at Rolling Wheels Raceway Park in Elbridge, N.Y., on Saturday, Oct. 6, for one half of the Twin 25s that will comprise the night of racing, and serve as the only sprint car event during NAPA Auto Parts Super DIRT Week XLI.
"We don't race that often in New York anymore, so we always enjoy when we get to go up there," said Kinser. "With all the other events going on this week, there should be a lot of excitement surrounding the race. We're looking forward to putting on a good show for the fans in that area."
Kinser raced at Rolling Wheels earlier this season, as the World of Outlaws visited "The Fast Track" on May 16, and finished 10th. He was 15th in time trials that night and came home sixth in the third eight-lap heat race. He lined up 15th in the 25-lap main event and methodically worked his way forward to earn his fourth career Top-10 finish at the track.
"We got better as the night went on back in May at Rolling Wheels," he shared. "It usually gets pretty slick at that track and we were able to pass some cars in the feature. A few of the things we learned in that race should help us going back this week."
The third-generation driver turned his first lap at the sprawling five-eighths-mile oval in upstate New York, in 2004, finishing 10th in that event. He finished a career-best fourth at the track in 2010, piloting the family-owned No. 11K. Kinser has made a total of seven starts at Rolling Wheels in his career, earning four Top-10 and two Top-Five finishes.
Rolling Wheels is one of just two five-eighths-mile tracks on the World of Outlaws schedule, with Orange County Fair Speedway in Middletown, N.Y., being the other. In the series stop at Orange County on May 19, Kinser finished 15th, after suffering a flat right rear tire on the last lap, while running second. In his career, the 2004 Kevin Gobrecht Rookie of the Year Award winner, has raced nine times on five-eighths-mile tracks, with the majority of those starts coming at Rolling Wheels.
"It definitely takes a lot of horsepower at the big tracks in New York," explained Kinser. "Track position is always important as well, so qualifying in the right spot and making it into the dash will really set the tone for your feature event. Hopefully we are fast right out of the box and put ourselves in a good position for the rest of the night."
Kinser enters the event at Rolling Wheels Raceway Park sixth in the World of Outlaws championship standings. He has four wins, 42 Top-10 and 18 Top-Five finishes on the season. Kinser has been fastest in time trials six times this season, in addition to leading 101 laps in feature events.
Kraig Kinser By the Numbers: Rolling Wheels Raceway Park
0.675- Miles around Rolling Wheels Raceway Park
2- Five-eighths-mile tracks visited by the series this season: Rolling Wheels and Orange County Fair Speedway Park
3- Tracks in New York that the series has competed at this season; Races on five-eighths-mile track this season
4- Career Top-10 finishes at Rolling Wheels; Nights of racing for the World of Outlaws in New York in 2012
6- Current position in the World of Outlaws championship standings
7- Career starts at Rolling Wheels
9- Starts in his career with the World of Outlaws on five-eighths-mile tracks
9.7- Average finish in seven races at Rolling Wheels Raceway Park
15.952- Track record at Rolling Wheels set in 2004
18- Top-Five finishes this season
42- Top-10 finishes thus far in 2012
277- Miles from Williams Grove Speedway in Mechanicsburg, Pa., where the World of Outlaws raced on Sept. 28–29 to Rolling Wheels Raceway in Elbridge, N.Y.
2004- Year of first start at Rolling Wheels
8748- Points earned through Sept. 29
Keep up with all the action
For the latest news on Kraig Kinser, visit the recently redesigned http://www.kraigkinser.com, and follow Kraig on Twitter at http://twitter.com/kraigkinser11k and receive live updates from the track each and every race night.
Tune in
Listen live to each and every World of Outlaws event on DIRTVision.com with "The Voice of the Outlaws" Johnny Gibson on the call. Visit www.DIRTVision.com for live audio of each and every World of Outlaws Sprint Car Series event.