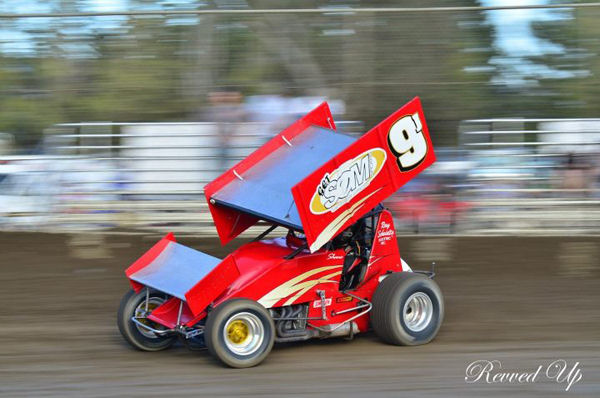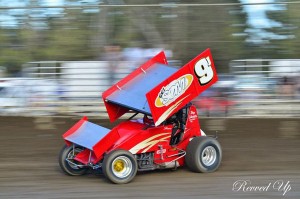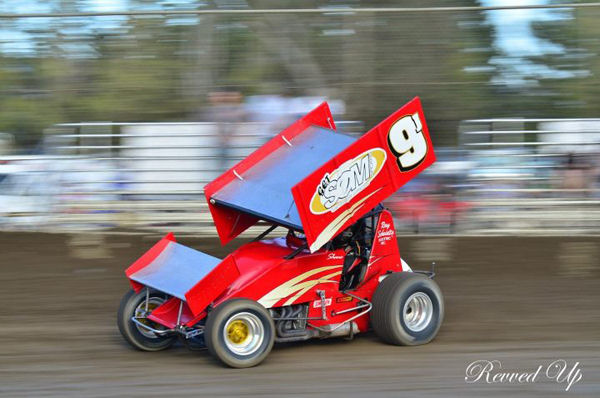 WATSONVILLE, CALIFORNIA (October 6, 2012) – Fremont's Shane Golobic earned the first career win for car owner Steve Osborne, and the first for Golobic in 2012, to extend his points lead in the Ocean Sprints presented by Taco Bravo on Friday night. The 21 year-old driver topped a 30 car turnout at John Prentice's Ocean Speedway Watsonville for the penultimate round of the series.
"This is awesome for Steve," Golobic said. "He's been out here racing forever and I just feel awesome to get that done for him. We just haven't quite been able to get into victory lane but we got a good starting spot tonight and it worked out good for us."
Golobic started the 30 lap feature from the pole position and jumped out to the lead early on. By lap nine Golobic encountered lapped traffic for the first time. The traffic allowed Steven Tiner to work the cushion and take the lead on lap 11. Golobic slid up in front of Tiner out of turn two to lead back for lap 12 and take off to a three second advantage.
Brent Kaeding was the hardest charger on the night by far, navigating the field to take seventh by lap 14 after starting in the 18th position.
The big lead for Golobic was evaporated when the red came out for Corralitos' Jerry Bonnema and San Jose's Michael Twitchell getting tangled up in front of the leader. Bonnema ended up on his side and Golobic made slight contact with the stopped car but was able to continue on.
On the restart, Tiner battled side-by-side with six-time feature winner Tommy Tarlton for second. On lap 20, Tarlton and Tiner banged wheels in turn four to send Tiner spinning. A helpless Wayne Katen made hard contact with Tiner's stopped car to end both driver's nights. While coming to a stop for the red flag, Fresno's Dominic Scelzi got into the back of second in points Brad Furr of Stockton. Furr had to go to the work area but he was able to come back out for the restart.
Golobic flexed his muscles over the next six laps of the feature, stretching his lead out over Tarlton while Kaeding and 16 year-old DJ Netto battled for third place. Golobic avoided another incident when Furr and San Jose's Nick Green made contact in turn two to bring out the caution on lap 26.
The caution set up a four lap shootout between Golobic, Tarlton, and Kaeding, but Golobic proved to be too strong in the Get Som Sports #9j entry, pulling to a 1.2 second advantage at the checkered flag. Both Kaeding and Netto were able to get around Tarlton in the closing stages to round out the top-three with Watsonville's Justin Sanders finishing fifth.
"We've always struggled when we've come here," Netto said. "We picked up some new shocks and it helped a lot. When we slid Tommy I was just thinking 'don't hit him' and it stuck!"
Golobic's win, coupled with Furr's tenth place finish, allowed him to pull to a 40 point advantage and nearly lock the 2012 Ocean Sprints championship going into the final event next Friday night.
"That one was a little bit more like work than anything," Golobic said. "I knew I had Tommy breathing down my back and I had Tiner breathing down my back a little more in the beginning. I just had to hit my marks. Usually I'm kind of on the opposite end and trying to get around Tommy on the lat restart."
The DDNi Hard Charger award went to Brent Kaeding, who finished third after starting 18th. The Ray Scheidt's Electric Fast Time went to Steven Tiner with a 12.180 second lap around the quarter-mile speedway. The four heat races were won by San Jose's Ryan Rusconi, Clovis' Peter Murphy, Kaeding, and Golobic. The 12 lap semi was won by Lemoore's Carson Macedo.
The Ocean Sprints presented by Taco Bravo will conclude their 2012 campaign this Friday night at Ocean Speedway Watsonville. For more information on the Ocean Sprints log onto http://www.oceansprints.com and for more on the Ocean Speedway visit http://www.oceanspeedway.com
Ocean Speedway would like to thank Taco Bravo, Digital Delivery Networks, Get Som Sports, Ray Scheidt's Electric, Hoosier Tires West, and Kaeding Performance for their support of the 2012 Ocean Sprints presented by Taco Bravo.
October 6, 2012 Ocean Sprints presented by Taco Bravo – Watsonville, California
RAY SCHEIDT'S ELECTRIC QUALIFYING: 37t Steven Tiner 12.180
HEAT 1: 98 Ryan Rusconi
HEAT 2: 11m Peter Murphy
HEAT 3: 69 Brent Kaeding
HEAT 4: 9j Shane Golobic
12 LAP SEMI: 21x Carson Macedo
30 LAP FEATURE: 1) 9j Shane Golobic, 2) 69 Brent Kaeding, 3) 88n DJ Netto, 4) 21 Tommy Tarlton, 5) 17 Justin Sanders, 6) 41 Dominic Scelzi, 7) 92 Andy Forsberg, 8) 11m Peter Murphy, 9) 21x Carson Macedo, 10) 2 Brad Furr, 11) 25z Jason Chisum, 12) 22 Nick Green, 13) 3t Nicholas Ringo, 14) 98 Ryan Rusconi, 15) 88k Koen Shaw, 16) 23 Tomas Bray, 17) 37t Steven Tiner, 18) 99 Wayne Katen, 19) 37 Michael Twitchell, 20) 58 Jerry Bonnema, 21) 72w Kurt Nelson, 22) 15 Eric Humphries
LAP LEADERS: 9j Shane Golobic 1-10, 37t Steven Tiner 11, 9j Shane Golobic 12-30
Wingless Sprint Car Feature:
1. Geoff Ensign
2. Terry Schank
3. Jimmy Christian
4. Colton Slack
5. Nathan Washam
6. Sparky Howard
7. Tommy Laliberte
8. Scotty Dupont
9. Nick Larson
10. Joe Stornetta
11. Bryan Grier
12. Peter Carlotto
13. Kris Koontz
14. Evan Bonnema
15. Rowdy Mcclenon
16. Nick Foster, Jr
17. Billy Aton
18. John Gerber
19. Shayna Sylvia
20. Glenn Bryan
21. Adam Christian
22. Richard Mitchell