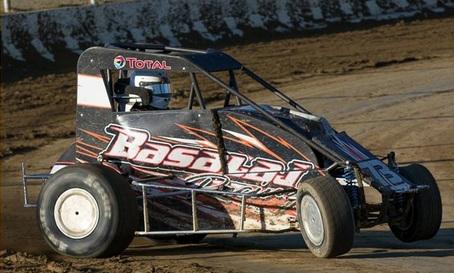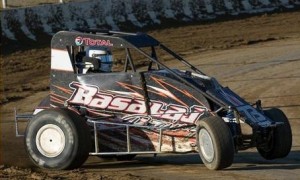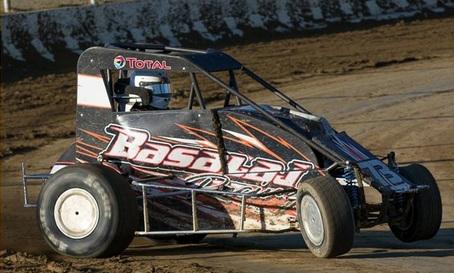 From Ruapuna Speedway
Christchurch, NZ — (February 9, 2013) — Despite facing what was perhaps his toughest opposition yet, Christchurch contracted Midget car driver David Kerr further cemented his place in the history books winning his sixth consecutive South Island Midget car crown at Ruapuna Speedway tonight. The former New Zealand MiniSprint Champion, mastered the track, opposition and the three heat points format, dropping just two points from three races to claim the title from Nelson Midget car veteran "The Bullet" Nevil Basalaj (pictured). Pre event favourite Nick Donaldson eventually claimed third place.
All excitement would come to the fore in the final race of the night, with Kerr, Basalaj and Donaldson all having a mathematical chance at winning the event. In the early stages of the third heat, Basalaj (who started off the front row) was building a commanding lead to hold the running points tally even with Kerr who was sitting back in fourth. Basalaj's championship aspirations however were hinging on a racy Donaldson who was right on Kerr's tail tank for several laps before spinning in one and two, bringing out the caution with eight laps left to run. Kerr would pick up two more places after the restart en route to another successful Championship defense, with Donaldson coming back from the rear of the field to finish fifth. Next season's event sees Kerr with a chance of tying the late Trevor Hall's record of seven South Island Midget car titles.
Final Points:
99c David Kerr: 34
73n Nevil Basalaj: 32
7c Nick Donaldson: 28
66c Glen Durie: 27
12c Glen Everett: 25
42c Steve McCallum: 22
63c Mike Moulin: 17
21n Gavin Wilkie: 14
4n Nick Marquet: 7
5c Scott Millar: 4
24c Darren Nankivell: 0
57n Andrew Brown: 0
Heat Wins: Donaldson, Kerr, Basalaj