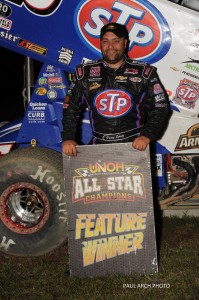 From Brian Liskai
Ocala, FL — (February 8, 2013) — In a pre-season media poll, Donny Schatz was tabbed as the favorite to win the 2013 World of Outlaws STP Sprint Car Series championship. The Fargo, North Dakota driver did nothing to disprove that notion Friday, opening the University of Northwest Ohio All Star Circuit of Champions' season with a win at Bubba Raceway Park.
Schatz, a five time World of Outlaws champion, passed 2012 UNOH All Star Eastern Region champion Daryn Pittman on the 11th lap and then held off Pittman in traffic to claim his 10th career UNOH All Star victory.
"There's just nothing like winning. I think the media picking me to win the World of Outlaws title this year takes some of the pressure off. To know the media recognizes how good of a team we have helps us," said Schatz beside his Tony Stewart Racing/STP/Armor All backed #15. "Bubba has worked very hard on this track trying to make it two grooves and it paid off tonight. The track was as good as I've ever seen Ocala."
Three time UNOH All Star champion Dale Blaney and Pittman would bring the field to the green with Pittman grabbing the lead aboard his new Kasey Kahne Racing ride. Schatz, who drove around Blaney on the second lap to take the runner-up spot, would slip past Pittman for the lead on the 11th lap.
Things really got interesting after Schatz took the lead, as Kerry Madsen put his machine on its side, bringing out the red. On the restart, Schatz would pull away slightly from Pittman as Hanover, Pennsylvania's Logan Schuchart slid around Blaney for third with Bellevue, Ohio's Cap Henry getting around David Gravel for fifth.
Schatz' lead would evaporate in lapped traffic as Pittman closed to within three car lengths. The battle for the fifth spot would heat back up with five laps to go, with Henry, Gravel and Cody Darrah battled.
Schatz would hold off Pittman at the checkers with Schuchart taking third with Blaney and Gravel rounding out the top five.
"There were some lapped cars that give us some problems. I just had to pull out all the stops and puss the issue a little with some of them. Once I did that we were good," said Schatz.
For Pittman, his debut in the Great Clips/Sage Fruit machine couldn't have gone much better.
"I'm very pleased with how we ran tonight. It was a bit disappointing to watch Donny go by, but in the same token he didn't pull away. I was able to hang with him and I think the last five laps I was quicker than he was and I had a shot at him in traffic. I think it helped me to be behind him. I was able to see where I was losing ground to him and where I needed to change my line. I learned a lot following him," said Pittman.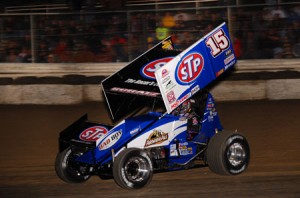 For Schuchart, it was another good start to a racing season.
"Last year we started strong at Screven but struggled at Ocala. But tonight….I don't know if it's the new Hoosier tires or we found something with the car, but I felt good in the car. I could run with the fast guys and that felt really good," said Schuchart beside his Rich Fogle Custom Pole Buildings/Your Auto Source Inc. /Newman's Shell backed #1s.
"It was hard to pass tonight. When Blaney and Madsen got together, I was right there with them so on the restart I knew I could race with them. I was able to get to third and I knew I was fast up top. I can't wait to race tomorrow," added Schuchart.
For more information go to www.allstarsprint.com
Bubba Raceway Park – 2/8/2013
UNOH Night
All Star Circuit of Champions (34 Cars)
[#]-Starting Position
Qualifying – Kistler Engines
1. 9-Daryn Pittman, 11.840; 2. 83-Tim Shaffer, 11.980; 3. 15-Donny Schatz, 12.028; 4. 2-Dale Blaney, 12.039; 5. 4D-Cody Darrah, 12.044; 6. 59-Jac Haudenschild, 12.065; 7. 1S-Logan Schuchart, 12.088; 8. 29-Kerry Madsen, 12.096; 9. 54-Cap Henry, 12.118; 10. 89G-David Gravel, 12.119; 11. 17B-Steve Buckwalter, 12.156; 12. 13-Jason Leffler, 12.221; 13. 4-Danny Smith, 12.258; 14. O7-Mark Coldren, 12.292; 15. 7S-Jason Sides, 12.314; 16. 1-Danny Lasoski, 12.321; 17. 14-Tony Stewart, 12.360; 18. 11K-Kraig Kinser, 12.367; 19. 27-Lance Dewease, 12.381; 20. 45-Danny Holtgraver, 12.401; 21. 51-Paul McMahan, 12.408; 22. 48-Danny Dietrich, 12.486; 23. 40-Caleb Helms, 12.486; 24. W20-Greg Wilson, 12.508; 25. 94-Jack Sodeman Jr., 12.527; 26. O-Justin Henderson, 12.594; 27. 9B-Jamie Barnes, 12.607; 28. 11-Steve Kinser, 12.656; 29. 15H-Sam Hafertepe Jr., 12.714; 30. 40I-Mark Imler, 12.879; 31. 80-Trey Gustin, 12.926; 32. 5-Glendon Forsythe, 13.199; 33. 18L-Shawn Lawler, 14.374; 34. 1A-Jacob Allen, 99.999
Heat 1 – Kears Speed Shop (8 Laps – Top 5 finishers transfer to the A-feature)
1. 14-Tony Stewart[2] ; 2. 51-Paul McMahan[1] ; 3. 54-Cap Henry[4] ; 4. 4-Danny Smith[3] ; 5. 9-Daryn Pittman[6] ; 6. 94-Jack Sodeman Jr.[7] ; 7. 4D-Cody Darrah[5] ; 8. 18L-Shawn Lawler[9] ; 9. 15H-Sam Hafertepe Jr.[8]
Heat 2 – All Pro Aluminum Heads (8 Laps – Top 5 finishers transfer to the A-feature)
1. 48-Danny Dietrich[1] ; 2. 11K-Kraig Kinser[2] ; 3. 89G-David Gravel[4] ; 4. 83-Tim Shaffer[6] ; 5. 59-Jac Haudenschild[5] ; 6. O7-Mark Coldren[3] ; 7. O-Justin Henderson[7] ; 8. 40I-Mark Imler[8]
Heat 3 – Dragon Race Fuel (8 Laps – Top 5 finishers transfer to the A-feature)
1. 27-Lance Dewease[2] ; 2. 15-Donny Schatz[6] ; 3. 40-Caleb Helms[1] ; 4. 7S-Jason Sides[3] ; 5. 1S-Logan Schuchart[5] ; 6. 17B-Steve Buckwalter[4] ; 7. 80-Trey Gustin[8] ; 8. 9B-Jamie Barnes[7]
Heat 4 – Kinsler Fuel Injection (8 Laps – Top 5 finishers transfer to the A-feature)
1. 45-Danny Holtgraver[2] ; 2. W20-Greg Wilson[1] ; 3. 1-Danny Lasoski[3] ; 4. 2-Dale Blaney[6] ; 5. 29-Kerry Madsen[5] ; 6. 11-Steve Kinser[7] ; 7. 13-Jason Leffler[4] ; 8. 5-Glendon Forsythe[8]
Dash – Outerwears Performance Products (6 Laps, finishing order determined first 6 starting positions of A-feature
1. 2-Dale Blaney[2] ; 2. 9-Daryn Pittman[3] ; 3. 15-Donny Schatz[5] ; 4. 59-Jac Haudenschild[4] ; 5. 83-Tim Shaffer[1] ; 6. 1S-Logan Schuchart[6]
B-Main – MSD Ignition (12 Laps – Top 4 finishers transfer to the A-feature)
1. 17B-Steve Buckwalter[2] ; 2. 4D-Cody Darrah[1] ; 3. O7-Mark Coldren[4] ; 4. 11-Steve Kinser[8] ; 5. 94-Jack Sodeman Jr.[5] ; 6. 40I-Mark Imler[10] ; 7. 13-Jason Leffler[3] ; 8. 80-Trey Gustin[11] ; 9. 5-Glendon Forsythe[12] ; 10. 18L-Shawn Lawler[13] ; 11. 9B-Jamie Barnes[7]
A-Main – University of Northwestern Ohio (30 Laps)
1. 15-Donny Schatz[3]; 2. 9-Daryn Pittman[2]; 3. 1S-Logan Schuchart[6]; 4. 2-Dale Blaney[1]; 5. 89G-David Gravel[9]; 6. 4D-Cody Darrah[11]; 7. 54-Cap Henry[8]; 8. 7S-Jason Sides[14]; 9. 27-Lance Dewease[18]; 10. 14-Tony Stewart[16]; 11. 1-Danny Lasoski[15]; 12. 45-Danny Holtgraver[19]; 13. 17B-Steve Buckwalter[12]; 14. 40-Caleb Helms[22]; 15. 51-Paul McMahan[20]; 16. 48-Danny Dietrich[21]; 17. 11-Steve Kinser[24]; 18. 4-Danny Smith[10]; 19. 29-Kerry Madsen[7]; 20. W20-Greg Wilson[23]; 21. O7-Mark Coldren[13]; 22. 11K-Kraig Kinser[17]; 23. 59-Jac Haudenschild[4]; 24. 83-Tim Shaffer[5]
Hard Charger: 27-Lance Dewease[+9]