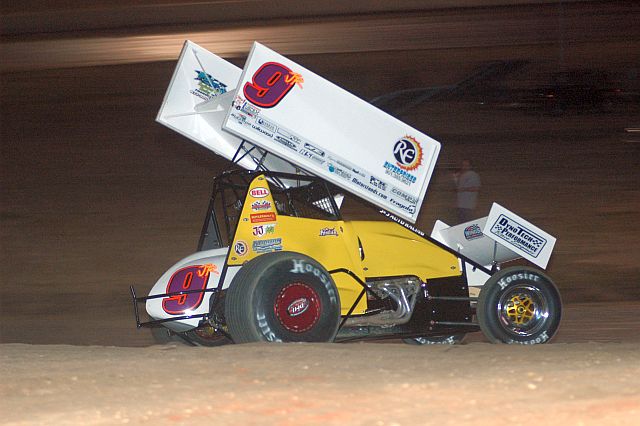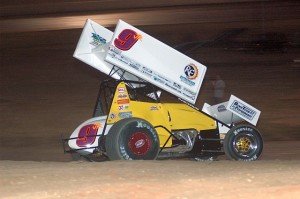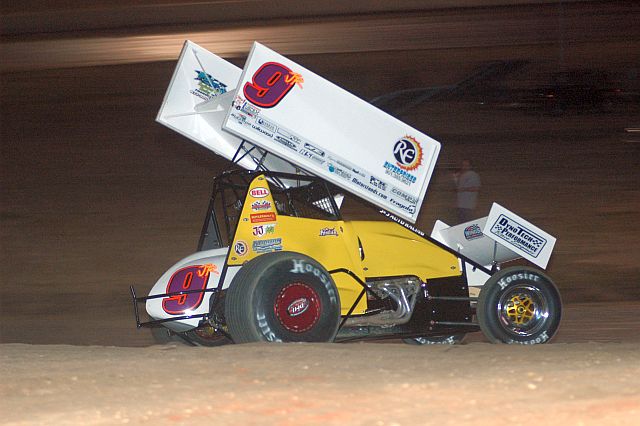 From Pete Walton
Magnolia, MS — (March 9, 2013) — Former USCS Rookie of the Year, Derek Hagar from Marion Arkansas drove his #9Jr. Dynotech powered J&J Auto Racing/R.E. Enterprise sprint car from outside the second row into the www.rockauto.com United Sprint Car Series victory lane at Magnolia Motor Speedway in the season opener on Saturday night. It was Hagar's eleventh career USCS sprint car win and cast him as one of the favorites to compete for the series 17th annual United Sprint Car Series Outlaw Thunder Tour National Championship.
On the initial start, Wade Oliver flipped in turn three before a lap was completed, On the second attempt, the race went green and stayed that way until lap ten. Talented Nesbit, Mississippi young gun Casey Rowland led the field in his c4 sprint car from the initial start until lap ten before a tangle with the car of Burlison, Tennessee Rookie of the Year contender Brandon Hanks. Hanks was trying to nurse a flat tire toward the infield when Rowland collided with him sending the race-leader for a tumble and disabling Hanks car for the rest of the event.
After the lap ten restart, Derek Hagar who was in the runner-up position before the Rowland/Hanks incident took the lead and held the point over 2012 USCS National Champion Tim Crawley from Benton, Arkansas, Jeff Swindell from Bartlett, Tennessee, 10-time USCS National Champion Terry Gray also from Bartlett, Tennessee  and 2007 USCS Mid South regional series Rookie of the Year, Chris Williams from Cordova, Tennessee.
On lap thirteen 2010 USCS Rookie fo the Year and the only female sprint car driver in the field, Morgan Turpen from Oakland, Tennessee slowed exiting turn four with an engine failure. While she was coasting to a stop the 2012 USCS Rookie of the Year Jeff Willingham from Ripley, Mississippi climbed the rear of her #10M with his #28 and flipped on the front stretch. This brought out the races second red flag.
On the lap thirteen restart, Hagar continued to lead with Crawley on his rear bumper followed by Swindell, Gray and Chris Williams in tow. On lap sixteen 2008 USCS Rookie of the Year, Anthony Nicholson who finished in third place in the National Championship standings passed Williams for the fifth position.
One more caution waved for Brad Greer's blown right rear tire, on lap twenty. At that point, the race restarted for a final five lap dash to the www.rockauto.com victory lane with Hagar leading and being chased by Crawley, Swindell, Gray and Nicholson. Hagar raced under the checkered flag still in the top spot five laps later for the win with Tim Crawley in the runner-up spot. Jeff Swindell finished in third place with Terry Gray just behind in fourth place.  Anthony Nicholson rounded out the top five finishers.
Eric Riggins, Jr. from Charlotte, North Carolina led the next group of drivers in sixth place. Brad Bowden from Hernando, Mississippi finished in seventh place followed by Jerod Roller from Olive Branch, Mississippi in eighth place. Curt Terrell from Bartlett, Tennessee finished in ninth place and Brad Greer from Coulterville, IL rounded out the top ten
Young gun Dalton Davis from Millington, Tennessee won the Engler Machine and Tool First Heat. Derek Hagar won the Butlerbuilt Second Heat. Tim Crawley collected the win in the www.rockauto.com Third Heat. Casey Rowland garnered the K&N Filters Pole Award. Eric Riggins, Jr. who started 14th in the main event advanced the most positions (8 places) to earn the Wilwood Disc Brakes Hardcharger Award.
The next event for the USCS Outlaw Thunder Tour winged sprint cars will be on Saturday, March 16th at Tennessee National Raceway (formerly Hohenwald Motorsports) in Hohenwald, Tennessee.
For information on Tennessee National Raceway please visit www.racetn.com or call 931-796-1890. For rules and info on the USCS Outlaw series please visit www.uscsracing.com or call 770-865-6097.
USCS Outlaw Thunder Tour sprint car Main Event 25-laps
1. 9Jr Derek Hagar, Marion, AR
2. 88 Tim Crawley, Benton, AR
3. 94 Jeff Swindell, Bartlett, TN
4. 10 Terry Gray, Bartlett, TN
5. 16 Anthony Nicholson, Bartlett, TN
6. 47 Eric Riggins, Jr., Charlotte, NC
7. 39 Brad Bowden, Hernando, MS
8. 5 Jerod Roller, Olive Branch, MS
9. 27 Curt Terrell, Bartlett, TN
10. 3B Brad Greer, Coulterville, IL
11. 8x Chris Williams, Cordova, TN
12. 12 Dalton Davis, Millington, TN
13. 5s Tyler Smith, Olive Branch, MS
14. 13B Taylor Tidmore, Hernando, MS
15. 25 Ray Bugg, Iuka, MS
16. 10m Morgan Turpen, Oakland, TN
17. 28 Jeff Willingham, Ripley, MS
18. C4 Casey Rowland Nesbit, MS
19. 3H Brandon hanks, Burlison, TN
20. 44 Ronny Howard, Nesbit, MS
21. 58 Wade Oliver, Southaven, MS
22. 14 Marty Echols, Horn Lake, MS
Did not start main event:
 23. 13 Tristan Tidmore, Hernando, MS
USCS Outlaw Thunder Tour Race Awards:
Hoosier USCS Sprint Speed Dash: no dash held (first race)
Engler Machine and Tool First Heat: Dalton Davis
Butlerbuilt Second Heat Award: Derek Hagar
K&N Filters Pole Award: Casey Rowland
JE Pistons Top Guns Award: Derek Hagar
K&N Filters Podium (3rd place) Award: Jeff Swindell\
Wilwood Disc Brakes Hardcharger Award: Eric riggings, Jr.
Keizer Aluminum Wheels Top Five Award: Anthony Nicholson
DMI/Bulldog rear Ends top Ten Award: Brad Greer