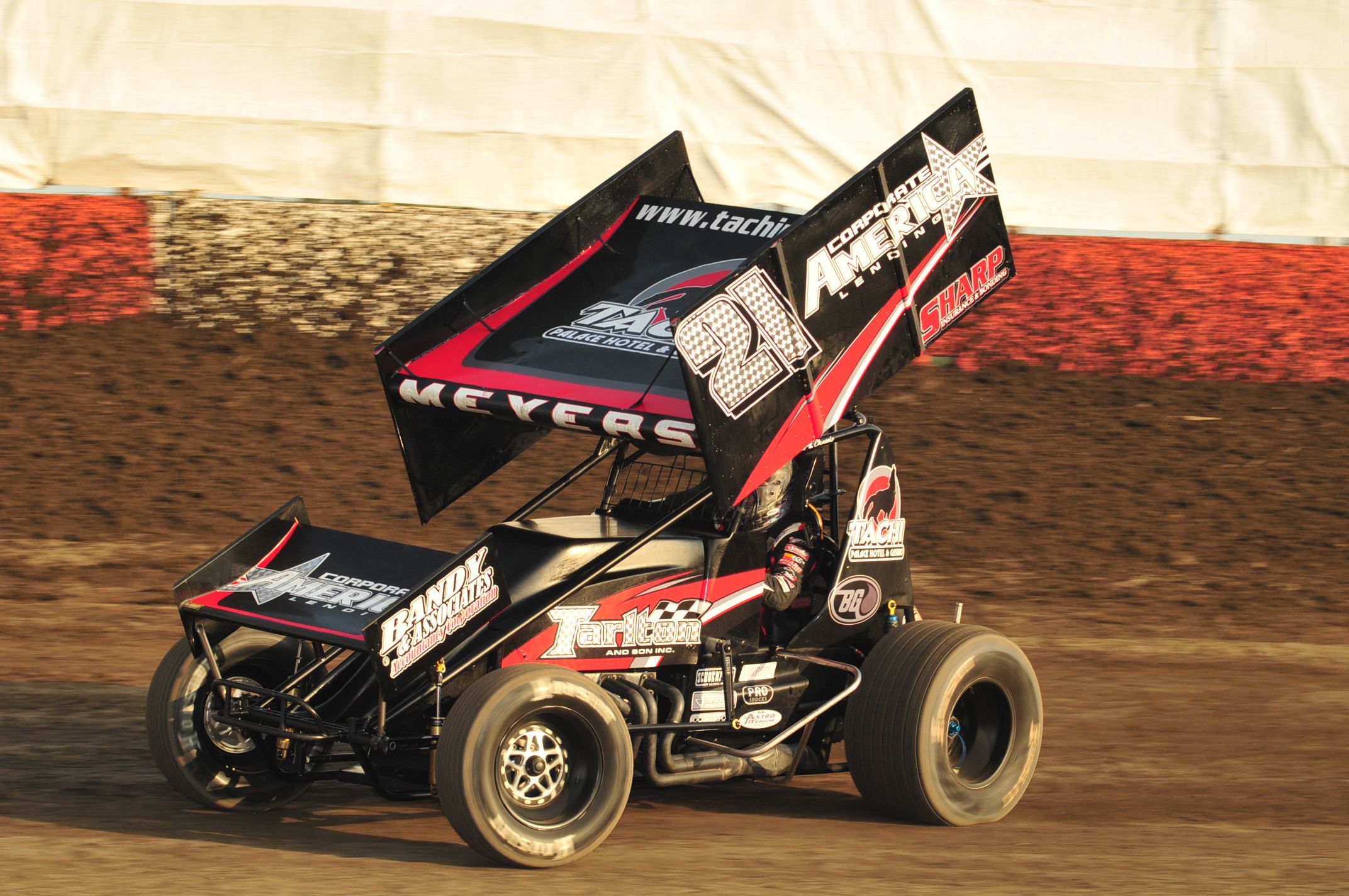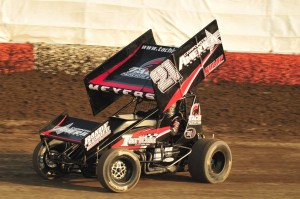 From Peterson Media
Jason Meyers had one of those weekends that make a driver want to pull their hair out.
"It was a tough weekend, for sure," Meyers said. "Friday we had a bad car on a track you could race on, and on Saturday we had a great car on a rubber down racetrack that you could not really work with."
Taking on the World of Outlaws at his home track, The Thunderbowl in Tulare, CA, Meyers opened the weekend by timing his Corporate Lending America/Tarlton and Son/Bandy and Associates entry in with the sixth fastest lap in time trials.
Meyers would proceed to score a fifth place finish in his heat, and transfer to the feature, but his car didn't feel right to him, on what was a technical track.
Making wholesale changes to his Tarlton Racing machine, Meyers gridded the field in the 13th spot, but struggled to get moving forward.
Fighting the ruts in turns one and two, and tip towing through the extremely slick turns three and four, Meyers was not able to get moving forward, and ended up with a 16th place finish.
"Friday was not where we wanted to be," he said. "We have a great opportunity with this Tarlton Racing team, and we need to start performing."
Back in action Saturday, Meyers narrowly missed the heat race inversion of 12, as he timed in 13th quickest with 31 cars in the pit area.
A fourth place finish in his heat, put Meyers and his Pro Signs/BG Lubricants/All Star Performance entry in the 13th starting spot, on the rubber down race track.
Taking rubber just five laps into the feature event, the race turned into a freight train around the bottom of the speedway.
Keeping his tires under him, Meyers was able to score a 10th place finish.
"Our car was good all night on Saturday, and that I'm pleased with," he said. "It is a bummer the race track was the way it was, but we have something for Stockton and Chico next week."
Tarlton Racing would like to thank Corporate Lending America, Tachi Palace and Casino, Tarlton and Son, Bandy and Associates, Pro Signs, BG Lubricants, All Star Performance, Winters Performance, XYZ Machining, Factory Kahne, Carillo Rods, Victory Valves, Kinser, Fel Pro, Bosch, Brown and Miller, and Astro Titanium for their continued support.
2013 BY THE NUMBERS: Races-5, Wins-0, Top 5's-, Top 10's-2.
VIDEO: Check out the action by clicking over to- http://petersenmediainc.com/up-and-down-weekend-for-meyers/
ON TAP: Jason and his Tarlton Racing team will be back in action with the World of Outlaws this weekend In Stockton, CA on Friday and Chico, CA on Saturday.