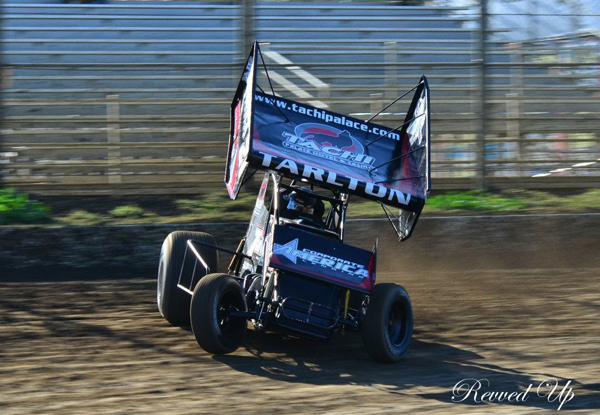 PETERSEN MEDIA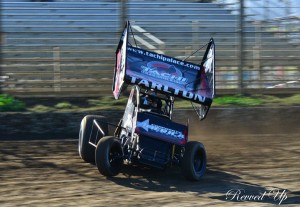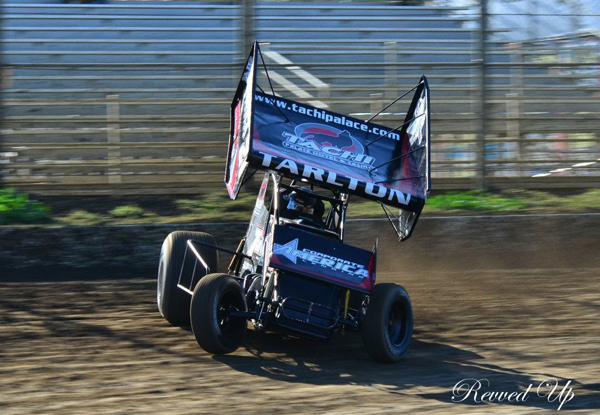 Getting back into his Tarlton Racing machine for the first time since the beginning of March, Tommy Tarlton scored a fifth place finish after having to tag the rear early in the race.
"It was a wild night, and to make any passes you had to make some big moves," he said.
Timing his Corporate Lending America/Tachi Palace and Casino/Bandy and Associates machine in second fastest, 'The Terminator" would charge from sixth to second in his heat race, putting him in the inversion for the night's 30-lap A.
With quick timer, Craig Stidham, failing to make it out of his heat, Tarlton would move up to the quick timer position, and would start in the sixth spot after the six pill was pulled.
The race had it's issues getting going with various incidents, and on the fourth lap, Tarlton brought out the caution as he had issues with a  fuel line.
Surrendering the third spot, Tarlton took his Pro Signs/BG Lubricants/All Star Performance machine to the work area where his Paul Baines led team made quick repairs.
Making it back out, Tarlton had the daunting task of starting in the rear on a very fast, and narrow race track, but he did what he does best and put on a show.
Running on the top of the race track, the Easton, CA driver made some big time moves to work his way through the field as he looked to get back to where he started the race.
Taking advantage of a late caution, Tarlton was able to gain a pair of positions and ended his night with a fifth place finish.
"We had an awesome car," he said. "We passed every car there except for Brian Brown and Kyle Hirst, and I'm not sure we had anything for the two of them, they were really good. Paul Baines and my guys did a great job all night, and I'm looking forward to our next race."
Tarlton Racing would like to thank Corporate Lending America, Tachi Palace and Casino, Bandy and Associates, Pro Signs, BG Lubricants, All Star Performance and Astro Titanium for their continued support.
2013 BY THE NUMBERS: Races-2, Wins-0, Top 5's-2, Top 10's-2
STAY CONNECTED: Stay connected with Tommy by visiting www.tommytarlton.com or follow @Tarlton_Racing on Twitter.