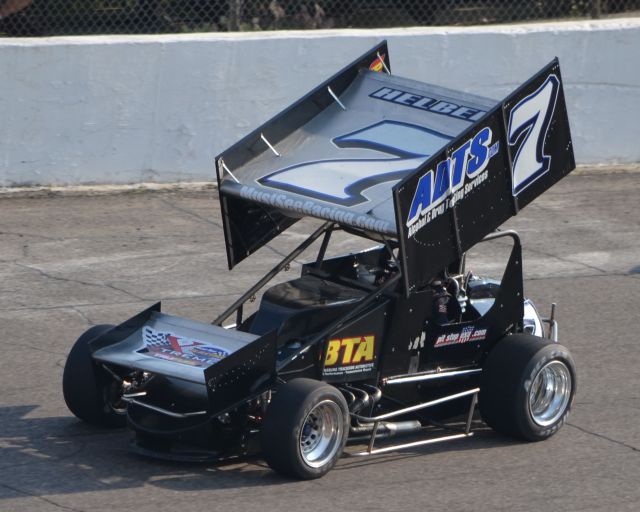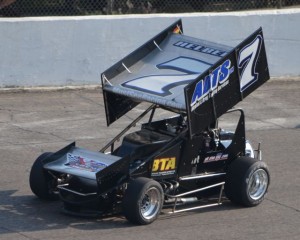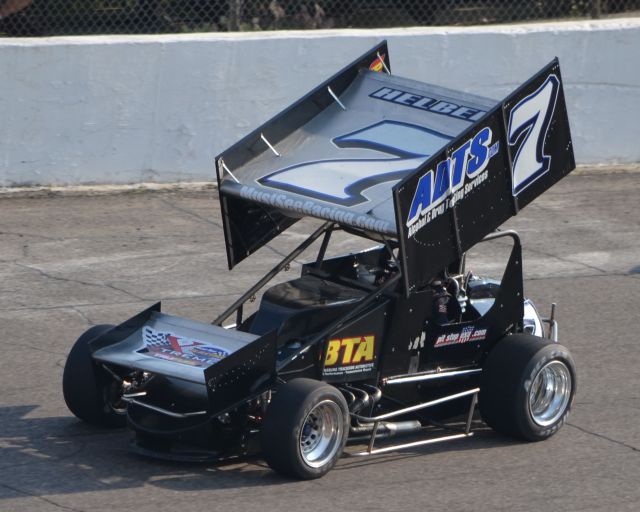 From Jim Hanks
Holly, MI — (April 23, 2013) — Rohnert Park, California driver, Jo Jo Helberg, is one of the early favorites to win next month's Must See Racing sanctioned Xtreme Speed Challenge at Winchester Speedway. The double header racing event will feature the TRUFUEL Must See Racing Xtreme Sprint Series (MSRXSS) and the BIOBASED.US Must See Racing Super Modified Series (MSRSMS) competing on the same racing card May 19.
Helberg is the defending MSRXSS champion and has emerged as an early favorite to win the Xtreme Speed Challenge for more than one reason. If Helberg is to take home the $4,000 up for grabs to the winner, he will have to best a stout field that includes Troy DeCaire, who swept both MSRXSS events held at Winchester in 2012. A total purse of more than $20,850 for the MSRXSS portion of the event will be on the line for this second annual event.
Early in 2012, Helberg demonstrated that he could go fast as well as win races when he turned a lap of 12.669 seconds at Winchester on May 20. Helberg had reclaimed the world's record for a half-mile speedway that had been lost when Brian Gerster went 12.742 seconds just seven moths earlier at the famed Bristol (TN) Motor Speedway. Winchester is once again "The World's Fastest Half Mile" thanks to Helberg's efforts.
Helberg's 2012 championship was bittersweet considering he lost the 2011 title by eight points to Troy DeCaire. Helberg picked up two wins en route to his championship including the series finale at Marne, MI on August 25. At the Must See Racing awards banquet earlier this season, Helberg explained how much work and luck went into his first Must See Racing championship. "I moved here from California last year and put a full time all out effort to win the Must See championship. The level of competition and caliber of teams in Must See is the best and as tough as it gets, I'm really happy especially for my team and my family. I have to thank my dad and my crew, I had a lot of people pulling for me and that made a difference. It was hard work and a lot of fun".
Helberg, who recently moved his operation to Moorseville, North Carolina, will also be trying to claim a $50,000 bonus Must See Racing will be offering. The Xtreme Speed Challenge at Winchester May 19 will be the first leg of "The Triple Crown". If any driver can win the Xtreme Speed Challenge, the May 22 Must See Racing 60 at Anderson Speedway, and the 65th Pay Less Little 500 May 25, the driver will claim the $50,000 bonus.
The bonus has caught Helberg's attention, but he insists on staying the coarse."I'm definitely going for it" explained Helberg."I'm taking it one race at a time. I'm excited about Winchester. As long as I can keep the tires on the car, I've got a good shot. I'm not going for speed at Winchester this year. I'm gonna be more conservative. But, all my cards are going towards winning Winchester. If I can do that I got a good shot at Anderson because I've won there before and have a good set up. If I get that far, we'll see waht happens with the Little 500″ concluded Helberg.
If his early 2012 success is any indication, Helberg might have a good shot at winning the bonus. Helberg has already won at Mobile International Speedway on March 24. His goal towards staking claim to the $50,000 bonus begins with the Xtreme Speed Challenge May 19 at Winchester Speedway.