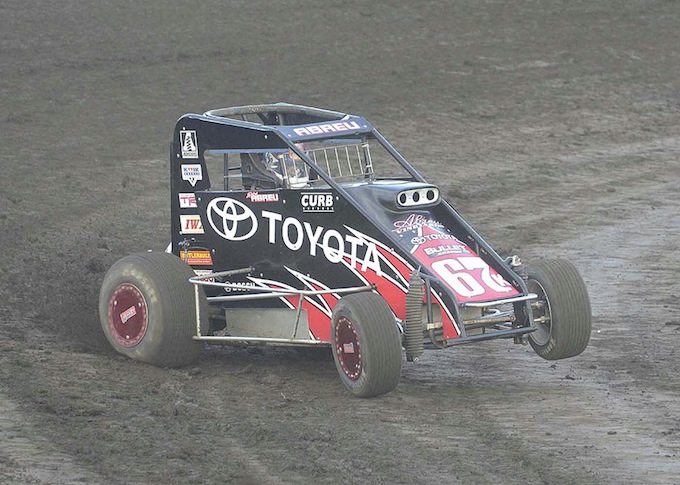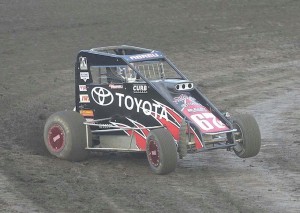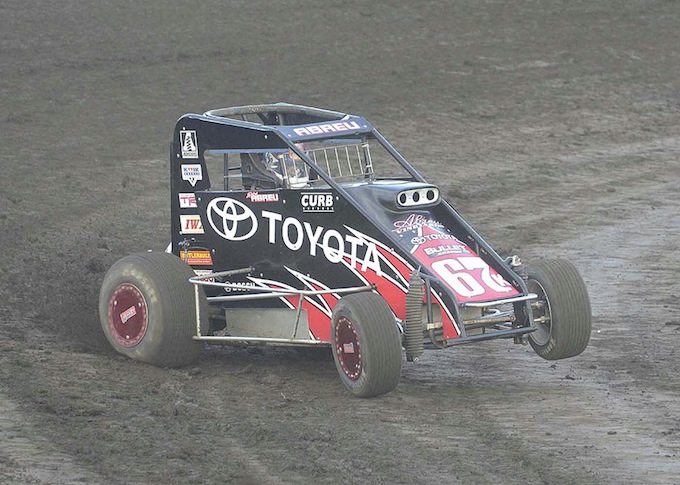 From Tim Tuttle and Dick Jordan
Sun Prarie, WI — (June 23, 2013) — Rico Abreu passed Tracy Hines following a restart with nine laps remaining and led to the checkered flag to finish five car lengths in front of runner-up Darren Hagen to win the 11th annual Sue Thiel Memorial against an outstanding field in an event tri-sanctioned by the POWRi Lucas Oil National Midget Series, Honda USAC National Dirt Midget Series and the Stark Automotive Group/Mid-State Equipment Badger Midget Series on Sunday at Angell Park Speedway.
Abreu went to the outside for the final restart on the 22nd lap and was side-by-side with Hines exiting turn two. The 21-year-old from Rutherford, Calif., moved ahead in turns three and four and had the lead in the Toyota-powered Bullet entering the front straight.
"I knew I had to make a move, the laps were running down," Abreu said. "I got my momentum going. Going up top was real technical with that cushion. The cushion had gotten tall and built up during the race and you had to either run below or above it. I ran above. It was tricky to get your front wheels over without causing a problem."
It was the second victory at Angell Park for Abreu, driving for Keith Kunz/Curb-Agajanian Motorsports, and his fourth in POWRi. His first Midget victory was nearly a year ago in a POWRi/Badger co-sanctioned event at the one-third mile track. Abreu's win Sunday was also his first in a USAC National Midget event.
"It's awesome to have two wins at Sun Prairie," Abreu said.
Abreu started on pole with Hines on the outside of the front row. He led the opening four laps, then Hines took over for two before Caleb Armstrong passed Abreu and Hines on back-to-back laps on the outside to take the lead on the seventh lap. But on the 11th, motor problems forced him to fall out.
Hines inherited the lead and held it in his Toyota-powered Spike from laps 11 through 21.
Hagen's RFMS Racing Esslinger-powered Spike had moved up from fifth starting position to third for the final restart. He passed Hines for second exiting turn two on the 23rd lap, but never has able to mount a serious challenge to Abreu.
Hagen was running in the middle of the track. The 2012 USAC National Midget champion from Riverside, Calif., was hoping to trap Abreu on the cushion and keep Hines below him.
"I had a shot to win, but it never unfolded how I wanted it to," Hagen said. "Rico was above the cushion. It's cool to see Rico win his first (USAC) race."
Hines of New Castle, Ind., finished third.
"We just got beat," he said. "They (Abreu, Hagen) got going on top and I was kind of set up for the bottom."
Jerry Coons Jr. of Tucson, Ariz., climbed from 10th starting position to finish fourth and Andrew Felker of Carl Junction, Mo., was fifth.
HONDA USAC NATIONAL DIRT MIDGET RACE RESULTS: June 23, 2013 – Sun Prairie, Wisconsin – Angell Park Speedway – Co-sanctioned by Powri and BMARA – 11th "Sue Thiel Memorial"
QUALIFICATIONS: 1. Caleb Armstrong, 7c, C&A-14.324; 2. Darren Hagen, 3, RFMS-14.337; 3. Casey Shuman, 57, Ecker-14.377; 4. Andrew Felker, 11A, Felker-14.394; 5. Christopher Bell, 71, Kunz/Curb-Agajanian-14.417; 6. Tracy Hines, 24, Parker-14.428; 7. Tanner Thorson, 67, Kunz/Curb-Agajanian-14.486; 8. Rico Abreu, 67K, Kunz/Curb-Agajanian-14.514; 9. Bryan Clauson, 39, Tucker/BCI/Curb-Agajanian-14.
570; 10. Alex Bright, 27, RW/Curb-Agajanian-14.584; 11. Jerry Coons, Jr., 63, Dooling-14.600; 12. Scott Hatton, 1, Hatton-14.657; 13. Brad Kuhn, 10, Cook-14.657; 14. Austin Brown, 7, KBR-14.730; 15. Jake Blackhurst, 25, Blackhurst-14.797; 16. Taylor Ferns, 55, Ferns-14.806; 17. Cody Weisensel, 20, Weisensel-14.872; 18. Danny Stratton, 2s, Lein-14.909; 19. Zach Daum, 5D, Daum-14.923; 20. Dalton Armstrong, 7A, C&A-14.938; 21. Chase Stockon, 11, Wilke-14.968; 22. Dave Darland, 2, Lein-15.047; 23. Bryon Walters, 5, Walters-15.079; 24. Tyler Thomas, 2T, Lein-15.113; 25. Mike Hess, 1H,
Hardy-15.210; 26. Brandon Waelti, 51, Huston-15.320; 27. Terry Babb, 88, Babb-NT.
FIRST HEAT : (10 laps) 1. Ferns, 2. Felker, 3. Daum, 4. Bright, 5. C. Armstrong, 6. Thorson, 7. Darland, 8. Hess, 9. Kuhn. 2:29.87
SECOND HEAT : (10 laps) 1. Coons, 2. Brown, 3. Hagen, 4. Abreu, 5. Waelti, 6. Bell, 7. Walters, 8. D. Armstrong, 9. Weisensel. 2:28.42
THIRD HEAT : (10 laps) 1. Hatton, 2. Hines, 3. Clauson, 4. Stratton, 5. Shuman, 6. Blackhurst, 7. Stockon, 8. Thomas. 2:33.61
SEMI: (12 laps) 1. Kuhn, 2. Thorson, 3. Blackhurst, 4. D. Armstrong, 5. Darland, 6. Hess, 7. Thomas, 8. Bell, 9. Stockon, 10. Weisensel, 11. Walters. 3:02.59
FEATURE: (30 laps) 1. Rico Abreu, 2. Darren Hagen, 3. Tracy Hines, 4. Jerry Coons, Jr., 5. Andrew Felker, 6. Alex Bright, 7. Bryan Clauson, 8. Tanner Thorson, 9. Christopher Bell, 10. Austin Brown, 11. Brad Kuhn, 12. Dave Darland, 13. Zach Daum, 14. Brandon Waelti, 15. Tyler Thomas, 16. Mike Hess, 17. Jake Blackhurst, 18. Dalton Armstrong, 19. Danny Stratton, 20. Casey Shuman, 21. Taylor Ferns, 22. Scott Hatton, 23. Caleb Armstrong, 24. Chase Stockon. NT
———————————
FEATURE LAP LEADERS: Laps 1-4 Abreu, Laps 5-6 Hines, Laps 7-10 C. Armstrong, Laps 11-21 Hines, Laps 22-30 Abreu.
NEW HONDA NATIONAL DIRT MIDGET POINTS: 1-Bell-323; 2-Clauson-309; 3-Hagen-285; 4-Felker-280; 5-Coons-271; 6-Hines-251; 7-Abreu-250; 8-Daum-230; 9-C.Armstrong-229; 10-Kuhn-208.
NEXT HONDA NATIONAL PAVEMENT MIDGET RACE: June 29 – Fountain, CO – Pikes Peak International Raceway
NEXT HONDA NATIONAL DIRT MIDGET RACE: July 3 – Pontoon Beach, IL – Tri-City Speedway – "Hut Hundred" – Co-sanctioned by POWRi