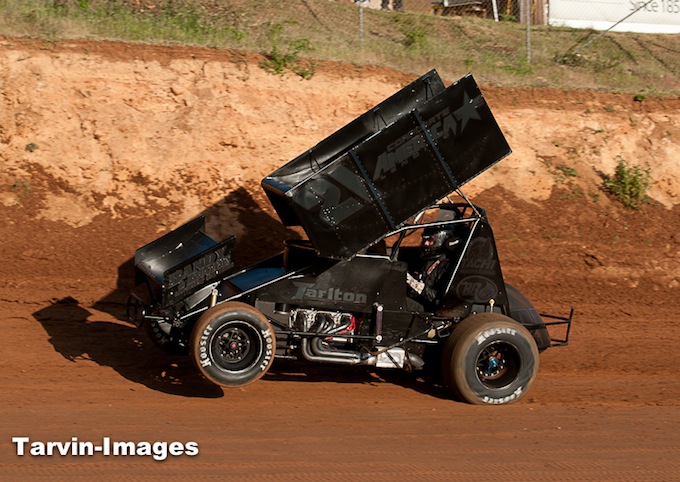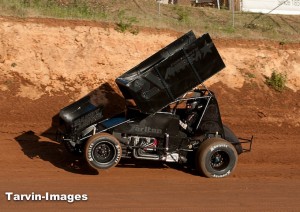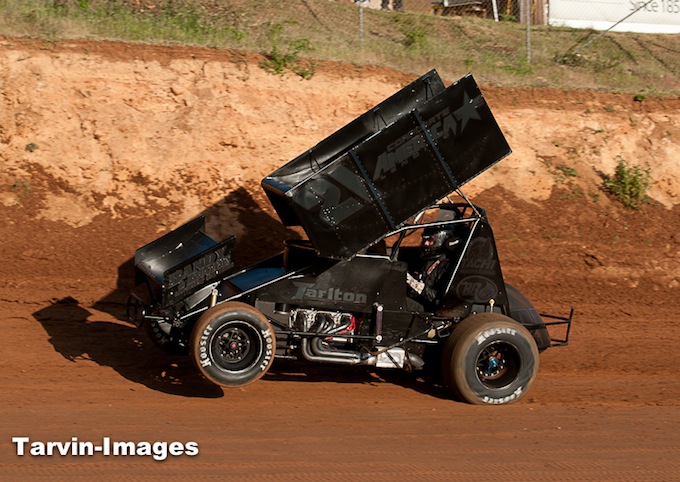 From Peterson Media
Last time Tommy Tarlton visited the Placerville Speedway, he charged form 18th to a third place finish. On Saturday night, Tarlton made his 10th start of the season and was back in Placerville, CA where he challenged for the lead late, before a late race mishap sent him back to the 10th spot as he scored his 10th top-ten of the season.
"We had a great car in the feature event, and had a car good enough to win," he said. "I just started running out of fuel with a couple laps to go, got in the cushion to hard, and it died, and I spun."
With blazing temperatures hovering over the speedway, 'The Night Rider" timed his Corporate America Investments/Tachi Palace and Casino/Tartlon and Son machine in ninth fastest.
In heat race action, Tarlton jumped into the second spot as he chased after early leader, Willie Croft. Looking to steal the win away, and garner a dash berth, Tarlton pressured Croft, and contact ensued between to the two, and the raced on.
Going low, Tarlton got his front tires in the infield, and spun his machine out, and was forced to the back, where he would finish sixth.
With no B main due to a light 23-car field, Tarlton would start in the 10th spot based on his time trial time, and being treated as he ran in the top-two spots of the B, had their been one.
In a race that was plagued with cautions and stoppages, the Easton, CA driver held tough in the sixth spot, until a caution at the mid-way point, put him in the top three.
With many drivers working the bottom of the speedway, Tarlton pounded the cushion, as he worked into the second spot, and had a huge run on race leader, Jonathan Allard, until the caution waived, and Tarlton was controversially put back into the third spot.
Un happy with the decision, Tarlton put a bold move on Shane Golobic on the ensuing restart, and took the second spot, and held it when the caution waived a lap later, putting him right next to Allard.
With just seven markers to go, Tarlton went high again, put as he hit the cushion, his car sputtered, and he spun out, and slowed, but the caution was deemed for him, and he was sent to the tail, which was the 10th spot.
Over the final few markers Tarlton fought his car, and wound up scoring a 10th place finish.
"We tried, and we had some fun," he said. "Paul Baines had this thing dialed in, but unfortunately we just had some issues."
Tarlton Racing would like to thank Corporate America Investments, Tachi Palace and Casino, Tarlton and Son, Bandy and Associates, Pro Signs, BG Lubricants, All Star Performance and Astro Titanium for their continued support.
VIDEO- Check out the action from Placerville! http://petersenmediainc.com/tarlton-10th-during-wild-placerville-feature/
2013 BY THE NUMBERS: Races-10, Wins-3, Top 5's-8, Top 10's-10
STAY CONNECTED: Stay connected with Tommy by visiting www.tommytarlton.com, follow @Tarlton_Racing on Twitter, or become a fan on facebook at www.facebook.com/21.