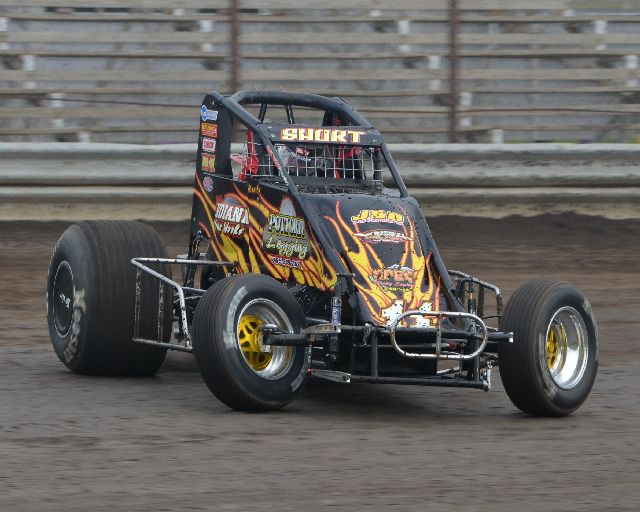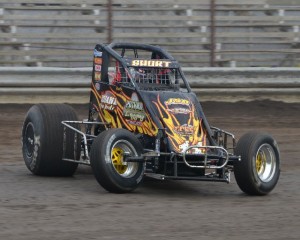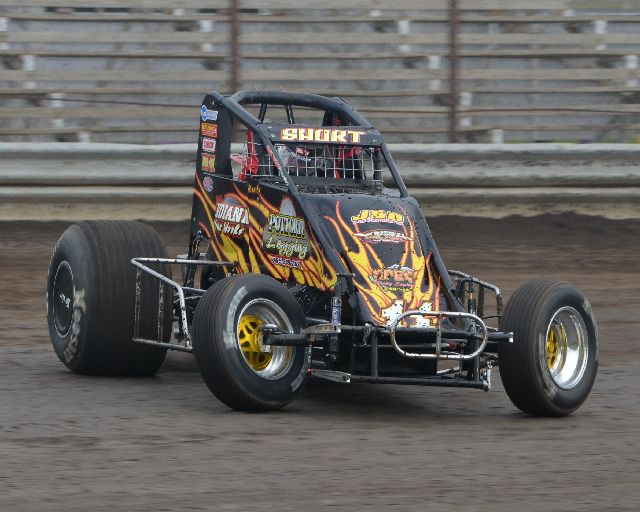 From Mike O'Leary
Terre Haute, IN — (July 2, 2013) —  Bedford's Brady Short is a goal-setter.  At the beginning of the season he decided that this year he wanted to win both the King of Indiana Sprint Series and Hoosier Tire Midwest Sprint Car Series titles, as well as the track championship at his hometown powerplant, Bloomington Speedway.  Tonight he has the opportunity to achieve the first of these milestones when the KISS and MSCS series compete at the Terre Haute Action Track.
With the mid-week race and the upcoming Independence Day holiday, the Action Track has included a working visit by NASCAR, IndyCar and USAC champion Tony Stewart and USAC champion Ken Schrader.  Both will compete in the UMP modifieds.
Coming into the final race of the KISS series with an 80-point lead, Short will wrap up the title by taking the green flag in main event.  Notching victories at Bloomington and Gas City, and adding a pair of fifth place finishes, Short has been fast, furious and consistent in the Pottorff Logging sprinter.  The battle for second will highlight Kevin Thomas Jr., Kokomo KISS  winner Robert Ballou, Hunter Schuerenberg and Casey Shuman, all within 64 point of each other.
The sprint car program will also be a point-paying event for the tough Midwest Sprint Car Series.  Thomas leads the MSCS points, just 13 ahead of Short.  Daron Clayton is third, followed by Kyle Cummins and Ballou.  Jon Stanbrough and Chase Stockon are not far behind in the MSCS standings.
General admission is $20 and infield tickets are $15.  Kids 10 and under are admitted free.  Pit passes are $30.  With the KISS / MSCS sprint car and UMP modified racing program, the general admission gates will open at 4:00 pm, the pit gate at 3:00, with hot laps at 7:00 and racing at 8:00.  The Terre Haute Action Track provides more information at www.terrehauteactiontrack.net.
With a dozen years of racing, KISS has built a deserved reputation for featuring the best drivers at the most competitive tracks.  This brings out not only the best in the racers, but also the best fans.  To this end, KISS features pay $2,500 to win and $250 to start.  The point fund will pay $4,200, with the series champion earning $1,200. Second in points will collect $900, and third through fifth will receive $800, $700 and $600.
KISS Point Standings
1. Brady Short 680, 2. Kevin Thomas Jr. 600, 3. Robert Ballou 581, 4. Hunter Schuerenberg 577, 5. Casey Shuman 536, 6. Levi Jones 492, 7. Dave Darland 479, 8. Shane Cottle 427, 9. Jerry Coons Jr. 400, 10. Chris Gurley 351
2013 KISS SCHEDULE
May 3     Bloomington Speedway – Brady Short
May 5        Kokomo Speedway – Robert Ballou
May 10    Gas City I-69 Speedway – Brady Short
May 18     Lawrenceburg Speedway – Rain
May 26    Tri-State Speedway – Daron Clayton
June 1    Paragon Speedway – Rain
July 2    Terre Haute Action Track