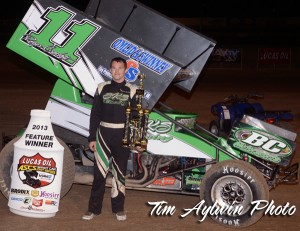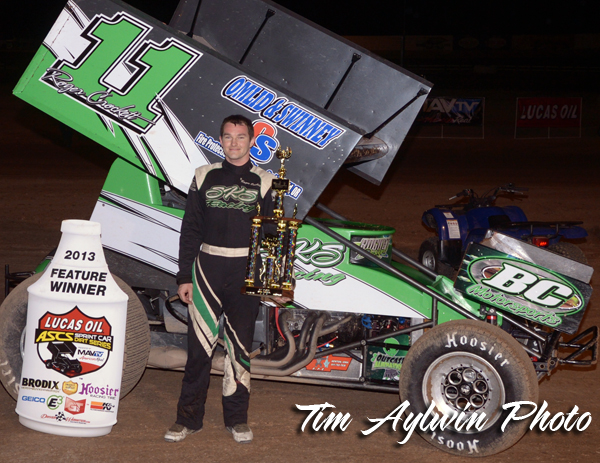 From Ben Deatherage
White City, OR — (July 1, 2013) — Fans of the Southern Oregon Speedwa were treated to a thriller of a main event on Monday July 1st. The American Sprint Car Series-Northwest Region resumed the 2013 Bully Dog Performance Speedweek Northwest presented by Contingency Connection after taking Sunday off for travelling. The largest car count of the week would be on hand with twenty-eight drivers signing in on the registration sheets.
Roger Crockett, from nearby Medford, Oregon, would score his second straight Speedweek win and his third victory with ASCS-Northwest in five starts this season. The pilot of the SKS Racing/Al Parker Racing Engines/Champion Racing Oil #11 KPC would have to earn the victory the hard way after starting twelfth and obtaining the lead late.
But before Crockett would seize the top spot several lead changes would occur. Original pole sitter Mason Moore from Princeton, California had his Mason Insurance Services Inc./LRB Race Products #22 A.R.T. in front early before losing first place to Andy Forsberg of Auburn, California shortly after a restart. Forsberg would be blazing the trail by lap four in the Cody Gaeney owned PTShocks.com/Autism Awareness/Loder Inc. #7C John Boy.
Forsberg set the pace for a few laps before he himself would be tracked down by Shane Stewart of Pittsboro, Indiana. Stewart, back in the Finley Farms/CLT Logging #77 A.R.T., got the lead on lap ten and set a wicked pace and seemed to have the field covered.
As the race would continue Stewart would get through lapped traffic without any issues. But as the green flag got longer and longer Roger Crockett got faster and faster. Crockett would hunt down Stewart and pass him in turns one and two on the bottom on lap twenty-four.
Crockett would lead the rest of the way and have no problems. The three-time and defending ASCS-Northwest Region champion earned his second career series win at Southern Oregon Speedway since the tour began visiting the 1/3-mile clay oval back in 2008.
"We had a really good car," commented Crockett in victory lane, "once we got in clean and the race stayed green we were really really good. We're off to a good start by winning two races in a row and we got the rest of the whole week to win some more."
Shane Stewart would finish the evening in the runner-up spot with third place going to Steven Tiner of Visalia, California driving the Western Metal Company #37 KPC for car owner Stan Greenberg. Andy Forsberg crossed the strip in fourth followed by Mason Moore in fifth.
"We were strong early but didn't find the rubber quick enough," said Shane Stewart, "we found a little bit of it but it wasn't solid rubber like Roger found when he went by us. Good job to him and I got to thank the Finley brothers and the crew working very hard on the car."
"I got stuck on the bottom early," stated Steven Tiner, "I reeled Roger and Shane in the end there. I can't complain being that I'm a weekly racer and finishing behind those two guys is a good night for this team."
In heat race action earlier in the evening winners were the Great Western Transport/Elma Lanes #9R Eagle of Reece Goetz from Snohomish, Washington, Steven Tiner, Garen Linder of Central Point in his Linder Powdercoating/Rodgers Racing Engines #22L KPC, and Mason Moore. A twelve lap consolation feature was ran with Chadd Noland of Central Point earning the victory in the Hedge Carter Continuous Gutter Service/Steelhouse Metal Roofing Supply/Oregon West RV #71 XXX for car owner Hedge Carter.
The ASCS-Northwest Region will trek north on Tuesday July 2nd to the Coos Bay Speedway on the Oregon coast for round four of the 2013 Bully Dog Performance Speedweek Northwest presented by Contingency Connection. For more information log on to www.ascsnorthwest.com.
Race Summary:
American Sprint Car Series-Northwest Region Race #5
2013 Bully Dog Performance Speedweek Northwest presented by Contingency Connection Round #3
Southern Oregon Speedway
White City, Oregon
28 Entries
Heat Race Winners: Reece Goetz (1), Steven Tiner (2), Garen Linder (3), Mason Moore (4)
B-Feature: 1. Chadd Noland, 2. Cody Ridge, 3. Cam Smith, 4. Zack Spaulding, 5. Seth Nunes, 6. Kenny Allen, 7. Brent Hoover, 8. Brian Boswell, 9. Jesse Thistle, 10. Truman Winningham, 11. Luke Didiuk, 12. Allison
A-Feature: 1. Roger Crockett, 2. Shane Stewart, 3. Steven Tiner, 4. Andy Forsberg, 5. Mason Moore, 6. Kyle Hirst, 7. Garen Linder, 8. Willie Croft, 9. Henry Van Dam, 10. Sean Becker, 11. Reece Goetz, 12. Zack Spaulding, 13. Chadd Noland, 14. Cam Smith, 15. Kelly Miller, 16. Jay Cole, 17. Cody Ridge, 18. Travis Rilat, 19. Trey Starks, 20. J.J. Hickle