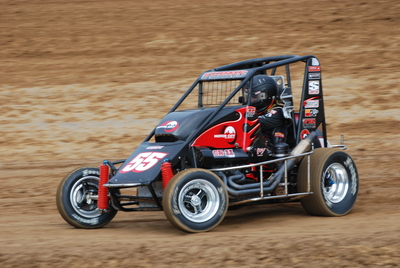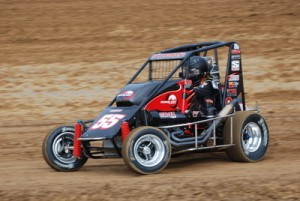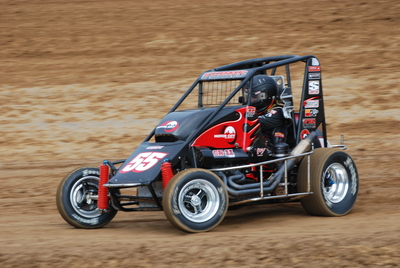 From Ferns Racing PR
Shelby Township, MI — (July 2, 2013) — Taylor Ferns is always excited to climb into the driver's seat. This week she'll have a little extra bounce in her step, after earning a career-best fifth-place finish with the Honda USAC National Midget Series on Saturday, July 29 at Pikes Peak International Raceway in Colorado. A trio of dirt midget races await the 17-year-old this week, all in the state of Illinois.
At Pikes Peak International Speedway, the native of Shelby Township, Mich., qualified ninth, which put her on the inside of the fifth row for the 25-lap main event on the one-mile paved oval in her family-owned Motor City Transport Inc. Beast. She steadily worked her way forward, breaking into the top-five just past the halfway point of the race. Ferns would cross the line fifth to earn her first-career top-five finish with the Honda USAC National Midget Series.
"We definitely had some strong runs last weekend," said Ferns who ran both the Midget and Silver Crown race. "To finish fifth in the midget was great. We've been fast in the midget a lot this year and just have had some bad luck, so hopefully we can carry the momentum from last weekend into this weekend. The competition is so tough with the USAC National Midget Series, so anytime you run up front that boosts your confidence."
The Hut Hundred at Tri-City Speedway in Pontoon Beach, Ill., will serve as the opener of the three-race week on Wednesday, July 3. That event was postponed by rain in May. Following a day-off for the Honda USAC National Midget Series on Independence Day, July 4, action shifts to Belle-Claire (Ill.) Speedway for the two-night Bash at Belle-Claire, on Friday, July 5 and Saturday, July 6.
Ferns made her first-career Honda USAC National Midget Series start at Tri-City Speedway in 2011, during the Gold Crown Midget Nationals, winning a heat race to earn a spot in the preliminary feature where she came home 16th. She also raced in the event last year, which was shortened to a two-night contest due to rain.
"I've been to Tri-City (Speedway) a few times now, so I know the track pretty well," she shared. "As a driver, you always look forward to going to a track that you've been to before, because you don't have to learn the track like it's your first time there. That's definitely helpful and it seems like we are getting better and better on the dirt each time we race. In the last dirt race at Sun Prairie (Angell Park Speedway in Wisconsin) we were fast and had some bad luck in the feature, breaking two shocks. The car definitely has the speed in it."
The 17-year-old will be making her debut at Belle-Claire Speedway. She was slated to race at the fifth-mile bullring each of the last two seasons, but those appearances were foiled by rain. The Bash at Belle-Claire will be co-sanctioned by the Honda USAC National Midget Series and the POWRi Lucas Oil National Midget Series. In a co-sanctioned race on June 24 at Angell Park Speedway in Wisconsin, Ferns won a heat race.
"I grew racing on smaller tracks, so going to a place like Belle-Claire is 'close to home' for me," noted Ferns. "Hopefully I can adapt to the track pretty well and we can get up to speed quick and have a good run. Having raced in the Chili Bowl a couple of times will definitely help as that's a very, very small track as well."
Last weekend at Pikes Peak, the 2011 USAC D1 Midget Series champion also competed in the USAC Traxxas Silver Crown Series portion of the Rocky Mountain Classic. Piloting the No. 35 for Team 6R Racing, she qualified 11th and methodically worked her way to the front. She ran as high as fourth in the 100-lapper and was fifth with just two laps to go when she ran out of fuel.
Along with competing in the majority of events with the Honda USAC National Midget Series this season on both the dirt and pavement, Ferns will compete in selected USAC Traxxas Silver Crown Series races. She also has seven ARCA Racing Series presented by Menards races on her docket. Ferns finished ninth in her debut with that series back in March at Mobile International Speedway in Alabama, after qualifying fifth. She also has raced with ARCA at Toledo Speedway in Ohio and Elko Speedway in Minnesota.
"Going from the dirt to asphalt and vice versa is a challenge for sure," Ferns said. "That's one of the great things about USAC is that we race on such a variety of tracks and in different car as well. Last weekend we were on a one-mile paved track and this week we'll be on a three-eighths-mile dirt track at Tri-City (Speedway) and then a tiny track at Belle-Claire (Speedway). Racing a variety of tracks and cars is how you get better as a driver and gain versatility. Working in the shop on the cars this summer with Tracy (Hines) has helped a ton as well, especially in terms of sharing what adjustments to make to the car at the track."
Taylor Ferns and Ferns Racing would like to thank their valued partners: Motor City Auto Transport Inc., National Auto Placement, FK Rod Ends, Lucas Oil, K&N Filters, Lansing Sanitary Supply (LSS), Simpson Race Products, Indy Race Parts, ButlerBuilt, Allstar Performance, Stanton Racing Engines, Hoosier Tire Midwest, Lyn St. James Women in the Winner's Circle Foundation, Race4Girls and Racing2Cure.
###
Keep up to date
For the latest news, results and information on Taylor Ferns and Ferns Racing and to view a full 2013 schedule, visit TaylorFerns.com. Follow Taylor on Twitter at @TaylorFerns and like her on Facebook.