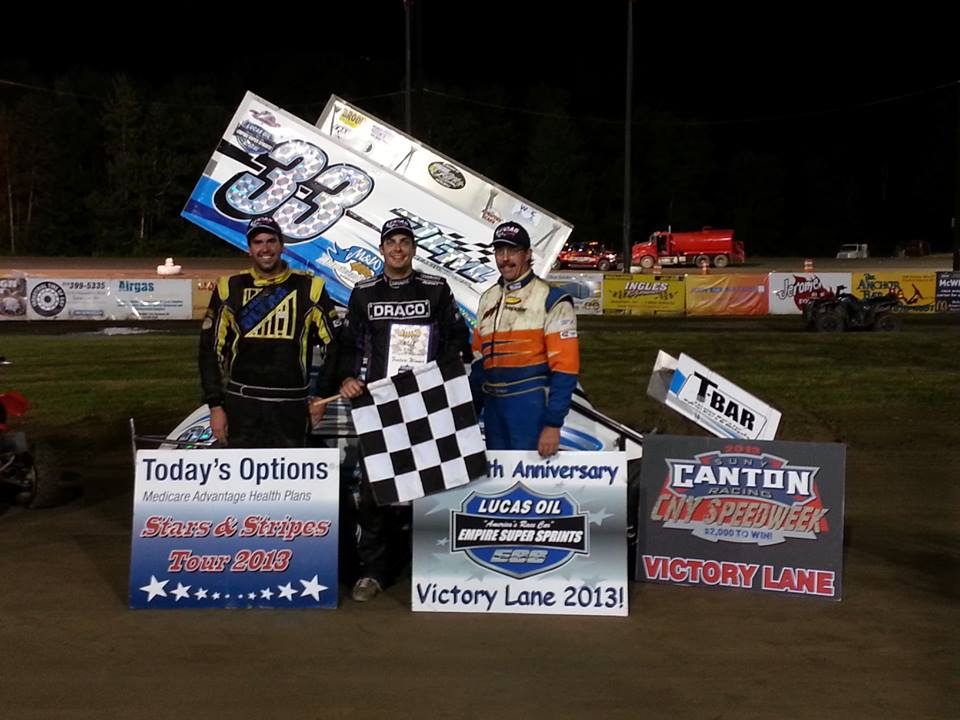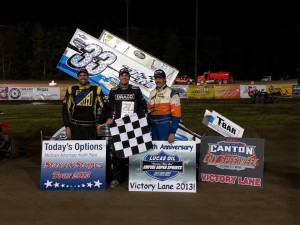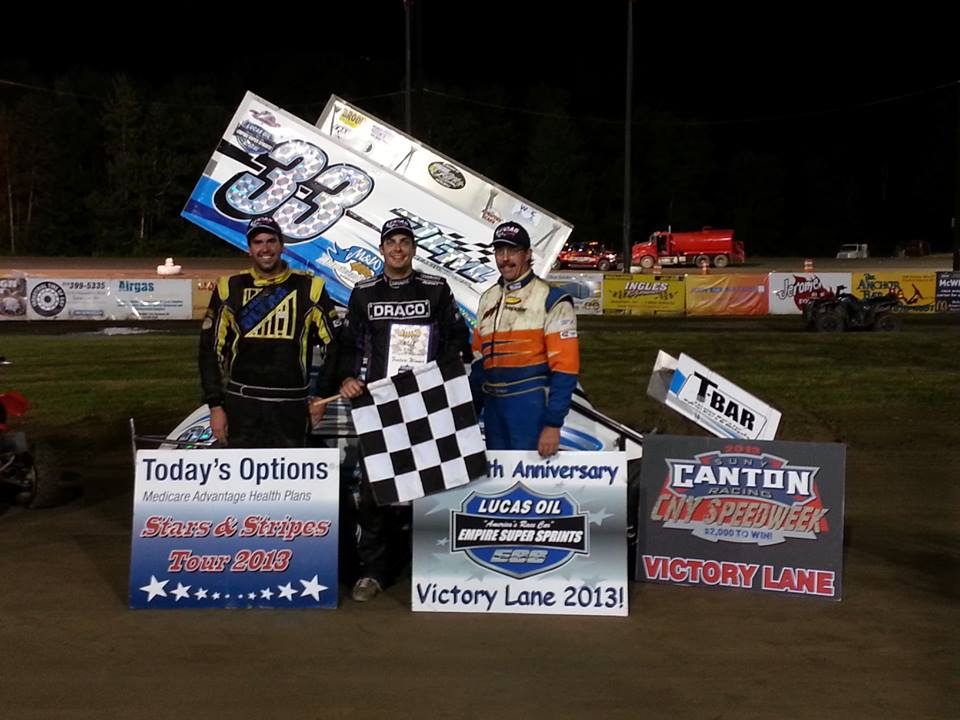 Central Square, NY — (July 4, 2013) — Stewart Friesen earned his first ever Lucas Oil Empire Super Sprint 25-lap A-Main victory on Thursday night at the Brewerton Speedway. The Niagara-on-the-Lake, Ont., driver bested a stout 39 car field on night number two of SUNY Canton Central New York Speedweek.
Friesen started fifth in his Doug Emery Motorsports No. 33, the same car that won last year's Brewerton event with Shawn Donath behind the wheel. The race carried points for the overall Empire Super Sprint/Lucas Oil tour title as well as toward the Today's Options Stars and Stripes American Tour and SUNY Canton Series..
"Any time you can win here; this place is so tough," said Friesen, who owns one career Modified win at the speedway. "You've got Curt Michael here and he is one of the best in the business and he was a lapped car tonight. That shows how tough this place is. I'm thrilled to be up here and get the win and I have to thank Doug and Barb."
Kevin Ward Jr., started on the pole and jumped out to the early lead. He was chased by Lance Yonge who started second.
Those two drivers battled at the front of the field with Ward working low and Yonge utilizing the top groove of the speedway. Ward never waived from the bottom groove with Yonge eventually powering by him on the top side on lap six in turns three and four.
Yonge raced away from Ward who now had his hands full with Friesen. Friesen moved into second before 10 laps were complete. Once there he tracked down Yonge working through the middle of the speedway.
On lap 13 Friesen worked to the bottom of turns one and two. He found some moisture on the track and made the pass of Yonge for the lead as they raced down the backstretch.
"I got down in the brown and hooked it good," stated Friesen about the pass for the lead. "I got back to the throttle, got back to the middle and kept my momentum up. That was the key."
They were the top two drivers in the field when the caution came out on lap 15 at Robbie Stillwaggon hit a yuke tire and spun into the infield after breaking the front end.
Even with a double-file restart Yonge couldn't get enough of a run on Friesen. Friesen, using his Modified knowledge of the speedway, utilized the middle groove near the end of the race allowing him to drive away from Yonge.
At his point the race for second picked up between Yonge and opening night winner Michael Parent. Parent worked high and low trying to find a way by the veteran driver. Yonge stayed consistently on the top of three and four and it proved to be enough to hold off Parent.
The checkered fell with Friesen picking up the victory and Yonge hanging on for second. It was Yonge's best finish of 2013 in his self-owned No. 17J.
"This is the first time this year so we'll take it," said Yonge about the podium finish. "It was a good night to start up front. Stewie was good tonight and Doug always has a good car here."
Parent started eighth and the feature and settled for third handing him the SUNY Canton Speedweek point lead after two nights of action. He used every inch of race track in the final laps to get by Yonge but it was to no avail.
"We've been running pretty good lately," said Parent. "We started eighth and I wish we could have started closer to the front. Stewie ran a good race and we had a good battle there with Lance. I didn't know which lane to pick because we were switching every lap, it was fun."
Bryan Howland crossed the line fourth for the second consecutive night while Donath finished fifth earning his first top five run of the season. Rounding out the top ten were Jason Barney, who had to swap engines after Rolling Wheels, Chuck Hebing, Larry Wight, Steve Poirier and Jessica Zemken
Speedweek Night #2 Notes – New teams joining the Speedweek along with Friesen were Scott Kreutter, Dave Wickham, Tyler Rand and James Hanson…Both Vinnie Vitale and Mike Stelter were flip victims at Rolling Wheels but were back in action tonight…Speedweek night #2 played host to a big crowd at the D-Shaped Dirt Demon…Night #3 its off to Can-Am.
SUNY Canton CNY Speedweek A-Main – Stewart Friesen ($2,250), Lance Yonge, Michael Parent, Bryan Howland, Shawn Donath, Jason Barney, Chuck Hebing, Larry Wight, Steve Poirier, Jessica Zemken, Charlie Donk, Kevin Ward Jr., Sammy Reakes IV, Paul Kinney, Matt Tanner, Jeff Cook, Tommy Wiickham, Patrick Vigneault, Jared Zimbardi, Dylan Swiernik, James Hanson, Curt Michael, Justin Barger, Robbie Stillwaggon, Tim Hogue, Mike Stelter.
DNQ – Scott Kreutter, Dave Ely, Steve Hutchinson, Zach Weigand, Dave Wickham, Joe Trenca, Etienne Girard, Tyler Rand, Vinnie Vitale, Kyle Moffit, Jared Fink, Paul Habeck, Jordan Thomas.
Car Mate Custom Built Trailers Heat 1 – Ward Jr., Hebing, Howland, Tanner, Wight
Car Mate Custom Built Trailers Heat 2 – Friesen, Donath, Barney, Zimbardi, Zemken
Car Mate Custom Built Trailers Heat 3 – Poirier, Donk, Stillwaggon, Cook, Michael
Car Mate Custom Built Trailers Heat 4 – Barger, Parent, Yonge, Swiernik, Hogue
X1 Chassis/87 Speed – Cobra Coaches Dash – Friesen
Lacaillade Masonry B-Main 1 – Stelter, T. Wickham
Lacaillade Masonry B-Main 2 – Reakes IV, Kinney
Provisionals – Vigneault, Hanson
Bonuses:
Westward Painting Company Halfway – Friesen $100
Ohsweken Speedway Winners Bonus – Friesen $100
Fondations 4 Saisons Hard Charger – Kinney (10 pos.) $50
Fondations 55 Pick 5 – Donath $50
North Eastern Pool and Spa Power Pick – Swiernik, Michael $50
Lacailade Masonry B-Main – Stelter, Reakes IV $50
Go Nuclear Late Models Go Fast Award – Friesen (15.050) $25
Jimmy D's Speed and Machine Fast Time – Friesen (14.779)
Car Mate Custom Built Trailers – Ward Jr., Friesen, Poirier, Barger $25
Dirt Track Digest Hard Luck Award –
Mike Emhof Motorsports – Donath, Donk $25
For more information on the Lucas Oil Empire Super Sprints:
Web: www.empiresupersprints.com
Twitter: @ESSprints
Facebook: www.facebook.com/#!/EmpireSuperSprints
Android App: Empire Super Sprints