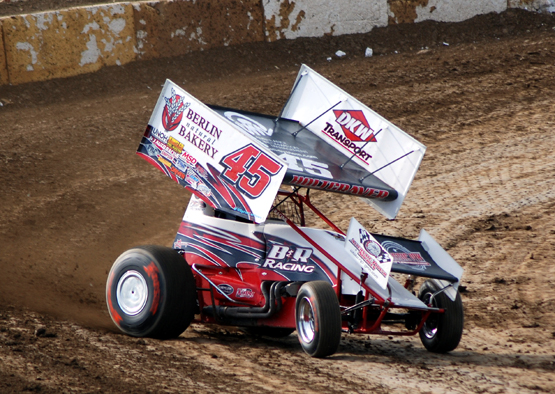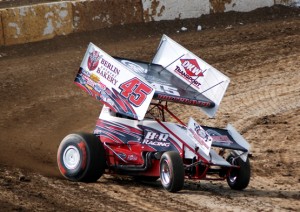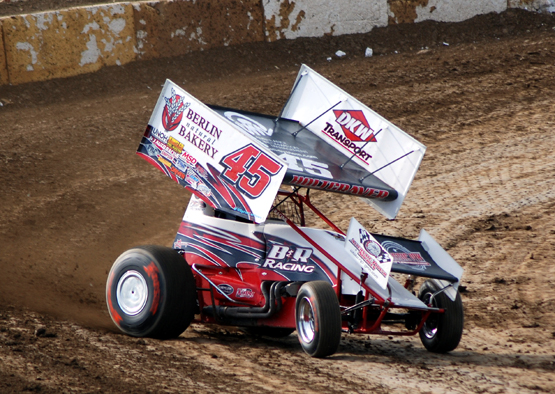 Mercer, PA — (July 6, 2013) — Danny Holtgraver probably wishes the University of Northwestern Ohio All Star Circuit of Champions raced at Mercer Raceway Park a lot more. The Pittsburgh, Pennsylvania native held off a very motivated Cap Henry to score his second series win of 2013 Saturday night.
Holtgraver has won every time he has competed at Mercer this season – 4 wins. He has 7 total victories in 2013 including the pair of UNOH All Star victories. The last time Holtgraver competed at Mercer he won both the 360 sprint feature and 410 sprint event. The victory is the fifth career UNOH All Star win for the former Lernerville track champion.
Cautions near the end of the race were a big benefit to Holtgraver, who at one point had lost the lead to Henry, who finished second to Holtgraver earlier this year at Mercer.
"We were good in traffic. Cap got around me at one point, but then got hung up and I got back around and the caution came out. Ohio Speedweek turned our season around. We had consistently good finishes…that's what we needed, some consistency. Brian (Kemenah), Chris (Bowe), my dad and all the guys have been working hard and this is pretty awesome. I have a lot of confidence now as we get into the big races next couple of weeks," said Holtgraver beside his Rob Hunter/Bryan Grove owned machine.
"We are starting to really gel at the right time of the year. We are communicating very well and I feel really good in the car," added Holtgraver of his Berlin Natural Bakery/Canton Erectors/J&J Auto Racing/Kistler Engines/VRP Shocks/DKW Transport/Classic Ink backed #45.
While most drivers would be happy with a runner-up finish, Henry felt disappointed that he couldn't give his crew a win. It was announced this week that Henry's team was scaling back due to finances and would run the rest of the Ohio Region races for the UNOH All Stars but would miss the Western Region competition.
"Danny was a lot better in clean air. I thought if we could stay in traffic I had a shot but the cautions killed us. I wanted that win so bad for my guys, A.J. (Havens) and Barmen (Andrew). The three of us have been together for a couple of years and they are my best friends…they are family. A.J. is sticking with me for the remaining races we run and is going to help other teams and Barman is going to help Caleb Helms. That was something that was in the back of my mind all night," said Henry beside his FK Rod Ends/K&N Filters/Champion Oil/Simpson Race Products/Keizer Wheels backed #54.
"I can't thank my guys enough. They have worked their butts off for me and did more with fewer resources than anyone out here and for less pay. I couldn't ask for a better crew," added Henry.
Four time UNOH All Star champion Tim Shaffer came into the event after claiming the 2013 Ohio Sprint Speedweek title with consistent top 10 finishes and came home third. Shaffer, who is second in the series national and Ohio Region points behind Dale Blaney, is winless in All Star competition in 2013.
Before the green would fly for the 30-lap feature, Adam Kekich would have problems forcing him to the tail. When the green reappeared pole-sitter Holtgraver would bolt into the lead with fourth starting Henry quickly moving into second while outside front row starter Rod George fell to third. The leaders would quickly get into lapped traffic and Holtgraver and Henry had the huge crowd on their feet as they sliced and diced for the lead.
Henry would capture the lead at one point, but got trapped behind a lapped car and Holtgraver vaulted back to the point. The action ground to a halt on lap 12 when Cole Duncan got upside down – he was uninjured. On the restart Holtgraver lead Henry, fifth starter Shaffer, George, and Carl Bowser. During the red Jac Haudenschild would retire to the pits with mechanical woes.
On the restart Blaney, who started 11th after having to transfer to the feature via the B-main, moved into the fifth position. With a clear track, Holtgraver was able to pull away slightly from Henry. But, as soon as Holtgraver found traffic again Henry closed. But, with 8 laps to go Sheldon Haudenschild stopped on the back stretch, handing Holtgraver a clear track once again.
The restart running order was Holtgraver, Henry, Shaffer, George, Blaney, Bowser, Jack Sodeman Jr., Andy Priester, current Mercer point leader Eric Williams and Andrew Palker. Holtgraver would fly to the checkers over Henry, Shaffer, George and Blaney.
The UNOH All Stars now head to the Empire State for a couple of Eastern Region events. They will travel to Fulton Speedway in Fulton, N.Y. on July 17 and to Fonda Speedway in Fonda, N.Y. on July 18. Then the series head to the traditional Thunder Through the Plains for six events beginning July 20 at Wilmot Raceway in Wilmot, Wisconsin followed by Husets Speedway July 21 in Brandon, S.D. Then it's to Hibbing Raceway in Hibbing, Minn. on July 23 followed by Jackson Speedway in Jackson, Minn. on July 27 and Buffalo River Race Park in Lyndon, Minn. on July 28 before wrapping up the Great Plains Region races back at Husets Speedway on Aug. 11.
For more information go to www.allstarsprint.com
Mercer Raceway Park  – 7/6/2013
UNOH Night
All Star Circuit of Champions (34 Cars)
[#]-Starting Position
Qualifying – Kistler Engines
1. 45-Danny Holtgraver, 13.994; 2. 83-Tim Shaffer, 14.031; 3. 8-Rod George, 14.107; 4. 54-Cap Henry, 14.124; 5. 22-Cole Duncan, 14.166; 6. 2-Dale Blaney, 14.182; 7. 10-Carl Bowser, 14.214; 8. 7-Eric Williams, 14.216; 9. 6-Jac Haudenschild, 14.288; 10. 57X-Andrew Palker, 14.301; 11. 80-Trey Gustin, 14.317; 12. 97-Dean Jacobs, 14.326; 13. 15-Scott Priester, 14.330; 14. 21N-Andy Preist, 14.356; 15. 22S-Brandon Spithauler, 14.401; 16. 94-Jack Sodeman Jr., 14.402; 17. 10T-Sheldon Haudenschild, 14.406; 18. 38-Dennis Wagner, 14.416; 19. 24H-Bryan Sebetto, 14.441; 20. 5K-Adam Kekich, 14.506; 21. 2L-Ed Lynch Jr., 14.522; 22. 81-Craig Folmar, 14.539; 23. O-Phil Gressman, 14.548; 24. O8-Dan Kuriger, 14.579; 25. 40-Caleb Helms, 14.585; 26. 13-Brandon Matus, 14.590; 27. 38K-Danny Mumaw, 14.606; 28. 66-Chris Best, 14.615; 29. OX-Andy McKisson, 14.894; 30. 33-Brent Matus, 14.927; 31. D12-Jason Dolick, 14.930; 32. 69-Adam Anderson, 15.278; 33. 5-Bob McMillin, 15.385; 34. 21-Andre Layfield, 16.117
Heat 1 – Kears Speed Shop (8 Laps – Top 5 finishers transfer to the A-feature)
1. 2L-Ed Lynch Jr.[1] ; 2. 6-Jac Haudenschild[4] ; 3. 10T-Sheldon Haudenschild[2] ; 4. 22-Cole Duncan[5] ; 5. 45-Danny Holtgraver[6] ; 6. OX-Andy McKisson[8] ; 7. 15-Scott Priester[3] ; 8. 40-Caleb Helms[7] ; 9. 5-Bob McMillin[9]
Heat 2 – All Pro Aluminum Heads (8 Laps – Top 5 finishers transfer to the A-feature)
1. 81-Craig Folmar[1] ; 2. 21N-Andy Preist[3] ; 3. 38-Dennis Wagner[2] ; 4. 57X-Andrew Palker[4] ; 5. 83-Tim Shaffer[6] ; 6. 2-Dale Blaney[5] ; 7. 13-Brandon Matus[7] ; 8. 21-Andre Layfield[9] ; 9. 33-Brent Matus[8]
Heat 3 – Dragon Race Fuel (8 Laps – Top 5 finishers transfer to the A-feature)
1. O-Phil Gressman[1] ; 2. 24H-Bryan Sebetto[2] ; 3. 22S-Brandon Spithauler[3] ; 4. 10-Carl Bowser[5] ; 5. 8-Rod George[6] ; 6. 80-Trey Gustin[4] ; 7. 38K-Danny Mumaw[7] ; 8. D12-Jason Dolick[8]
Heat 4 – Kinsler Fuel Injection (8 Laps – Top 5 finishers transfer to the A-feature)
1. 5K-Adam Kekich[2] ; 2. O8-Dan Kuriger[1] ; 3. 94-Jack Sodeman Jr.[3] ; 4. 54-Cap Henry[6] ; 5. 7-Eric Williams[5] ; 6. 97-Dean Jacobs[4] ; 7. 69-Adam Anderson[8] ; 8. 66-Chris Best[7]
Dash – Outerwears Performance Products (6 Laps, finishing order determined first 6 starting positions of A-feature
1. 45-Danny Holtgraver[2] ; 2. 8-Rod George[4] ; 3. 10-Carl Bowser[1] ; 4. 54-Cap Henry[5] ; 5. 83-Tim Shaffer[3] ; 6. 22-Cole Duncan[6]
B-Main – MSD Ignition (12 Laps – Top 4 finishers transfer to the A-feature)
1. 2-Dale Blaney[1] ; 2. 15-Scott Priester[4] ; 3. 80-Trey Gustin[2] ; 4. 13-Brandon Matus[6] ; 5. 97-Dean Jacobs[3] ; 6. OX-Andy McKisson[9] ; 7. 38K-Danny Mumaw[7] ; 8. 40-Caleb Helms[5] ; 9. D12-Jason Dolick[11] ; 10. 69-Adam Anderson[12] ; 11. 21-Andre Layfield[14] ; 12. 66-Chris Best[8] ; 13. 5-Bob McMillin[13] ; 14. 33-Brent Matus[10]
A-Main – University of Northwestern Ohio (30 Laps)
1. 45-Danny Holtgraver[1]; 2. 54-Cap Henry[4]; 3. 83-Tim Shaffer[5]; 4. 8-Rod George[2]; 5. 2-Dale Blaney[11]; 6. 10-Carl Bowser[3]; 7. 94-Jack Sodeman Jr.[15]; 8. 21N-Andy Preist[10]; 9. 57X-Andrew Palker[9]; 10. 2L-Ed Lynch Jr.[20]; 11. 15-Scott Priester[13]; 12. 7-Eric Williams[7]; 13. 13-Brandon Matus[24]; 14. 38-Dennis Wagner[17]; 15. 5K-Adam Kekich[19]; 16. O-Phil Gressman[22]; 17. 10T-Sheldon Haudenschild[16]; 18. 24H-Bryan Sebetto[18]; 19. 6-Jac Haudenschild[8]; 20. 22-Cole Duncan[6]; 21. 81-Craig Folmar[21]; 22. 80-Trey Gustin[12]; 23. O8-Dan Kuriger[23]; 24. 22S-Brandon Spithauler[14]
Hard Charger: 13-Brandon Matus[+11]