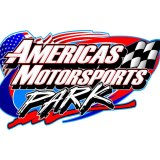 Clearfield, PA — (July 5, 2013) — Steve Kenawell won th Laurel Highlands 305 Sprint Car feature Saturday night at America's Motorsports Park.
Don Sotosky and Justin Zap started on the on the front row, with Zap taking the initial lead, but he broke before a lap was in, setting up a complete restart. This put Kenawell on the outside of the front row, and he took the lead at the start and darted into a comfortable lead. He was being chased by Sotosky and Todd Lynn, as they eventually were reeling him in once they caught lapped traffic, but Kenawell wanted his first career AMP win and he held on to get it. Sotosky was second with Lynn, "Cowboy" Jim Kennedy and Nicole Walker rounding out the top five. Heat wins went to Walker and Jeff Bacha.
Laurel Highlands 305 Sprints: 1. Steve Kenawell, East Freedom; 2. Don Sotosky, 3. Todd Lynn, 4. "Cowboy" Jim Kennedy; 5. Nicole Walker, 6. Jeff Bacha, 7. Ed Measaros, 8. Robbie Bartchey, 9. Brian Riddle, 10. Roger Irvine, 11. Justin Zap.