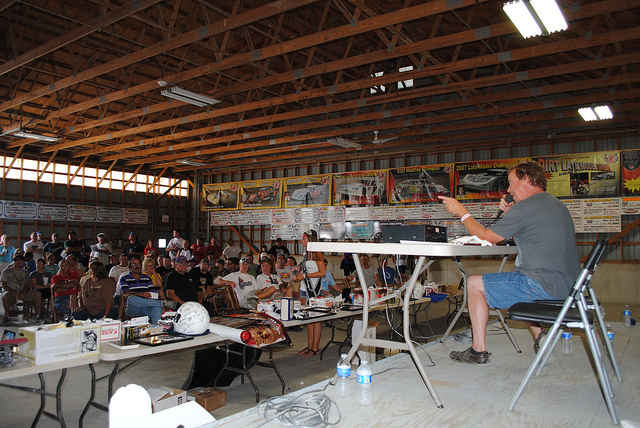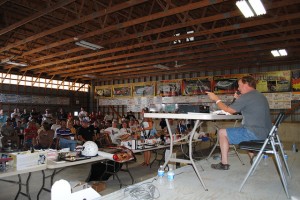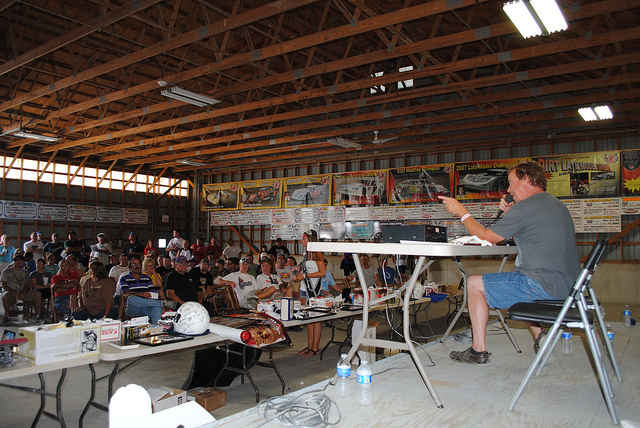 By T.J. Buffenbarger
If you are looking unique to bring home from the 2013 Kings Royal make sure to visit the auction to benefit the National Sprint Car Hall of Fame and Museum on Saturday.  Despite being involved in the sport virtually my entire life I had never attended a National Sprint Car Hall of Fame and Museum benefit auction until last season.   I was very impressed with the entire event.
The first impression I received when walking into the auction was disbelief over the amount of different items that were available.  Tables stacked full of all kinds of racing treasures went on for what seemed like forever.  Items included everything from die cast cars, unique one of a kind photo art, virtually anything you can imagine autographed, vintage items, more
One misconception about these auctions is everything being sold is expensive.  What I discovered is more items were what I considered reasonably affordable than lavishly expensive.   There were things in every price range that I would consider a quality piece of racing memorabilia.
Items autographed from NASCAR stars like Bill Elliott, Jeff Gordon, Kasey Kahne, and Tony Stewart are joined by other unique souvenirs signed by sprint car legends such as Steve Kinser, Sammy Swindell, Jac Haudenschild, and a host of others are available at this year's auction.  Once again the checkered flag used in Saturday's feature autographed by the starting field will be one of the highlighted items.
This year's auction takes place on Saturday of Kings Royal weekend in the multi-purpose building Saturday at 2:30 p.m. EST.  With the beautiful forecast on Saturday it should be a great day to come out and check out the auction and maybe take home a one of a kind souvenir from this year's Kings Royal and help out a great cause in the process.
In addition to the auction the latest raffle sprint car to benefit the Hall of Fame is also making its debut during the Kings Royal.  This will be the 10th sprint car the Hall of Fame has raffled off featuring at Maxim Chassis with a 410 engine courtesy of Rider Racing Engines.   Raffle tickets to win this car will be sold at the National Sprint Car Hall of Fame and Museum's display near the souvenir area towards the turn one concourse.