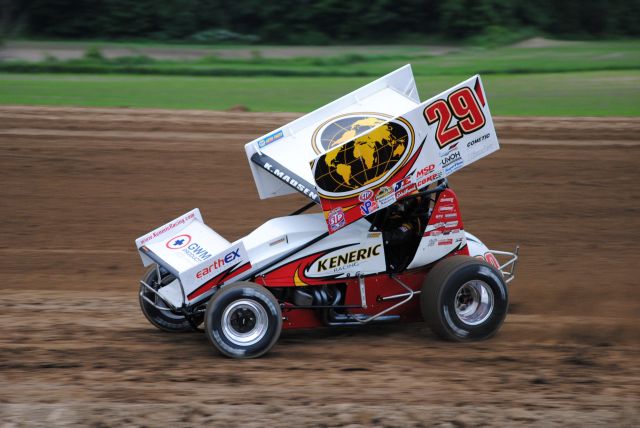 From Eldora Speedway
Rossburg, OH — (July 12, 2013) — STP World of Outlaws (WoO) sprint car driver Kerry Madsen and NRA Sprint Invaders hotshoe Tim Shaffer tuned up for Saturday's 30th annual Kings Royal with victories Friday night at Eldora Speedway.
On the Knight Before the Kings Royal, Madsen rallied for his second win in three WoO races at the 0.500-mile speedplant. But first he had to find a way around Brad Sweet. Sweet, who started on the front row with pole sitter Joey Saldana, roared high along the wall to rocket into the lead. He established a 1.4-second margin over Saldana with three laps clicked off and held a comfortable margin over the field in the 30-lap race.
Madsen, who started fourth, began reeling in Sweet. He cut the deficit to 0.289 seconds with 10 laps down but couldn't find a way past Sweet over the next nine laps. He took advantage of his best opportunity with 10 laps to go as Sweet went low and Madsen high to split the lapped car of Craig Dollansky. Madsen carried the momentum to the lead and used another lapped car, this one of Steve Kinser, to hold Sweet at bay.
As Madsen clicked off the final laps, Sweet battled; trying to find a way around Kinser. Once Sweet put Kinser behind him it was too late to make up ground on Madsen, who picked up his second World of Outlaws victory this season.
"It was a blast. Once I got the lead I was thinking where's the checkered, man?" said Madsen, who also won the WoO feature at Eldora Speedway on May 3. "It finally came out. What a night, what a crew."
Sweet finished second and was followed by Saldana, WoO points leader Daryn Pittman and Jac Haudenschild.
"Insane race," said Madsen, who established himself as a driver to beat for the 30th annual Kings Royal after also setting fast time in the two-lap qualifying session with a quick lap of 13.216 seconds (137 mph) to top a field of 44 cars. "A couple of times I thought I was going to hit the wall but I got away with it. Whew! It was fun."
Sweet did tag the wall on lap 17, which helped Madsen close the gap and eventually slip past.
"A little frustrated. We gave it away a little bit but Kerry was really fast," Sweet said. "The fans got to see a good race. … To have momentum you have to be comfortable up against the wall. We'll come back and try it again (Saturday)."
In the NRA Sprint Invaders feature, Shawn Dancer looked strong early by pacing the field for the first 10 laps. Shaffer, who went door-to-door with Dancer coming out of Turns 3-4 on lap 7, grabbed the lead a few laps later and looked to run away from the pack.
But a red flag on lap 18 bunched up the field to give them another shot at Shaffer. No matter. Shaffer rode the high line around Eldora to run off the final laps in the 25-lap feature. Randy Hannagan crossed the finish line 1.58 seconds behind Shaffer for second. Butch Schroeder, Jared Horstman and Darren Long rounded out the top five.
"It's been a long time since I've been up here," Shaffer said. "We've been working hard on both the 410 and 360 (sprint cars). We came up a little short in the 410 but the 360 win means a lot to me. … I felt pretty strong but in this game here you better run every lap your hardest."
Track owner and three-time NASCAR Sprint Cup champion Tony Stewart raced with the Outlaws and qualified 40th with a fast lap of 13.922 seconds. Stewart finished third in the C-Main to miss qualifying for the last chance B-Main by one spot.
Eldora Speedway returns to action Saturday for the 30th annual Kings Royal. Admission gates open at noon. Afternoon festivities include the National Sprint Car hall of Fame auction at 2:30 p.m., a Q&A with Steve Kinser and Donny Schatz at 3:30 p.m. and a driver autograph session from 4-5 p.m. Hot laps start at 6:30 p.m., pre-race festivities are at 7:30 p.m. and racing starts at 8 p.m.
Complete event information, along with ticket and campsite purchase opportunities, may be obtained by visiting the track's website www.EldoraSpeedway.com, or by calling the speedway office at (937) 338-3815.   Additionally, race fans and race teams can get behind-the-scenes access by following @EldoraSpeedway on Twitter, hitting 'Like' at Facebook.com/EldoraSpeedway and view video highlights at YouTube.com/EldoraSpeedwayInc.
  The new Eldora Speedway app for the iPhone, iPad and Android is now available for download via iTunes and Google Play.
Event: KNIGHT BEFORE THE KINGS ROYAL
Date: July 12, 2013
World of Outlaw Sprints
TIME TRIALS – 1. 1K-Kyle Larson [13.746]; 2. 29-Kerry Madsen [13.157]; 3. 51-Paul Mcmahan [13.216]; 4. 49-Brad Sweet [13.227]; 5. 71-Joey Saldana [13.301]; 6. 2-Dale Blaney [13.333]; 7. 15-Donny Schatz [13.360]; 8. 1-Sammy Swindell [13.387]; 9. 7-Craig Dollansky [13.404]; 10. 21-Brian Brown [13.438]; 11. 6-David Gravel [13.476]; 12. 83X-Tim Shaffer [13.487]; 13. 1M-Danny Lasoski [13.516]; 14. 45D-Danny Holtgraver [13.524]; 15. 9-Daryn Pittman [13.533]; 16. 59-Jac Haudenschild [13.536]; 17. 3G-Shane Stewart [13.547]; 18. 24A-Rico Abreu [13.553]; 19. 11K-Kraig Kinser [13.554]; 20. 11-Steve Kinser [13.558]; 21. 4-Cody Darrah [13.564]; 22. 7K-Cole Duncan [13.579]; 23. 83K-Tim Kaeding [13.596]; 24. 15H-Sam Hafertepe Jr [13.601]; 25. W20-Greg Wilson [13.641]; 26. 7S-Jason Sides [13.643]; 27. 4S-Danny Smith [13.658]; 28. 6R-Bill Rose [13.662]; 29. 1S-Logan Schuchart [13.691]; 30. 9W-Brandon Wimmer [13.693]; 31. 11N-Randy Hannagan [13.695]; 32. 63-Chad Kemenah [13.754]; 33. 55X-James Mcfadden [13.758]; 34. 00-Jim Nier [13.761]; 35. 33M-Sheldon Haudenschild [13.770]; 36. 1A-Jacob Allen [13.801]; 37. 16-Danny Mumaw [13.806]; 38. 40-Caleb Helms [13.839]; 39. 9X-Rob Chaney [13.897]; 40. 14-Tony Stewart [13.922]; 41. 82-Jason Solwold [14.059]; 42. 2MH-Dallas Hewitt [14.352]; 43. 60-Kory Crabtree [14.472]; 44. 96AU-Bruce White [15.347]; 45. 24H-Bryan Sebetto [99.999];
HEAT 1 – 1. 21-Brian Brown [2]; 2. 29-Kerry Madsen [4]; 3. 45D-Danny Holtgraver [1]; 4. 2-Dale Blaney [3]; 5. 24A-Rico Abreu [5]; 6. 7S-Jason Sides [7]; 7. 9W-Brandon Wimmer [8]; 8. 55X-James Mcfadden [9]; 9. 7K-Cole Duncan [6]; 10. 16-Danny Mumaw [10]; 11. 82-Jason Solwold [DNS];
HEAT 2 – 1. 9-Daryn Pittman [1]; 2. 6-David Gravel [2]; 3. 15-Donny Schatz [3]; 4. 83K-Tim Kaeding [6]; 5. 51-Paul Mcmahan [4]; 6. 11K-Kraig Kinser [5]; 7. 11N-Randy Hannagan [8]; 8. 00-Jim Nier [9]; 9. 40-Caleb Helms [10]; 10. 2MH-Dallas Hewitt [11]; 11. 4S-Danny Smith [DNF];
HEAT 3 – 1. 59-Jac Haudenschild [1]; 2. 83X-Tim Shaffer [2]; 3. 1K-Kyle Larson [8]; 4. 49-Brad Sweet [4]; 5. 1-Sammy Swindell [3]; 6. 15H-Sam Hafertepe Jr [6]; 7. 11-Steve Kinser [5]; 8. 33M-Sheldon Haudenschild [9]; 9. 6R-Bill Rose [7]; 10. 9X-Rob Chaney [10]; 11. 60-Kory Crabtree [11];
HEAT 4 – 1. 1M-Danny Lasoski [2]; 2. 71-Joey Saldana [4]; 3. 3G-Shane Stewart [1]; 4. 4-Cody Darrah [5]; 5. 7-Craig Dollansky [3]; 6. W20-Greg Wilson [6]; 7. 14-Tony Stewart [10]; 8. 63-Chad Kemenah [8]; 9. 1S-Logan Schuchart [7]; 10. 1A-Jacob Allen [9]; 11. 96AU-Bruce White [11];
DASH – 1. 71-Joey Saldana [1]; 2. 49-Brad Sweet [2]; 3. 51-Paul Mcmahan [3]; 4. 29-Kerry Madsen [4]; 5. 59-Jac Haudenschild [10]; 6. 21-Brian Brown [5]; 7. 83X-Tim Shaffer [7]; 8. 9-Daryn Pittman [9]; 9. 6-David Gravel [6]; 10. 1M-Danny Lasoski [8];
C FEATURE – 1. 33M-Sheldon Haudenschild [1]; 2. 40-Caleb Helms [3]; 3. 14-Tony Stewart [5]; 4. 82-Jason Solwold [6]; 5. 2MH-Dallas Hewitt [7]; 6. 1A-Jacob Allen [2]; 7. 60-Kory Crabtree [8]; 8. 96AU-Bruce White [DNF]; 9. 9X-Rob Chaney [DNF];
B-FEATURE – 1. 11-Steve Kinser [2]; 2. 9W-Brandon Wimmer [10]; 3. 11K-Kraig Kinser [1]; 4. 7S-Jason Sides [6]; 5. 6R-Bill Rose [8]; 6. 11N-Randy Hannagan [11]; 7. W20-Greg Wilson [5]; 8. 1S-Logan Schuchart [9]; 9. 55X-James Mcfadden [13]; 10. 7K-Cole Duncan [3]; 11. 40-Caleb Helms [16]; 12. 63-Chad Kemenah [12]; 13. 4S-Danny Smith [DNF]; 14. 15H-Sam Hafertepe Jr [DNF]; 15. 00-Jim Nier [DNF]; 16. 33M-Sheldon Haudenschild [DNF];
A FEATURE – 1. 29-Kerry Madsen [4]; 2. 49-Brad Sweet [2]; 3. 71-Joey Saldana [1]; 4. 9-Daryn Pittman [8]; 5. 59-Jac Haudenschild [5]; 6. 15-Donny Schatz [12]; 7. 1K-Kyle Larson [24]; 8. 7-Craig Dollansky [14]; 9. 51-Paul Mcmahan [3]; 10. 21-Brian Brown [6]; 11. 83X-Tim Shaffer [7]; 12. 2-Dale Blaney [11]; 13. 4-Cody Darrah [20]; 14. 83K-Tim Kaeding [21]; 15. 3G-Shane Stewart [16]; 16. 6-David Gravel [9]; 17. 45D-Danny Holtgraver [15]; 18. 11-Steve Kinser [19]; 19. 1-Sammy Swindell [13]; 20. 11K-Kraig Kinser [18]; 21. 24A-Rico Abreu [17]; 22. 7S-Jason Sides [22]; 23. 9W-Brandon Wimmer [23]; 24. 63-Chad Kemenah [25]; 25. 1M-Danny Lasoski [10];
NRA Sprint
TIME TRIALS – 1. 6S-Tim Shaffer [14.553]; 2. 22H-Randy Hannagan [14.590]; 3. B20-Butch Schroeder [14.633]; 4. 7-Darren Long [14.663]; 5. 2MD-Dustin Daggett [14.702]; 6. 40DD-Caleb Griffith [14.791]; 7. 11-Tim Allison [14.951]; 8. 35-Ron Blair [14.961]; 9. 7KD-Cole Duncan [14.979]; 10. 49-Shawn Dancer [15.059]; 11. 6JS-Jr Stewart [15.069]; 12. 17-Jared Horstman [15.083]; 13. 27-Beau Stewart [15.114]; 14. 16-Ryan Ruhl [15.129]; 15. 23-Devon Dobie [15.159]; 16. 18-Todd Heuerman [15.246]; 17. 49T-Gregg Dalman [15.342]; 18. 11N-Ed Neumeister [15.357]; 19. 12CS-Cody Swanson [15.445]; 20. 64-Scott Thiel [15.528]; 21. 220Z-Aaron Shaffer [15.548]; 22. 7C-Max Stambaugh [15.559]; 23. 1H-Luke Hall [15.604]; 24. 5-Phil Walter [15.631]; 25. 89-Robbie Stillwaggon [15.671]; 26. 10X-Dustin Stroup [15.768]; 27. 12R-Nick Roberts [15.864]; 28. X-Dan Mazy [15.925]; 29. 69-Adam Anderson [16.160]; 30. 22R-Kevin Roberts Jr [16.195]; 31. 10P-Jim Perricone [16.286]; 32. 41J-Jeremy Powley [17.033]; 33. 2W-Chad Mcinturff [17.113]; 34. 50B-Mike Burns [17.589]; 35. 10C-Bob Carmen [17.606]; 36. 2S-Kyle Sauder [99.999]; 37. 31N-Greg Nicholas [99.999];
HEAT 1 – 1. 6S-Tim Shaffer [6]; 2. 27-Beau Stewart [3]; 3. 220Z-Aaron Shaffer [1]; 4. 7KD-Cole Duncan [4]; 5. 2MD-Dustin Daggett [5]; 6. 89-Robbie Stillwaggon [7]; 7. 49T-Gregg Dalman [2]; 8. 69-Adam Anderson [8]; 9. 2W-Chad Mcinturff [DNF]; 10. 31N-Greg Nicholas [DNS];
HEAT 2 – 1. 22H-Randy Hannagan [6]; 2. 11N-Ed Neumeister [2]; 3. 7C-Max Stambaugh [1]; 4. 49-Shawn Dancer [4]; 5. 40DD-Caleb Griffith [5]; 6. 16-Ryan Ruhl [3]; 7. 10X-Dustin Stroup [7]; 8. 22R-Kevin Roberts Jr [8]; 9. 50B-Mike Burns [9];
HEAT 3 – 1. 1H-Luke Hall [1]; 2. B20-Butch Schroeder [6]; 3. 23-Devon Dobie [3]; 4. 6JS-Jr Stewart [4]; 5. 11-Tim Allison [5]; 6. 12R-Nick Roberts [7]; 7. 10P-Jim Perricone [8]; 8. 10C-Bob Carmen [9]; 9. 12CS-Cody Swanson [DNF];
HEAT 4 – 1. 17-Jared Horstman [4]; 2. 64-Scott Thiel [2]; 3. 2S-Kyle Sauder [9]; 4. 7-Darren Long [6]; 5. 18-Todd Heuerman [3]; 6. 35-Ron Blair [5]; 7. 5-Phil Walter [1]; 8. X-Dan Mazy [7]; 9. 41J-Jeremy Powley [8];
B-FEATURE 1 – 1. 11-Tim Allison [2]; 2. 2MD-Dustin Daggett [1]; 3. 49T-Gregg Dalman [4]; 4. 16-Ryan Ruhl [3]; 5. 10X-Dustin Stroup [6]; 6. 5-Phil Walter [5]; 7. 22R-Kevin Roberts Jr [8]; 8. 50B-Mike Burns [10]; 9. 41J-Jeremy Powley [DNF]; 10. X-Dan Mazy [DNF]; 11. 31N-Greg Nicholas [DNS];
B-FEATURE 2 – 1. 40DD-Caleb Griffith [1]; 2. 35-Ron Blair [2]; 3. 12CS-Cody Swanson [4]; 4. 18-Todd Heuerman [3]; 5. 89-Robbie Stillwaggon [5]; 6. 12R-Nick Roberts [6]; 7. 69-Adam Anderson [7]; 8. 10P-Jim Perricone [8]; 9. 2W-Chad Mcinturff [DNS]; 10. 10C-Bob Carmen [DNS];
A FEATURE – 1. 6S-Tim Shaffer [6]; 2. 22H-Randy Hannagan [5]; 3. B20-Butch Schroeder [4]; 4. 17-Jared Horstman [8]; 5. 7-Darren Long [3]; 6. 49-Shawn Dancer [1]; 7. 27-Beau Stewart [9]; 8. 40DD-Caleb Griffith [18]; 9. 2S-Kyle Sauder [16]; 10. 1H-Luke Hall [15]; 11. 6JS-Jr Stewart [7]; 12. 2MD-Dustin Daggett [19]; 13. 7C-Max Stambaugh [14]; 14. 64-Scott Thiel [12]; 15. 11-Tim Allison [17]; 16. 35-Ron Blair [20]; 17. 220Z-Aaron Shaffer [13]; 18. 23-Devon Dobie [10]; 19. 11N-Ed Neumeister [11]; 20. 7KD-Cole Duncan [DNF];