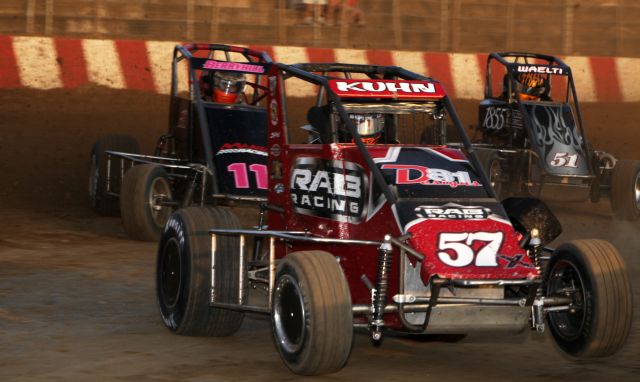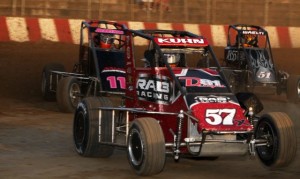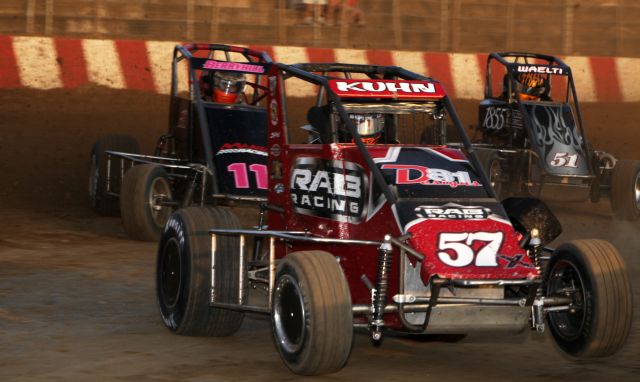 From Tim Tuttle
Wilmot, WI — (July 13, 2013) — Brad Kuhn drove to his first feature victory of the season and 22nd of his career in the POWRi Lucas Oil National Midget Series on Saturday in the Salute to Harry Turner, co-sanctioned by the Stark Automotive Group/Mid-State Equipment Badger Midget Series, at Wilmot Raceway.
"It's good to get the monkey off our back," the 31-year-old from Avon, Ind., said. "We've had a ton of speed and weren't able to get a win. I think in our last six races we haven't been worst than third. I'm glad we got a win for (car owners) Bill Ecker and Amy Reisdorf."
Kuhn was challenging Darren Hagen for the lead on the 28th of 30 laps in turns three and four when Hagen's Esslinger-powered DRC abruptly slowed with an ignition failure.
"It just hit all at once," Hagen said. "I tried to slip the switch to see if it would restart, but it wouldn't."
Kuhn started from fifth and took the lead from Jake Blackhurst on the sixth lap. Fourth-starting Hagen led the ninth lap and Kuhn regained it from 10 to 13. Hagen moved to the front on the next lap. The 27-year-old from Riverside, Calif., stretched out his advantage over Kuhn to a quarter lap. The resilient Kuhn closed the gap and was less than a car length behind with less than three laps to go.
"Darren was pretty good," Kuhn said. "Without a caution, I don't think we had anything for him. But we'll take it."
Zach Daum of Pocahontas, Ill., finished second, two car lengths behind, in his Toyota-powered Eagle and Andrew Felker of Carl Junction, Mo., was third.
Daum started on pole and led the opening two laps. He was trying to run the low line and ran third for most of the race, but kept losing ground to Hagen and Kuhn.
"I was having trouble getting into the corners and I finally had to go up top and get in line," he said. "It was treacherous up there. Hagen was by far the best. I'm happy to run second, but I want to win."
Felker's third was his seventh top-five and he's been in the top 10 in all 12 POWRi races this season. He's been able to overcome adversity in an event on several occasions and Wilmot was another.
"It wasn't a bad night," the 2012 POWRi National Midget champion said. "I got up to third but had a problem, a piece that got loose inside the car that made it difficult to work the throttle, and fell back to ninth. The season has gone real well so far, real consistent."
Felker leads Daum, 1,910-1,550, in the championship chase going into tonight's event at Angell Park Speedway in Sun Prairie, Wis. Kuhn, the 2006 and 2009 POWRi Midget champion and second behind Brad Loyet's 33 on the all-time win list, is third with 1,250.
POWRi Lucas Oil National Midget Series feature results (30 laps): 1. Brad Kuhn, 2. Zach Daum, 3. Andrew Felker, 4. Jake Blackhurst, 5. Austin Brown, 6. Garrett Aitken, 7. Scott Hatton, 8. Danny Stratton, 9. Parker Price-Miller, 10. Todd Lehr, 11. Tyler Thomas, 12. Seth Motsinger, 13. Mike Hess, 14. Darren Hagen, 15. Justin Peck, 16. Alex Bright, 17. Daniel Robinson, 18. Colten Cottle, 19. Eric Johnson.
For more information, go to www.POWRi.com.