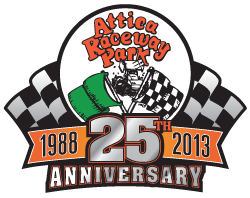 From Brian Liskai
Attica, OH — (July 19, 2013) — Doug Drown and his Weekly Racing team almost didn't race at Attica Raceway Park Friday night. But a last minute decision paid off as the Wooster, Ohio driver battled with Brandon Sheppard and Bobby Pierce the entire 40 laps before taking the $5,000 victory for race #25 of the UMP DIRTcar Summer Nationals Hell Tour.
While the score card will say he led all 40 laps on Central Ohio Farmers/Summit Racing Equipment Night, Drown, Sheppard and Pierce raced side by side by side nearly the entire distance. In fact, Sheppard, who leads the Summer Nationals points, executed a slider for the lead as they exited turn four to complete lap 38, but the caution flew, keeping Drown at the point. Drown showed his savvy on the restart, diamonding off the fourth corner and swooping in front of Sheppard, breaking his momentum and then diving down to the bottom of turns one and two to block as "The Hammer" drove to his fifth career win at Attica
"Every time I was looking out the corner of my eye I saw Bobby (Pierce) and I looked at the scoreboard and saw he was third and I was like 'oh man he must be on my butt.' And then when he dove in there…I don't know how many laps, I was trying to count, but I just had to hit my marks. The Weekly Electric, Efco Power Equipment, Wooster Glass, Rocket Chassis was unbelievable," said Drown in the Engine Pro Victory Lane.
"Malcuit Racing Engines got us to victory lane again…I think this is number 11. I didn't know how we were going to do tonight but Sean (Weekly) fine-tuned the car again and right tire choice and it just worked out for us," continued Drown. "I feel like I'm young yet but obviously I have like 15 years on them (Pierce and Sheppard). I'm sitting there like on lap 30 and I'm like I could use a caution to regroup…I was a little wore out from the heat. Definitely got the job done and that's all that matters."
Not to be outdone, the O'Reilly Auto Parts 410 Sprints also put on a fantastic race. For most of the season Genoa, Ohio's Brian Lay has served notice he was going to be a force to be reckoned with at Attica this season with numerous top five runs. He finally closed the deal Friday, storming from 15th starting spot to take the lead with a slider on Craig Mintz on a lap 24 restart and going on to score his first career 410 sprint car win on dirt.
"I knew this was coming eventually. I just tried and tried…I've put my dues in. I've flipped, I've crashed, I've wrecked and I came back for more. Right now this is what it's all about. It's for the fans, it's for more crew and it's for my old man" said an emotional Lay beside his Seagate Blasting/Local 85 Boilermakers/Fremont Floor Covering/Wood Court Collision/Gary Shumaker Fuel Transport/Black Berry Corners/Kistler Racing Products/Dave Story Equipment Repair #45.
"I pulled a Hail Mary…I pulled the wing all the way to the trunk and said go and I did," said Lay of his winning strategy. "I knew I could get him (Craig Mintz) in one and two I just had to get a good restart. I said 'it's now or never' and I told my guys that I gave people room before and I'm not giving it any more."
And if that wasn't good enough, the UMP Modifieds wrapped up the night with a spectacular feature. Dona Marcoullier, Jeff Babcock and Kevin. Morehouse battled for the lead the last 21 laps of the 25-lap event. When the dust settled it was Newark, Ohio's Morehouse who was in the Engine Pro Victory Lane.
"I'm not used to these UMP tires. This is the first time I've ever been here and I love it. We're used to the open tires but I can get used to these because we don't have to have as many," said Morehouse beside his Morehouse Logging, Sam's Used Cars backed #88. "I would like to thank Larry Reed and his wife, Tommy Patten, Gary Clark and his boy Davey."
Drown and Sheppard would bring the field to the green for the 40-lap late model feature with Drown gaining the advantage over Sheppard, Pierce , Devin Moran, Jon Henry and Jeep VanWormer. The first caution would fly on lap three when Matt Irey spun in turn four. When the green flew, Drown pulled away slightly from Sheppard who had his hands full with Pierce as Moran, Henry, VanWormer, Dustin Griffin and Jeff Babcock gave chase.
Drown would continue to hold a two car length advantage as Sheppard and Pierce raced each other hard for the runner-up spot. The caution would fly on lap 11 when Chris Ross and JR Gentry spun. Again Drown began to pull away slightly when the green reappeared as Sheppard and Pierce tried to stay close with Henry, Moran, Griffin, Ryan Missler, Babock and Rusty Schlenk gave chase.
However, as Drown caught the rear of the field, his advantage quickly shrank as Sheppard and Pierce both closed. At the half way point, Sheppard was racing to Drown's inside in turns one and two to challenge with Pierce right on their rear bumper. The trio ran side by side and nose to tail over the next handful of laps, thrilling the large crowd. By lap 30, the leaders were in heavy lapped traffic and Drown made a gutsy move, splitting two lapped machines to maintain his lead.
Pierce would drive into second on lap 31, but Sheppard would return the favor two laps later as they raced to Drown's inside. With three laps to go you could throw a tissue over the top three of Drown, Sheppard and Pierce. Just as Sheppard threw a flier at Drown in turns three and four as they came to the line on lap 38, the caution flew for Ryan Missler who sat on the front stretch.
On the ensuing restart with a clear track, Drown pinched Sheppard to the bottom when the green flew and then switched lines from top to bottom in turns one and two to block Sheppard's advance. The move paid off as Drown drove away for the win over Sheppard, Pierce, Henry and Schlenk.
In the 30 lap sprint feature, Cole Duncan and Stuart Williams would lead the field to the green with Duncan getting the upper hand over fourth starter D.J. Foos, Williams, Bryan Sebetto and Shane Stewart. Sebetto would grab third the next lap with Stewart taking fourth a lap later. Foos began racing to Duncan's inside to challenge for the lead on lap four as Stewart moved into third.
Greg Wilson would come to a rest on lap four to bring out the caution. On the restart Duncan and Foos resumed their battle up front with Stewart joining the fun while Craig Mintz and Byron Reed moved around Sebetto into the top five. The lead trio of Duncan, Foos and Stewart continued their exciting battle as they hit lapped traffic by the 10th circuit, which allowed Stewart to take second. Meanwhile Lay, who started 15th, had worked his way up to 7th.
Just as Stewart was challenging Duncan for the lead on lap 14, Chris Andrews would spin, bringing out the caution as Mintz took third. The restart order was Duncan, Stewart, Mintz, Foos, Lay and Reed. When the green reappeared, Mintz and Lay both drove around Stewart as Duncan pulled away slightly.
Mintz would close the game on Duncan on lap 17 as Lay steadily gained momentum. Mintz executed a perfect flier on Duncan for the lead on lap 18. With 10 laps to go the leaders raced into lapped traffic again and Lay was racing under Duncan for second. With eight laps to go the leaders were in heavy lapped traffic which Lay used to take second. The final caution would fly on lap 23 for a Rodney Hurst spin. On the restart Lay shot to the bottom of turns one and two and slid up in front of Mintz to take the lead with Stewart rebounding to move into third.
Lay began to pull away as Mintz battled Stewart for second with Duncan and Foos giving chase. Lay would get a little hung up behind a lapped car with two laps to go, but Mintz and Stewart couldn't get close.
Lay blasted to the checkers over Mintz, Stewart, Duncan and Foos.
In the 25-lap modified feature, Jeff Babcock and Collin Thirlby would pace the field to the green with Thirlby getting the advantage. The caution flew for debris after one lap was complete with the running order Thirlby, Babcock, Dona Marcoullier, Morehouse, Mark Anderson and last year's Attica winner Taylor Cook.
Disaster would strike for Thirlby as he lost the handle on his machine on lap three, spinning in turn one and handing the lead to Marcoullier with Babcock and Morehouse completing the top three. With Babock riding the outer rim and Marcoullier glued to the bottom, the duo raced side by side until the caution flew on lap six for a three car pile-up.
When the green came back out Marcoullier and Babcock resumed their tremendous battle with Morehouse now joining the fun. The final caution would fly on lap 11 for Cook and Nathan Loney who tangled in turn one.
Marcoullier and Morehouse would continue their fight for the lead when the green reappeared and behind them was a fantastic battle for third involving Babcock, Anderson and 12th starter Brian Ruhlman. Morehouse would vault into the lead on lap 15 but Marcoullier wouldn't give up and raced to his inside and actually regained the lead on lap 16. But Morehouse blasted back in front a lap later and the two raced side by side the next couple of laps. Behind them Babcock and Anders also raced side by side for third with Ruhlman moving into the top five.
As the leaders hit traffic with five laps to go, Morehouse began pulling away from Marcoullier with Anderson taking third. Morehouse would drive to the win over Marcoullier, Anderson, Babcock and Ruhlman.
Attica Raceway Park will be back in action Friday, July 26 on Smith Family Foods Night with the O'Reilly Auto Parts 410 Sprints in competition in a Kistler Racing Products FAST (Fremont Attica Sprint Title) Championship Series event along with the Summit Racing Equipment UMP Late Models and the Foster's Auto Body 305 Sprints also in competition in the JLH General Contractor FAST Series event. The Bob's Machine Shop Dirt Trucks will also be in action.
For more information go to www.atticaracewaypark.com
Attica Raceway Park – 7/19/2013
Central Ohio Farmers \ Summit Racing Equipment Night
O'Reilly Auto Parts 410 Sprints (23 Cars)
[#]-Starting Position
Heat 1 – Nitro Black Performance by Engine Pro (8 Laps – Top 8 finishers transfer to the A-feature)
1. 16-Chris Andrews[3] ; 2. 3G-Shane Stewart[7] ; 3. 35-Stuart Brubaker[2] ; 4. 5R-Byron Reed[8] ; 5. 39M-Matt Merrill[1] ; 6. 17-Scott Euler[5] ; 7. 97X-Rodney Hurst[4] ; 8. 8-Kevin Shelbo[6]
Heat 2 – Summit Racing Equipment (8 Laps – Top 8 finishers transfer to the A-feature)
1. 46AU-Stuart Williams[1] ; 2. 24H-Bryan Sebetto[2] ; 3. 53-DJ Foos[5] ; 4. W20-Greg Wilson[3] ; 5. 2+-Brian Smith[4] ; 6. 9Z-Duane Zablocki[7] ; 7. 96AU-Bruce White[6]
Heat 3 – Ultra Shield Race Products (8 Laps – Top 8 finishers transfer to the A-feature)
1. 40DD-Caleb Griffith[2] ; 2. O9-Craig Mintz[1] ; 3. 9-Dean Jacobs[3] ; 4. 22-Cole Duncan[4] ; 5. 45L-Brian Lay[5] ; 6. 5T-Travis Philo[6] ; 7. 22T-Miranda Throckmorton[7]
A-Main –  (30 Laps)
1. 45L-Brian Lay[15]; 2. O9-Craig Mintz[12]; 3. 3G-Shane Stewart[5]; 4. 22-Cole Duncan[1]; 5. 53-DJ Foos[4]; 6. 40DD-Caleb Griffith[11]; 7. 2+-Brian Smith[14]; 8. 5R-Byron Reed[10]; 9. 16-Chris Andrews[7]; 10. 9-Dean Jacobs[9]; 11. 9Z-Duane Zablocki[17]; 12. 35-Stuart Brubaker[6]; 13. 39M-Matt Merrill[13]; 14. 5T-Travis Philo[18]; 15. 46AU-Stuart Williams[2]; 16. 22T-Miranda Throckmorton[21]; 17. 96AU-Bruce White[20]; 18. 17-Scott Euler[16]; 19. 8-Kevin Shelbo[22]; 20. 97X-Rodney Hurst[19]; 21. 24H-Bryan Sebetto[3]; 22. W20-Greg Wilson[8]; 23. 26-Ryan French[23]
Hard Charger: 45L-Brian Lay[+14]
Summit Racing Equipment Late Models (40 Cars)
[#]-Starting Position
Heat 1 – Nitro Black Performance by Engine Pro (10 Laps – Top 4 finishers transfer to the A-feature)
1. 63-Doug Drown[1] ; 2. 32P-Bobby Pierce[2] ; 3. 50Y-Ryan Missler[3] ; 4. 91-Rusty Schlenk[4] ; 5. 49-Brian Ruhlman[6] ; 6. 69-John Mayes Jr.[5] ; 7. 15B-Mike Bores[7] ; 8. 40M-Wayne Maffett Jr.[9] ; 9. 5J-Josh Haynes[10] ; 10. 30-Nate Potts[8]
Heat 2 – Summit Racing Equipment (10 Laps – Top 4 finishers transfer to the A-feature)
1. 99M-Devin Moran[1] ; 2. 20-Dustin Griffin[2] ; 3. 61-George Lee[4] ; 4. 14-JR Grentry[3] ; 5. 1N-Casey Noonan[6] ; 6. 2-Rocky Owens[8] ; 7. 28S-Rody Schroyer[7] ; 8. 21K-Larry Kingseed[9] ; 9. OO-Chris Keller[5] ; 10. 92B-Hiram Bachman[10]
Heat 3 – Ultra Shield Race Products (10 Laps – Top 4 finishers transfer to the A-feature)
1. 18-Jamie Reed[3] ; 2. 55-Jeep VanWormer[1] ; 3. 18R-Chris Ross[2] ; 4. 36-Matt Irey[4] ; 5. 77K-Steve Kester[5] ; 6. 27H-Ken Hahn[6] ; 7. 98-Tim Sabo[8] ; 8. 75-Dusty Moore[7] ; 9. 42S-Bob Mayer[9] ; 10. 34-Ky Harper[10]
Heat 4 – Bell Racing Products (10 Laps – Top 4 finishers transfer to the A-feature)
1. B5-Brandon Sheppard[1] ; 2. 1B-Jeff Babcock[3] ; 3. 51S-Devin Shiels[2] ; 4. 92-Cody Scott[4] ; 5. 79-Brad Malcuit[5] ; 6. 5M-Ryan Markham[7] ; 7. 21-Todd Frank[8] ; 8. 48B-John Bores[6] ; 9. 56-B.J. Gregory[9] ; 10. O3-Jim Gingery[10]
C-Main – Computer Man Inc. (10 Laps – Top 4 finishers transfer to the B-feature)
1. 40M-Wayne Maffett Jr.[1] ; 2. OO-Chris Keller[6] ; 3. 75-Dusty Moore[3] ; 4. 56-B.J. Gregory[8] ; 5. 5J-Josh Haynes[5] ; 6. 42S-Bob Mayer[7] ; 7. 21K-Larry Kingseed[2] ; 8. 21-Todd Frank[-] ; 9. O3-Jim Gingery[12] ; 10. 34-Ky Harper[11] ; 11. 92B-Hiram Bachman[10] ; 12. 30-Nate Potts[9]
B-Main – Computer Man Inc. (12 Laps – Top 2 finishers transfer to the A-feature)
1. 1N-Casey Noonan[2] ; 2. 49-Brian Ruhlman[1] ; 3. 5M-Ryan Markham[8] ; 4. 69-John Mayes Jr.[5] ; 5. oo-Chris Keller[14] ; 6. 27H-Ken Hahn[7] ; 7. 15B-Mike Bores[9] ; 8. 40m-Wayne Maffett Jr.[13] ; 9. 2-Rocky Owens[6] ; 10. 79-Brad Malcuit[4] ; 11. 28S-Rody Schroyer[10] ; 12. 98-Tim Sabo[11] ; 13. 21-Todd Frank[12] ; 14. 56-B.J. Gregory[16] ; 15. 75-Dusty Moore[15] ; 16. 77K-Steve Kester[3]
A-Main –  (40 Laps)
1. 63-Doug Drown[1]; 2. B5-Brandon Sheppard[2]; 3. 32P-Bobby Pierce[5]; 4. 18-Jamie Reed[4]; 5. 91-Rusty Schlenk[13]; 6. 99M-Devin Moran[3]; 7. 1N-Casey Noonan[17]; 8. 20-Dustin Griffin[6]; 9. 1B-Jeff Babcock[8]; 10. 51S-Devin Shiels[12]; 11. 92-Cody Scott[16]; 12. 14-JR Grentry[14]; 13. 50Y-Ryan Missler[9]; 14. 36-Matt Irey[15]; 15. 61-George Lee[10]; 16. 75-Dusty Moore[20]; 17. 15B-Mike Bores[21]; 18. 21-Todd Frank[19]; 19. 77K-Steve Kester[22]; 20. 18R-Chris Ross[11]; 21. 55-Jeep VanWormer[7]; 22. 49-Brian Ruhlman[18]
Hard Charger: 1N-Casey Noonan[+10]
Computer Man E-Mods (25 Cars)
[#]-Starting Position
Heat 1 – Nitro Black Performance by Engine Pro (8 Laps – Top 10 finishers transfer to the A-feature)
1. 43-Mark Anderson[1] ; 2. 6M-Dona Marcoullier[9] ; 3. 10L-Nathan Loney[2] ; 4. 19L-Larry Holbrook[3] ; 5. 12-John McClure[5] ; 6. 34-Brent Hole[6] ; 7. 31J-Ray Jackson[7] ; 8. 29-Gary Pope[8] ; 9. 55S-Zach Schroeder[4]
Heat 2 – Summit Racing Equipment (8 Laps – Top 10 finishers transfer to the A-feature)
1. 47-Collin Thoroughby[2] ; 2. 88R-Kevin Morehouse[3] ; 3. 2-Jason Kinney[4] ; 4. 15-Nick Catterhenry[1] ; 5. 67-Eddie Shaner[5] ; 6. O5-Jacob Gamber[6] ; 7. 5S-Chris Sands[7] ; 8. 73B-Cody Basinger[8]
Heat 3 – Ultra Shield Race Products (8 Laps – Top 10 finishers transfer to the A-feature)
1. 7B-Jeff Babcock[1] ; 2. 21-Taylor Cook[2] ; 3. 111-Curt Spalding[4] ; 4. 49-Brian Ruhlman[3] ; 5. 20K-Bill Keeler[5] ; 6. 10-Brett Miller[8] ; 7. 8C-Cory Bevard[6]
A-Main –  (25 Laps)
1. 88R-Kevin Morehouse[5]; 2. 6M-Dona Marcoullier[4]; 3. 43-Mark Anderson[3]; 4. 7B-Jeff Babcock[1]; 5. 49-Brian Ruhlman[12]; 6. 15-Nick Catterhenry[11]; 7. 19L-Larry Holbrook[10]; 8. 2-Jason Kinney[8]; 9. 10-Brett Miller[18]; 10. 21-Taylor Cook[6]; 11. 31J-Ray Jackson[19]; 12. 67-Eddie Shaner[14]; 13. 20K-Bill Keeler[15]; 14. 5S-Chris Sands[20]; 15. 47-Collin Thoroughby[2]; 16. 34-Brent Hole[16]; 17. 10L-Nathan Loney[7]; 18. 111-Curt Spalding[9]; 19. 12-John McClure[13]; 20. 8C-Cory Bevard[21]; 21. O5-Jacob Gamber[17]; 22. 29-Gary Pope[22]; 23. 73B-Cody Basinger[23]
Hard Charger: 10-Brett Miller[+9]