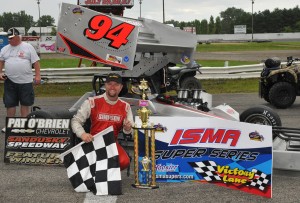 From Carol Haynes
Sandusky, OH — (July 28, 2013) — Fourteen years ago, second-generation driver Dave Shullick Jr. stood in victory lane celebrating what he thought was his first Hy-Miler win at Sandusky, Speedway. That win was taken away by a disqualification of the car he was driving. He vowed he'd be back someday to get that win back. Sunday, after Saturday's rain postponement, Shullick Jr. stood in victory lane beside his dad and his car builder Jim Bodnar. This time no one would take this Hy-Miler win away. It was something he had looked forward to for so many years. The importance of this fulfillment of a dream was evident as he spoke as the raindrops, which had shortened the race to 85 of the 100 scheduled laps, fell, but could not dampen the occasion.
"I don't think anybody here knows what this means to me. In 1999 I won this race and got disqualified. The last time I won this was with Jim (Bodnar) and I said to him don't worry I'll get another one. That was 14 years ago and to park the car here today means the world to me. My dad has won it five times and to have my name on the shirt with him means everything to me."
Taking the lead early was not exactly his plan. He had had a spirited battle with Mike Lichty on Friday night for the top spot and was leading it only to have a brake caliper end what might have been a weekend sweep.
Shullick went on to describe Sunday's event. "I knew Lichty was having a few problems. I figured he'd be the one we'd be racing with at the end of the day. I just tried to be smart, to just take what I was given. I don't really like leading this race so early because you have to set the pace. Today I just tried to be smooth and set the pace that I figured I could run the whole race. I never got loose. Actually I was on the tight side at the end.
" I have to thank Jim Bodnar. Less than a year ago we talked about doing this – building this car. And he worked his butt off from October to April to get this done and he built a helluva rocket ship. I owe it all to him – giving me the opportunity to do this. And of course my dad, Jack Mahar, Coco Adams, my parents, my sponsors – everybody who has helped. . This is a true story I've got a bottle of Grey Goose that is a large one and I said I'd never open it except for this occasion right here. It's in my motor home and it's getting open tonight."
Dave Shullick Sr., a five time Hy-Miler victor, stood proudly next to his son and commented, "It all comes back to how hard this race is to win. You don't have to be just be good, you have to be lucky. There are so many things that play into this race. It's crazy to win this thing. That's all we've talked about since we put the first piece of tubing on this car is that this is what they wanted. Now it's complete."
The man playing an integral part in both the father's many victories and now the son's biggest, Jim Bodnar, also had a few words. "Dave approached me about a year ago and said do you ever think about building this car for the Hy-Miler? A few people said I was over the hill and that gave me more incentive to build the best car I could possibly build and here we are. I've had the best driver for 30 years and now I have the new best driver.
Finishing behind Shoe II was Moe Lilje for his second podium of the weekend. He was a little disappointed at not being able to finish the entire 100 laps due to the rain. "This was a good run for us- something to be proud of – but obviously we'd like to be standing here holding the checkered flag. DJ had an awesome racecar. On a clear track I don't know if we had enough for him, but he was getting a little freer. I would have liked to have run the last 15 laps and see how it all came out. I know at the beginning of the race I had a pretty good car and so did DJ. Once I got up to him I kind of matched his race. But toward the end I started pushing a lot and didn't have a lot for him. I don't know if we would have ended up in victory lane or not but we would have liked to have found out anyway. I definitely like to thank Ryan, Craig and everybody involved with the team. They bust their tails off for us to get up here. We should be proud about finishing second in this race. I'd like to thank the sponsors, Reed's Salvage, Kelling Services, TJ Eschtruth, Patco Transportation, and Stewart's Appliances. And, thanks to Lou Cicconi, too for letting me finish second."
Cicconi, who swapped finishing positions with Lilje for the two-race stint, said, "It was a tough race back there for third, racing Schultz is always tough, but he raced me clean. I'm happy I got third. In regard to the swap of second and third with Lilje from Friday, Lou quipped, "Us podium guys have to stick together."
The 36th running of the ISMA Hy-Miler 100 was filled with attrition and some surprising incidents. The twenty-six car field was led to green by John McKennedy and Eddie Witkum Jr. with Witkum grabbing the early lead. Just three laps into the race, Ryan Coniam left the race with car problems and the attrition began.
On lap 7 yellow flew for Mike McVetta whose 22 had landed in the trees off turn two. One lap later, the 3 car of Kyle Vanderpool took a hard hit into the front straight wall after a brush with Jim Paller. Also collected were the 88 of Jimmy McCune and Kevin Jaycox, who was the sole car to continue on in the race.
Wtkum restarted his lead run but it was only for a few laps as Shullick Jr. put the 94 past the 21 to lead lap 13 and the remainder of the race. Moe Lilje and Jon McKennedy quickly moved past Witkum to keep in touch with Shullick who had set fast time earlier in the day.
Shullick put some distance on the two nearest challengers but the one he thought would be his main adversary, Mike Lichty, brought out the yellow on lap 18 as a puff of smoke and flame erupted from the Friday night winner's car. The team reported later that it was something in the rear end or motor.
Two more laps got in the books before three cars were stopped in between 3 and 4 bringing out another yellow. The 61 of Ray Graham Jr. was off on the hook as was the 65 of Tim Ice. The 07 of Jaycox was again able to continue. While the cleanup ensued, the track safety truck was called into the pits for a fire on the Lane 97, which had gone in under the yellow.
Finally, the race shook off the yellow-itist and this restart of lap 20 saw a long green develop with Shullick at the helm still followed by Lilje and McKennedy. Ben Seitz, Cicconi, Charlie Schultz, Witkum, Danny Shirey and Kyle Edwards were next in line.
Shullick maintained a smooth and steady pace out front and began picking at the tail of the field by the lap 30 mark. He was putting lap cars in between his 94 and the 8 of Lilje. A couple more lap cars existed behind Moe in McKennedy, Seitz and Cicconi as the race headed for the halfway mark. The rain that had plagued the speedway for over a week was now making it's way back to hit again. Kyle Edwards and Ryan Litt headed for the pits calling it a day during this long green spell which ended on lap 57 when parts of the back stretch billboards started falling on the track, bringing out the yellow, eating up more of the precious caution laps allowed before refueling.
Eddie Witkum brought out the yellow on lap 64 was he spun off turn 1. This also brought out the red, as it was now necessary to refuel.
It was Shullick, Lilje, Cicconi, McKennedy, Seitz, Shirey and Schultz the top seven when the race restarted, but the next victim would be McKennedy, whose 79 also spewed smoke and fire, stopping him on the front straight where the safety crew went to work. He followed Witkum into the pits leaving only a dozen cars remaining on the track when the race resumed.
Shullick now had Lilje moving in closer behind while two laps cars separated them from a Cicconi-Shultz battle. Seitz, Sammut and Shirey were pretty much the last cars on the lead lap as the race reached the three-quarter mark. Hints of rain falling here and there were also being watched carefully.
The last yellow flew for Trevor Berry in the Stout 49 who stopped on the track in two just into lap 86 but this was all she wrote for the remaining racers as the rain began to fall more heavily and it was not about to stop before a good track soaking.
The double checkers fell rather unceremoniously for Shullick under the yellow but that didn't matter to him. Lilje and Cicconi garnered podium finishes with Schultz taking fourth from Seitz near race end.
For Schultz it was a second top five finish for the weekend. Said the Lorain, Ohio driver, "It was a good day. Starting 12th, we did kind of miss it a little bit. The car was a little too free especially on the long runs. We got in that one long green flag run there and I could run my own line and was pretty decent. Restarts really helped me out a lot. On that last red flag where had to refuel we decided we only had one car behind us so we came in and make a couple adjustments. We came back out and ended up working out pretty good. I picked up the spot I gave up and got two more. I would have liked to have been on the podium. Lou ran me pretty hard, but never touched. We were kind of using each other up a little bit and then I got stuck behind a lap car. That really screwed me up. I guess I really didn't have anything for Lou on the long run. Two top fives in the two races isn't bad."
Seitz, helping pack his car for the long ride home commented quickly, "It was a good run. The car was good. It was a tough race, a lot of attrition. It was a tough, grueling race and we made the best of it. So we'll move on to Lee."
Mark Sammut, Danny Shirey, Timmy Jedrzejek, Bob Dawson and Alison Cumens rounded out the top ten.
36th Hy-Miler ISMA Summary:
Fast Time: Dave Shullick Jr. (14.222)
Heat 1: Jon McKennedy, Johnny Benson, Kyle Edwards, Eddie Witkum, Jimmy McCune, Mark Sammut, Alison Cumens, Trent Stephens (blown motor), Dan Lane (accident), Jeff Locke (accident)
Heat 2: Ben Seitz, Moe Lilje, Trevor Berry, Kyle Vanderpool, Timmy Jedrzejek, Ryan Litt, Ray Graham Jr., Kevin Jaycox, Jr., Mike McVetta
Heat 3: Dave Shullick Jr., Lou Cicconi, Danny Shirey, Charlie Schultz, Jim Paller, Tim Ice, Mike Lichty, Bob Dawson, Ryan Coniam
DNS: Marlowe 77 valve, McKnight 70 (practice accident)
36th Hy-Miler 100 (rain shortened to 85 laps) 1. Dave Shullick Jr. (94), 2. Moe Lilje (8), 3. Lou Cicconi (71), 4. Charlie Schultz (7), 5. Ben Seitz (17), 6. Mark Sammut (78), 7. Danny Shirey (72), 8. Timmy Jedrzejek (32), 9. Bobby Dawson (28), 10. Alison Cumens (39), 11. Kevin Jaycox Jr. (07), 12. Trevor Berry (49), 13. Jon McKennedy (79), 14. Eddie Witkum Jr. (21), 15. Kyle Edwards (11), 16. Ryan Litt (88x), 17. Tim Ice (65), 18. Ray Graham Jr. (61), 19. Dan Lane (97), 20. Mike Lichty (84), 21. Johnny Benson Jr. (48), 22. Jim Paller (64), 23. Kyle Vanderpool (3), 24. Jimmy McCume (88), 25. Mike McVetta (22), 26. Ryan Coniam (46).
Hard Charger sponsored by 4th Turn Crazies: Bob Dawson (28)
Last Car Running (ReSource Alternative Energy Solutions) Trevor Berry (49)