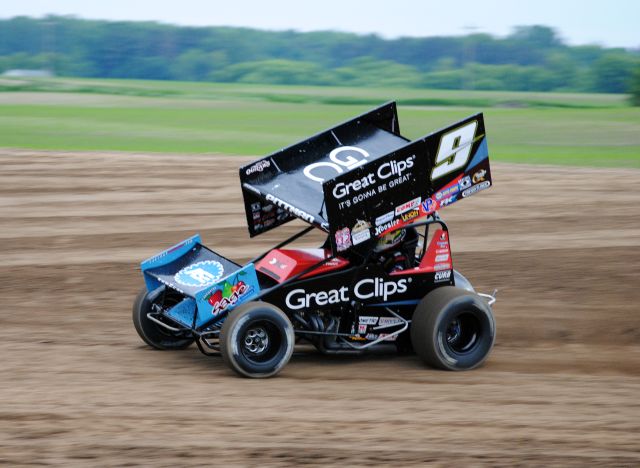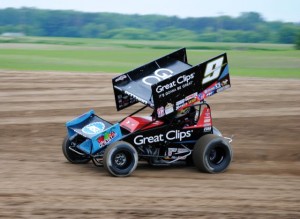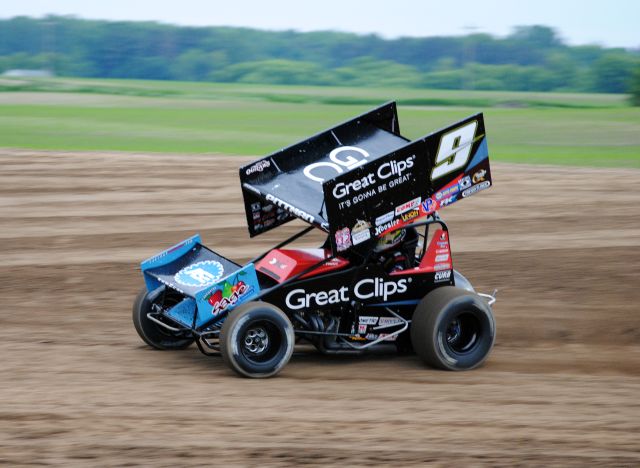 One word could be used to describe the racing last week near TJSlideways.com headquarters.
Cold.
Unseasonably cold weather caused three rain outs in Michigan and the Hy-Miler Nationals finale to be postponed until Sunday.   While the weather seemed more suitable for football than racing I would take similar temperatures minus the rain next week for the Knoxville Nationals.
Here are a few items from our weekend notebook…
Kasey Kahne Racing officials confirmed with us on Monday that the Great Clips sponsorship of their World of Outlaws STP Sprint Car Series team was extended for three years last week.  You may recall Great Clips, Hendrick Motorsports, and Kahne announced the extension and expansion of their NASCAR sponsorship finding Great Clips on Kahne's cars for more NASCAR Nextel Cup races in 2014 and beyond.
Thomas Kennedy scored the biggest feature win of his career Sunday night topping the All Star Circuit of Champions at Buffalo River Race Park, he will not participate in this year's 410 Knoxville Nationals.  Citing a lack of crew help Kennedy will only participate in the 360 Nationals this year.   Kennedy was the second first time All Star feature winner in two nights with Travis Whitney picking up the victory on Saturday at Jackson Speedway.
Spartan Speedway promoter Jim Leasure confirmed with us on Friday that the Sprint Cars will not be racing double features to make up for the rain out last Friday.  On the brighter side the sprint car division will compete three times during the month of August and as part of the Harvest 300 on September 1st.
Kyle Larson is slated to drive a second Hoffman Auto Racing car during the Ultimate Challenge next Tuesday at Southern Iowa Speedway.  As of two weeks ago Larson will be driving a modified XXX Chassis with a coil over front end by Hoffman Auto Racing.  Rob Hoffman indicated that Larson liked the feel of the coil over car he won last year's Oskaloosa event in and destroyed in a horrific crash at Eldora Speedway in September, the team modified one of their cars to the same measurements.
With cold and soggy conditions Rich Farmer and Fremont Speedway managed to complete their program on Saturday, and even ended at a decent hour with some track rework.  Kudos to everyone involved at Fremont for getting that program in on Saturday.
Qualifying is a key factor at the Knoxville Nationals.  Dale Blaney has been fast qualifier at five of the last seven UNOH All Star Circuit of Champions events.  If Blaney can continue that trend he will be in good shape next week.