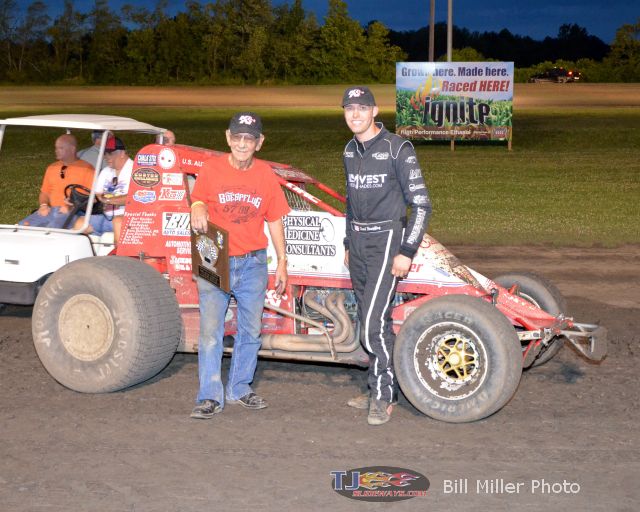 PETERSEN MEDIA
 In a heated point's battle at the I 69 Speedway in Gas City, IN, Chad Boespflug did the best thing he could to regain the top spot, as he powered to his fifth win of the year Friday night aboard Paul Hazen's No.57 machine.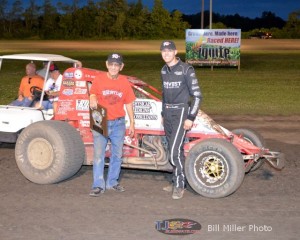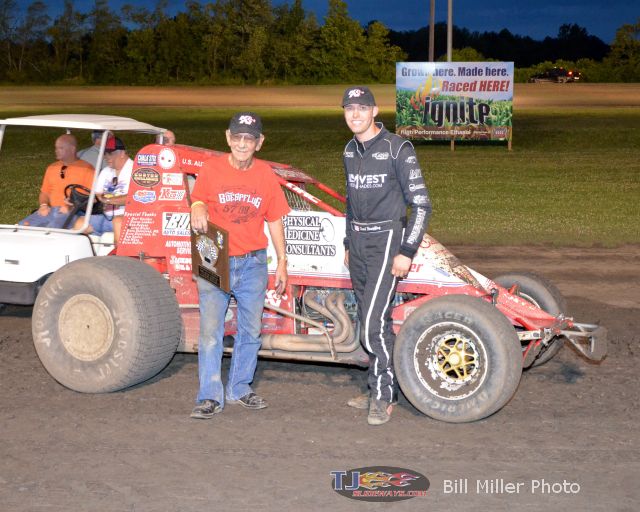 The 69 pill put Boespflug in the third row of his heat race, and the Hanford, CA native turned Avon, IN resident powered his way up to a third place finish, narrowly missing out on second, putting him in the fifth row of the feature.
In a tight battle with Scotty Weir for the track championship, Boespflug headed into the feature in the mindset of keeping it in one piece, and getting ahead of Weir, but when the green dropped, Boespflug quickly decided to go for the win.
On the fifth lap, Boespflug had successfully gotten around Weir, and as the caution waived on lap six, he had worked his way up to the fourth spot.
When the race resumed, Boespflug quickly moved into the third spot, before he caught second running, Max McGhee.
Getting around McGhee, Boespflug set his sights on race leader, Gary Taylor, and quickly got under him and took the lead in heavy lapped traffic.
Boespflug hit his marks, and went on to grab the feature event win over Shane Cottle.
Saturday night the team headed to Waynesfield, OH for the Jack Hewitt Classic, and it was quite the night.
Timing in third fastest, Boespflug ran second in his heat, putting him in the night's Dash, where a broken shock knocked him out of the race and he lined up 12th in the feature event.
Having another strong car, Boespflug was able to slowly work himself into the third spot, as he caught the lead duo of Dallas Hewitt, and Matt Westfall.
Moving into the second spot coming to the white flag, Boespflug had a huge run on Hewitt coming to the finish line but Hewitt beat Boespflug by a nose, making it a photo finish.
"It was a great weekend for our team," Boespflug said. "It was great to win on Friday, and it was a blast racing with a Hewitt for the win on Saturday. I was disappointed we came up short, but it was a blast."
ON TAP: Chad will be back at the I 69 Speedway on Friday night, before heading to the Lincoln Park Speedway on Saturday night.
STAY CONNECTED: For all of the latest news on Chad, visit his website at www.chadboespflugracing.com, 'like' his Facebook page, www.facebook.com/chadboespflugracing, or follow him on Twitter, @chadboespflug.