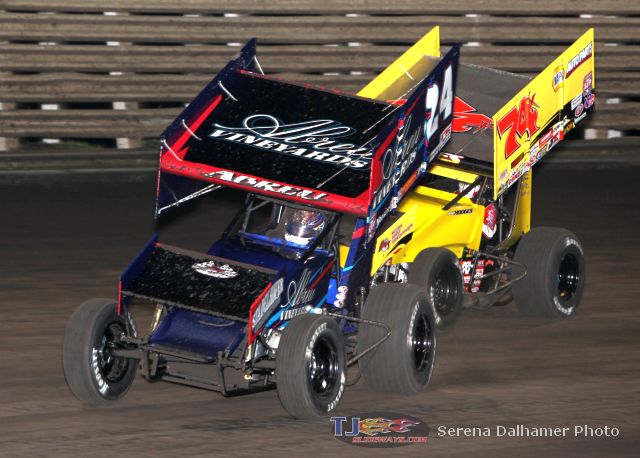 PETERSEN MEDIA
 Rico Abreu did not have a first Knoxville Nationals that he had hoped for, but the youngster gained valuable knowledge from some of the best in the world during the week long event.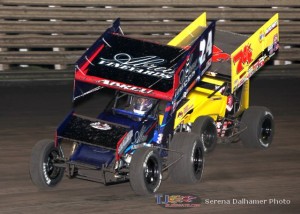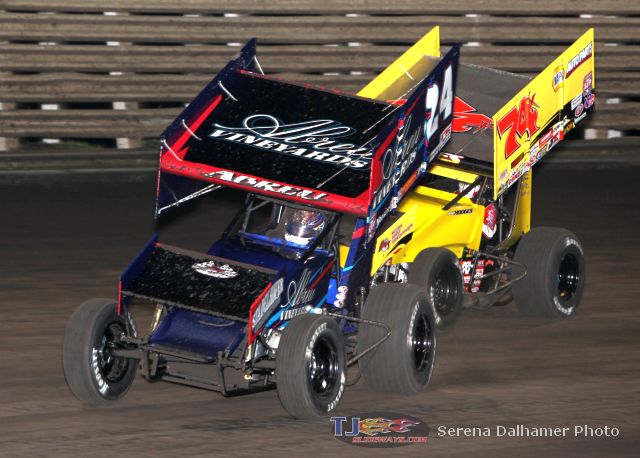 "We had some bad luck, and I made some mistakes," Abreu said. "We hoped to have a better showing, but we ended up running the D on Saturday night."
Abreu's qualifying night was on Thursday, and he got the night started by timing his Abreu Vineyards/ButlerBuilt/FK Rod Ends machine in seventh quickest.
Heat race action was wild for the Rutherford, CA driver. Battling with Bronson Maeschen on the first lap, Abreu nearly found himself in the turn four wall, and heading into turn one, he looked low, and contact with Maeschen ensued, and Abreu did everything but flip, and he was able to keep his machine fired, though it was banged up, and he limped home to a seventh place finish.
Lining up third in the B, Abreu worked the top-side of the speedway, as he chased after Danny Lasoski and Cody Darrah, looking to keep a top-four spot, and transfer into the feature event.
Finishing in the third spot, Abreu would indeed earn a transfer spot, as he started in the 23rd spot for the 25-lap event.
Working the top of the speedway all night long, Abreu looked to learn a few things, but dropped a few spots at the end of the race, as he slipped back to a 21st place finish, and missed out on locking into the B main on Saturday and was forced to action on Friday night.
A late draw saw Abreu time in 26th fastest, and he complained about issues with his engine, and as the crew went to check it out, the found a couple issues, and as they were being tended too, Abreu missed his heat, and was forced to run a C main.
Lining up on the front of his C, Abreu found the top to his liking, and grabbed the lead with just three laps to go, and earned a transfer to the B.
In a very wild B main, Abreu started at the back of the field, and worked his way up to the seventh spot, but ran out of fuel, like many did, in a caution plagued event, and found himself in the Saturday night D.
Starting 11th in the D on Saturday night, Abreu was able to work up to a seventh place finish, and his night was over.
"We had some issues during our qualifying night, and on Friday we just had some bad luck, that I think kept us out of at least the Saturday night B," Abreu said. We couldn't' run our heat, so we were behind the eight ball. I wish we could have been in a better spot, but it's the toughest race in the world, and bad luck happens, and sometimes you just get beat."
Rico and his team would like to thank Abreu Vineyards, ButlerBuilt, FK Rod Ends, Schoenfeld, Keith Kunz Motorsports, Brown and Miller Racing Solutions, and Willwood for their support.
2013 BY THE NUMBERS: Starts-70, Wins-4, Top 5's-28, Top 10's-39
ON TAP: Abreu and company now be in action this Tuesday night at the Junction Motor Speedway in McCool Junction, NE with the World of Outlaws.
STAY CONNECTED: Stay updated with Rico by visiting his website at www.ricoabreuracing.com, 'liking' him on facebook at www.facebook.com/ricoabreuracing or following him on twitter @Rico_Abreu.
VIDEO: Be sure to check out http://www.youtube.com/ricoabreuracing for video of Rico, as content is constantly being uploaded!