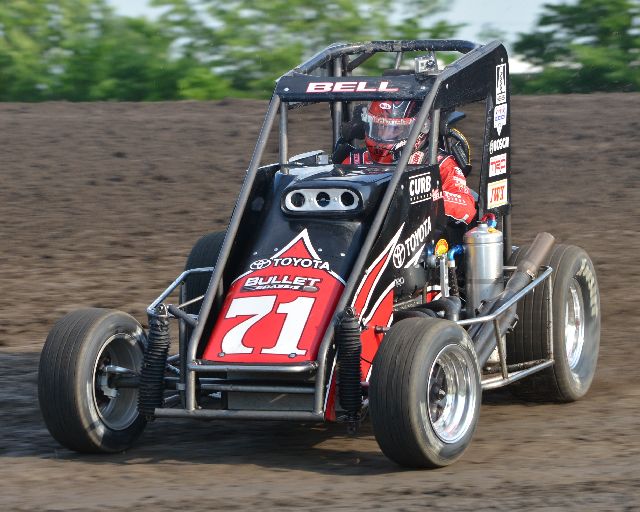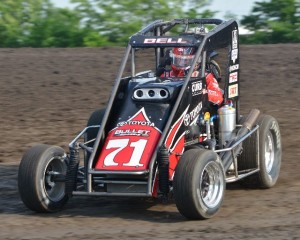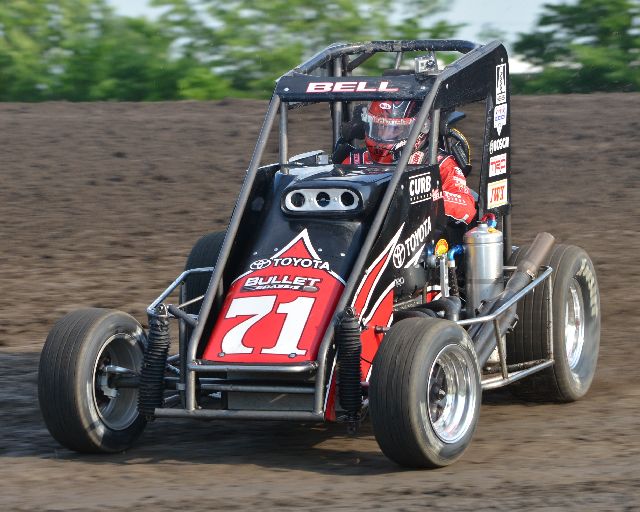 From Tim Tuttle
Macon, IL — (Aug. 17, 2013) — Chris Bell repelled a spirited attack for the lead by Zach Daum with four laps remaining en route to winning the Dana Godfrey Memorial in the POWRi Lucas Oil National Midget Series and Cale Thomas won his fourth feature of the season in the POWRi Speedway Motors 600cc Outlaw Micro Series on Saturday at Macon Speedway.
Bell started on the outside of the front row and took the lead exiting turn two on the opening lap. The 18-year-old from Norman, Okla., opened up a comfortable advantage in the initial 10 laps, all run under green, over Daum, who had started on pole. Once they got into traffic on the one-fifth mile track, Daum began closing the gap and was within a car length when the first caution came out on the 20th lap.
Following the restart, Bell's Toyota-powered Bullet maintained a two-car length lead over Daum's Eagle-Toyota and Jerry Coons Jr.'s Spike-Esslinger was a further two-car lengths back in third. They were all running the high line.
Bell had been struggling to find a consistent line in turns three and four and on the 26th lap, he bounced over the cushion and slapped the wall in four. Daum seized the opportunity, turning under Bell and winning the drag race to the start/finish line by a foot. Coons went underneath Daum and was another couple of feet behind him. They were three wide heading for turn one.
"It was pretty wild," Bell said. "I was on the outside and it was rubbered up below the cushion and I slid Zach in turns one and got the lead back. Coons tried to slide both of us.
"I had jumped the cushion for four laps in a row in turn four and it had pushed me into the wall all four times. On the next lap, I put my right rear tire on the rubber, just below the cushion, and it fixed my problem."
Bell settled into a consistent rhythm to the checkered flag and finished two car lengths ahead of runner-up Daum. Coons finished third, followed by Garrett Aitken and Brad Kuhn.
It was Bell's second victory of the season in POWRi Midgets and he also has five wins in the Honda USAC National Midgets in his first year driving for Keith Kunz/Curb-Agajanian Motorsports.
"This (Macon) is my favorite track and it's never treated me well until tonight," Bell said. "I like it because it's so small and you always get a nice cushion."
Daum, the POWRi Midget championship leader by 110 points over Andrew Felker, finished second for the fourth time in past nine races. He also has a victory in that span.
"It's second and it sucks, but we're in a points race and it's always in the back of your mind," the 22-year-old from Pocahontas, Ill., said. "I wasn't going to try anything too crazy. If Chris was going to give it to us, I was going to take it. He kept changing his line in turns three and four and was getting thrown over the cushion."
Thomas passed Nathan Benson in traffic on the 10th lap and fended off a fierce challenge by Aaron Andruskevitch in the closing laps. Benson finished third.
"Aaron had me by a nose on the back straight with a couple of laps to go, but I stayed on top and was full throttle in turns one and two and took off from there," the 15-year-old from Fairland, Ind., said. "The rubber was so thick up right on top."
It was the best POWRi finish of the season for Andruskevitch of Riverton, Ill.
"It feels great to run and battle with Cale and Nathan, the guys who have been running at the front," Andruskevitch said. "We started eighth and I knew we'd be able to run well in traffic. It really helped us."
Benson of Concordia, Mo., remains in second place in the championship, 140 points behind Thomas with 13 of 19 events completed.
"We should have won this race," Benson said. "I feel we had the faster car."
Thomas has two wins and a second place in three starts at Macon this year.
"Macon is starting to be good for me," Thomas said. "I love this place. It's the most fun track we run. The midgets run before us and build a nice cushion for us to run on top."
POWRi Lucas Oil National Midget Series feature results (30 laps): 1. Chris Bell, 2. Zach Daum, 3. Jerry Coons Jr., 4. Garrett Aitken, 5. Brad Kuhn, 6. Rico Abreu, 7. Andrew Felker, 8. Parker Price-Miller, 9. Tanner Thorson, 10. Tyler Thomas, 11. Daniel Robinson, 12. Austin Brown, 13. Gary Taylor, 14. Chett Gehrke, 15. Cameron King, 16. Seth Motsinger, 17. Daniel Adler, 18. Jake Blackhurst, 19. Jake Neuman, 20. Dalton Camfield, 21. Derrick Myers, 22. Terry Babb.
POWRi Speedway Motors 600cc Outlaw Micro Series feature results (20 laps): 1. Cale Thomas, 2. Aaron Andruskevitch, 3. Nathan Benson, 4. Andrew Peters, 5. Jeremy Camp, 6. Jake Neuman, 7. Joe B. Miller, 8. Max Pozsgai, 9. Nick Bailey, 10. Jimmy Miller, 11. Jason Harms, 12. Shelby Bosie, 13. Kyle Schuett, 14. Alec Long, 15. Devin Feger, 16. Sara Elrod, 17. Trey Datweiler, 18. Josh Ponder, 19. Jacob Patton, 20. Derek Schuett, 21. Evan Turner, 22. Garrett Duff.
For more information, go to www.POWRi.com.