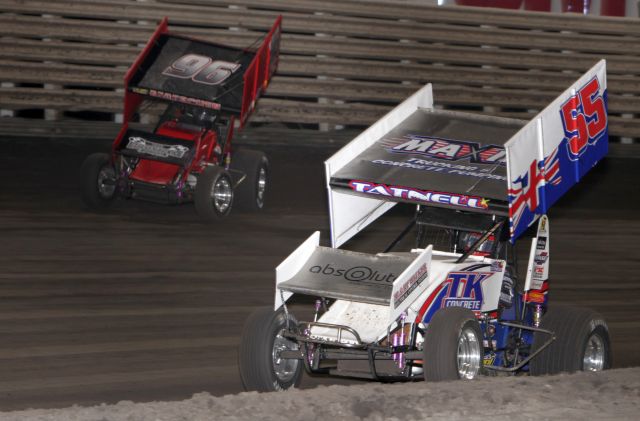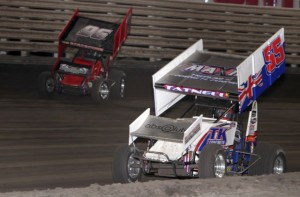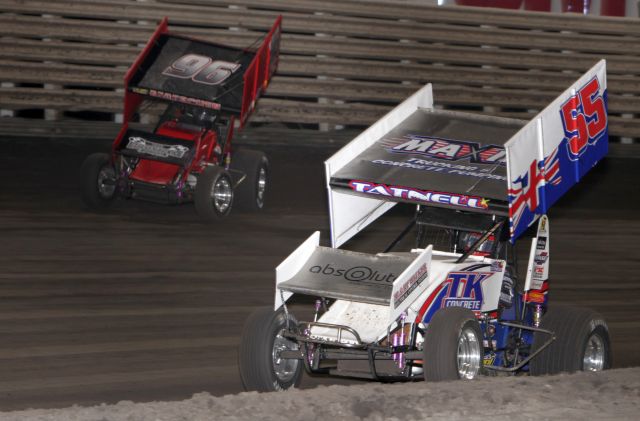 From Knoxville Raceway
Knoxville,IA — (August 21, 2013) — This Lucas Oil Knoxville Championship Cup Series (KCCS) season comes to a close with the finals on Saturday, August 24th. Knoxville Raceway will celebrate the end of the season and crowing of the track champions with a special infield cookout after the races featuring free food for all race attendees.
410 class: The point race in the 410 class is a good one, and it will come down to the wire in the A-Main this Saturday night.  Bronson Maeschen has a 59 point lead over Ian Madsen, and 66 points over Terry McCarl.  With a maximum of 260 points up for grabs (140 quick time, 20 heat race win, 200 feature) the championship is up for grabs. All teams get 100 points minimum for time trials, so basically 160 points up for grabs if everyone shows up.
Maeschen has won one feature this season, and leads the field with nine top ten finishes, and set quick time twice.  Bronson will try to win his first championship and become the first Marion County resident to win a track championship in the 410 class since Mike Brooks in 1980.
Madsen has not won a feature yet this season at Knoxville, but has been consistent with ten top ten finishes and set quick time three times.  If Madsen were to win the championship he would be the third Australian driver to do so after Skip Jackson and his brother Kerry Madsen, which would also be the first set of brothers to win the championship in track history.
McCarl is a seven-time champion and he made up 59 points on Maeschen at the Capitani Classic a couple of weeks ago. If McCarl can set quick time and win the feature, he stands a slim chance to go around both Maeschen and Madsen.
Zomer and Heskin will have a battle for the fourth and fifth place in points.  Zomer has a 19 point edge on Heskin.  Mark Dobmeier is solidly in sixth.
We will see some of the non-point teams as well like Brian Brown, and possibly Wayne Johnson and Danny Lasoski.
360 Class:  The points race is down to Clint Garner with a 216 point lead over Joe Beaver.  As long as Garner shows up and starts the A-Main, he will have has his fifth consecutive 360 track championship clinched and be the lone driver with five titles in that division all time.  David Hesmer and Garner both have four championships currently.
305 Class:  Larry Ball Jr. has the 305 championship clinched with a 308 point lead.  But he says he is moving back to the 410 class in 2014.
Tickets
Tickets will be available at the gate — General Adult: $15, Teens 13-19: $8, Kids 6-12: $4, Pits: $25.
About Knoxville Championship Cup Series
The Knoxville Championship Cup Series is the United States' premier weekly 305, 360 and 410 sprint car series, running from April through August. Some of the top drivers in the sport have raced in the series including Al Unser Jr., Jeff Gordon and Doug Wolfgang.
About Knoxville Raceway
Since 1954, fans have flocked to Knoxville Raceway to experience the most exhilarating and intense dirt track racing in the world. Top drivers come to Knoxville, Iowa, to compete for prestigious racing titles in events like the Knoxville Nationals, Knoxville Championship Cup Series and the Late Model Knoxville Nationals. As the Sprint Car Capital of the World, Knoxville Raceway has developed into a tradition, legacy and leader in dirt track and open wheel racing.