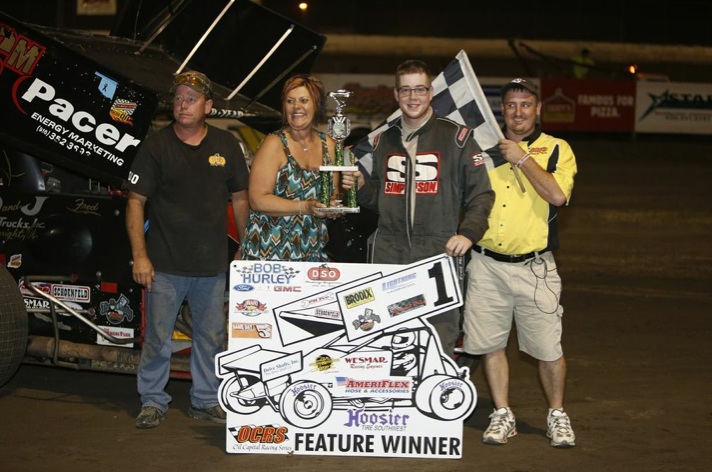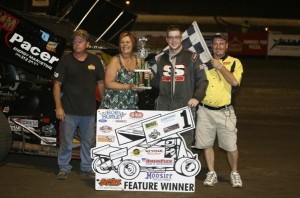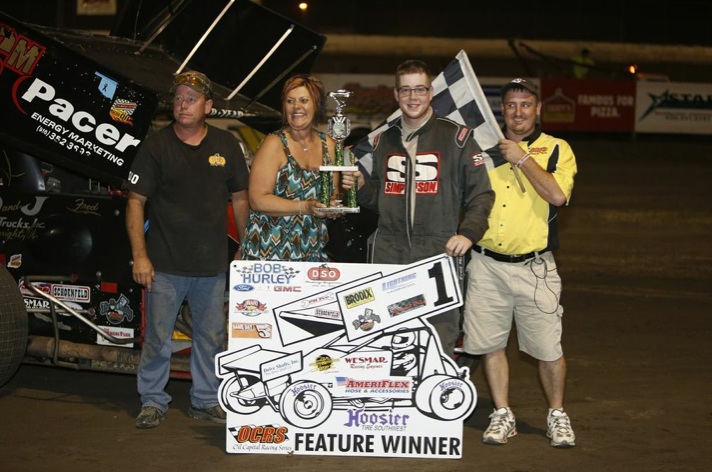 From John Lemon
Caney, KS — (August 31, 2013) — He knew the day was coming. Others knew it was coming. It was just a matter of when. For Fred Mattox, his time was now and the Osage Casino Caney Valley Speedway was the place. The Drumright Oklahoma pilot has had Oil Capital Racing Series glory snatched from him in ways that can be hard to stomach. Twice before, Mattox has flipped while leading an OCRS A-Feature. One time he was so close to the checkered flag he could read the series logo on the flagman's uniform.
Mattox and his Pacer Energy Marketing / D&J Tank Trucks / AKL / Champion Oil / Mattox Engines / XXX chassis owned by father and former champ sprint racer David Mattox, took the lead early in the 25-lap A-Feature and at times had some breathing room back to second place. Other times, due to lapped traffic and the only yellow flag of the race, Mattox had someone on his rear end.
Mattox started on the outside front row in his quest for his first OCRS win. "We got real lucky and started on the front row due to the (OCRS) line-up deal. Tracks like this suit me. I like the bottom and that's how this track was tonight. If you could stick around the bottom, you were fast. When I got here I drew the number 55 pill and the Donnie Ray Crawford Memorial micro race is this weekend and I thought that was pretty cool, said the winner from victory lane.
In the early going, Kyle Clark, Alex DeCamp, Mickey Walker, Terry Easum and local favorite Andrew Deal wagged battle in trading positions off and on with one another. Deeper into the field, Harli White and Wichita's Mike Peters were looking to work their way through the traffic from their sixth row starting berths. White would work her way past Deal for the fourth position a third into the race only to see Deal get right back by White within a half a lap. Deal's reclaiming of the position would be short lived as White would get back by again in turns one and two on the next circuit.
The leaders would catch lapped traffic requiring patience and skill to maneuver past the lapped cars as one miscue could cost a driver 1-3 spots as tight as the racing was. Within a couple of laps of passing Deal, White got a run on Clark coming out of turn four and had the second place spot at the flagstand. All the while, Mattox kept running smooth consistent lap times to stay on the point.
With just two laps remaining, the lone yellow flew for pole position starter Michael Bookout who stopped the Bigfoot Racing machine in turn number two. This would give White her best shot at Mattox to earn win number seven of the year. There would be one problem for White. After tagging the wall in turn four while working the cushion a couple of laps earlier, White's right rear tire began to soften and getting a drive off the corners wasn't what it was prior to kissing the wall.
" Whenever I saw the white flag, I though 'Oh No' I got to get up and go," said the driver of the Jerry Tucker Roustabout / Terraco Soil Farming / Crash Enterprises / All Star Café / Boyd Engines / Maxim #17w. "On the last few laps, I noticed the car was laying over to much on the right rear and I thought we broke a right rear shock but I found out it was the right rear tire (that was the problem)." White's run from 11th netted her the AmeriFlex Hose and Accessories "Hard Charger" for the fifth time this season.
Mattox, by virtue of his victory, now becomes the 12th different winner in 2013 and the 9th driver to score their first career OCRS main event win on this seasons sprint car tour alone. Deal, a first timer winner himself last week, had another strong showing in the Will Cagle #25 C&P Racing Supply / Jennings Engines / ART sprinter by finishing third. By all counts, this team appears to be headed for more strong showings the rest of the way. Clark and Easum rounded out the top five.
Peters came home sixth with DeCamp, Smith, Sewell, and Walker rounding out the top ten. There are only four more events remaining in the season with the next round coming up Saturday night at the Tri-State Speedway in Pocola Oklahoma.
For more information on the OCRS sprint car series including updates, stories, photos, complete 2013-point standings and future schedules, log onto: www.ocrsracing.com
Fans can also checkout our Facebook page at: https://www.facebook.com/oil.series
OCRS Race Results
Osage Casino Caney Valley Speedway / Caney Kansas
Date of Race: Saturday August 31, 2013
Event number 18
Car count: 21
(Pos-Car-Driver-Start)
AmeriFlex Hose and Accessories Heat
1, 51-Mike Peters[3]. 2, 26M-Fred Mattox[5]. 3, 88-Terry Easum[1]. 4, 9$-Kyle Clark[4]. 5, 77-Kyle Cobb[6]. 6, 22-David Stephenson[2]. DNS: Donny McConnell
Bob Hurley Auto Family Heat
1, 5$-Danny Smith[1]. 2, 84-Alex DeCamp[3]. 3, 17W-Harli White[6]. 4, 8M-Kade Morton[2]. 5, 55-Johnny Kent[4]. 6, 7m-Chance Morton[5]. 7, 11-Michael Tyre[7].
Drive Shafts Inc. Heat
1, 2-Mickey Walker[2]. 2, 8-Alex Sewell[5]. 3, 25-Andrew Deal[4]. 4, 23-David Dutton[1]. 5, 007-Michael Bookout[7]. 6, 3-Brian Gramm[3]. 7, 31-Casey Wills[6].
OCRS A Feature
1, 26M-Fred Mattox[2]. 2, 17W-Harli White[11]. 3, 25-Andrew Deal[5]. 4, 9$-Kyle Clark[4]. 5, 88-Terry Easum[7]. 6, 51-Mike Peters[12]. 7, 84-Alex DeCamp[8]. 8, 5$-Danny Smith[10]. 9, 8-Alex Sewell[9]. 10, 2-Mickey Walker[3]. 11, 77-Kyle Cobb[14]. 12, 8M-Kade Morton[6]. 13, 7m-Chance Morton[17]. 14, 31-Casey Wills[20]. 15, 23-David Dutton[13]. 16, 11-Michael Tyre[19]. 17, 22-David Stephenson[16]. 18, 3-Brian Gramm[18]. 19, 55-Johnny Kent[15]. 20, 007-Michael Bookout[1] DNS: Donny McConnell
AmeriFlex Hose and Accessories Hard Charger: Harli White: +9
Dyno Services of Oklahoma Hard Luck Award: Kyle Cobb