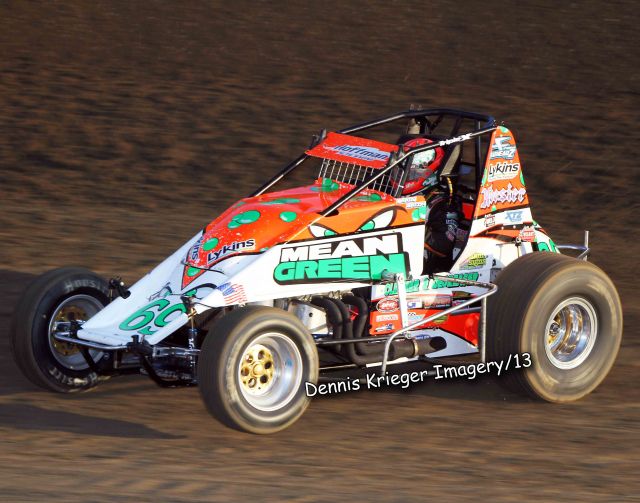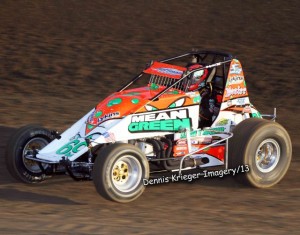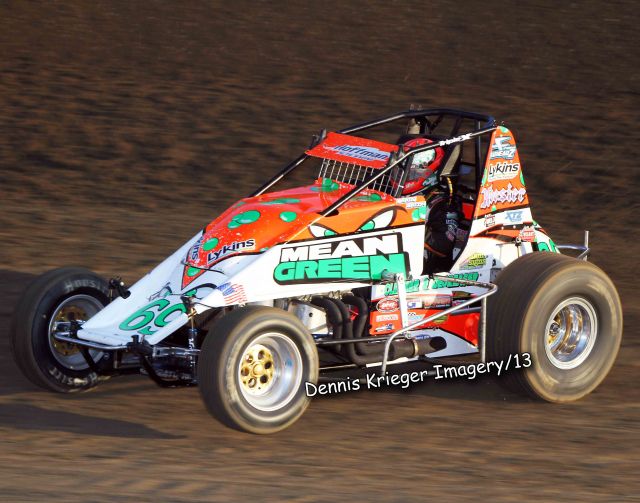 From Bill W
September 3, 2013 – Brady Bacon and the Hoffman Racing #69 team may well have had the fastest car on the track both nights last weekend in trips to the 34 Raceway near West Burlington, Iowa and the Terre Haute Action Track in Indiana.  Unfortunately, while leading going away in Burlington, the rear axle broke ending Friday night's run.  A strong second place showing in Terre Haute followed on Saturday night, and will give the team some momentum heading into Arkansas events this weekend in Little Rock and West Memphis.
USAC made the trip to West Burlington on Friday, and Brady qualified seventh quick.  "They did a nice job with the track," he says.  "It was actually still a little greasy for the heat races.  It started widening out a little at that point and we were able to run second (from fourth).  We had some minor motor issues in qualifying and heat."
The Broken Arrow, Oklahoma driver would line up on the pole for the main event.  "We got out there and the car felt really good," says Brady.  "We were out to a seven second lead or so, and the axle broke.  We were really good on the top and bottom and getting through lapped traffic.  You can't say you would have won, but we were way out front and pulling away at that point."
Brady knows circumstances could have been worse.  "It doesn't seem like that stuff ever happens when you're thirteenth," he says.  "It always happens when you're in the lead.  A tire flew off and hit someone's trailer, but fortunately it didn't hit anyone and we didn't turn over.  It could have been a lot worse."
On Saturday at Terre Haute, Brady qualified fourth.  "The heat race was really tough, but we were able to get through there alright (finishing fourth)," he says.  "There were a lot of good guys in there, and the track was around the bottom."
Starting third in the main event, Brady quickly moved up to the runner-up position.  "We had a pretty good start," he says.  "We were up to second.  We were fast on the top, but there wasn't really a cushion up there.  Jerry (Coons) had his car working well.  I just couldn't get enough of a run to get by him."
Brady was all over the leader in the late stages, but would settle for second at the checkers.  "We were in lapped traffic, and I fell back to almost a straightaway at one point, and we were able to reel him back in," he says of Coons.  "I just couldn't do anything with him once I got there.  I tried to slide him a couple of times, but I didn't have him cleared.  I think we had a good enough car to win…it just didn't play out that way.  He never made the mistake I needed to capitalize."
On Friday night, the series will visit the I-30 Speedway near Little Rock, and on Saturday USAC hits "The Ditch", Riverside International Speedway in West Memphis.  "We have a lot of momentum right now," says Brady.  "I feel we had the best car both nights this weekend.  Obviously, I have a lot of confidence going to Little Rock and West Memphis this weekend.  We have the speed right now; we just need to get the bad luck out of the way.  We have enough races to chip away at Dave's (Darland) lead; we just need to not have any more bad luck."
Follow Brady on his Website, Twitter and Facebook!
Follow Brady at his website located at www.BradyBaconRacing.com! Also keep up with him on Facebook and Twitter (which also can be accessed at the website) at the following links…
Twitter Link – http://twitter.com/BradyBacon
Facebook Link – www.facebook.com/pages/Brady-Bacon-Racing/278125555137