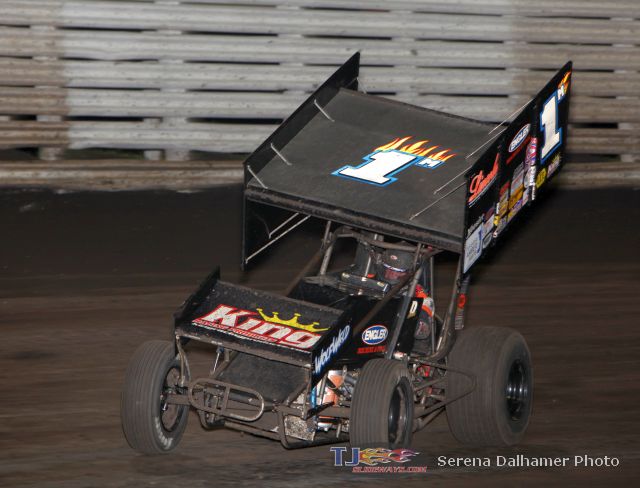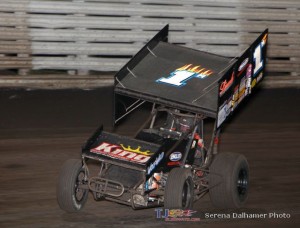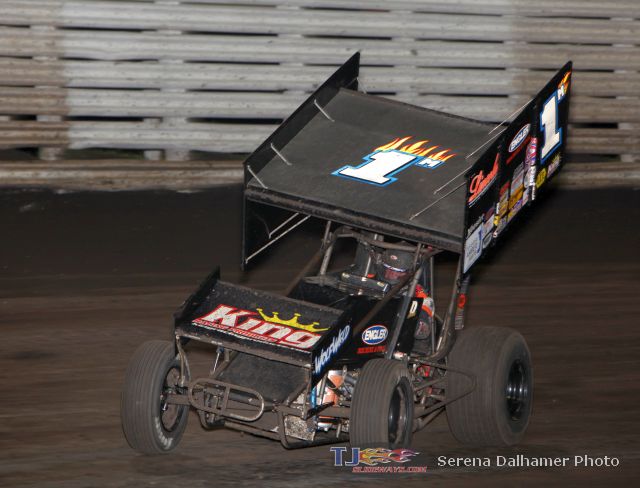 From Bryan Hulbert
Eagle, NE — (September 8, 2013) — Slide jobs was the word of the night at Eagle Raceway with the Speedway Motors Midwest Region on Sunday night with Danny Lasoski utilizing a green, white, checkered restart to get the pass on Jason Johnson for the $5,000 Nebraska Cup championship check.
The field chased Jack Dover at the start with Danny Lasoski jumping to the runner up spot to begin the night's 30 lap feature.
Finding slower traffic by Lap 8, Lasoski was quickly joined by Jason Johnson and Tony Bruce, Jr. as the trio chased down Dover.
Going three wide for the lead on Lap 10 with the back markers, Dover held off the charging Lasoski with the caution waving on Lap 11.
At speed, Lasoski and Dover proceeded to exchange slide jobs for the next two laps with Dover swapping the lead four times with the No. 1m before finally getting some breathing room. In the mix, Jason Johnson picked off the second spot on the fourteenth circuit.
Working from fifteenth, Brian Brown tracked down Lasoski on Lap 18 as Dover began working heavy traffic; allowing Johnson to close the gap with Lasoski and Brown going at each other for third.
Working the bottom groove, Jason Johnson threw slide jobs on the No. 53 starting on Lap 21. Over and over, the pair traded the lead with Johnson finally taking the point with six laps to run. Trying to mount a charge, Jack Dover's night ended on Lap 25 with mechanical problems sidelining the Home Pride No. 53.
Caution coming to the final lap reset the field to a two lap dash.
Underway, Lasoski dove the Burch Motorsports No. 1m to the inside line entering turn one, taking the lead down the back straight-a-way for his third victory in as many nights. Brian Brown grabbed the runner up spot on the final lap with Jason Johnson ending up third. Tony Bruce, Jr. and C.J. Johnson from fourteenth completed the top five.
The Speedway Motors Midwest Region return to competition for the 2013 Season Finale at the I-80 Speedway with the second annual Fall Brawl on Friday, September 20 and Saturday, September 21.
More information can be found at http://www.ascsracing.com
Speedway Motors ASCS Midwest Region
Eagle Raceway – Eagle, Neb. – Nebraska Cup
Sunday, September 8, 2013
Car Count: 43
Heat 1 (8 Laps): 1. 1M-Danny Lasoski[3]; 2. 48-Jake Martens[1]; 3. 11X-Gregg Bakker[2]; 4. 2J-Zach Blurton[5]; 5. 21K-Ryan Kitchen[7]; 6. 81-Jon Freeman[8]; 7. 31-Mark Pace[9]; 8. 03-Shayle Bade[6]; 9. 17B-Jason Becker[4]
Heat 2 (8 Laps): 1. 18-Tony Bruce Jr[3]; 2. 45-Jeff Lowery[1]; 3. 14G-Gene Ackland[2]; 4. E85-C.J. Johnson[6]; 5. 1B-Robby Wolfgang[7]; 6. 17W-Cole Wood[5]; 7. 91-Jeff Stasa[4]; 8. 52-Nick Bryan[9]; DNF 32-Adam Gullion[8]
Heat 3 (8 Laps): 1. 53-Jack Dover[4]; 2. 77-John Klabunde[1]; 3. 41-Jason Johnson[7]; 4. 11W-Wyatt Burks[2]; 5. 51-Mike Boston[3]; 6. 21-Brian Brown[8]; 7. 76-Jay Russell[9]; 8. 12-Tyler Drueke[5]; 9. 24B-Jeremy Campbell[6]
Heat 4 (8 Laps): 1. 4X-Jason Danley[2]; 2. 18R-Ryan Roberts[1]; 3. 35-Trevor Grossenbacher[4]; 4. 5M-Miranda Arnold[5]; 5. 1-Doug Lovegrove[8]; 6. 2F-Frank Galusha[3]; 7. 98-J.D. Johnson[7]; 8. 17-Gage Dorr[6]
Heat 5 (8 Laps): 1. 4-Jordan Boston[3]; 2. 14-Josh Riggins[7]; 3. 71-Tige Jensen[8]; 4. 6G-Bryan Gossel[2]; 5. 28-Rocky Klabunde[1]; DNF 23-Seth Bergman[4]; DNF 36-Jason Martin[5]; DNF 21V-Justin Henderson[6]
B Feature 1 (12 Laps): 1. 21-Brian Brown[6]; 2. 23-Seth Bergman[9]; 3. 1B-Robby Wolfgang[4]; 4. 1-Doug Lovegrove[1]; 5. 5M-Miranda Arnold[3]; 6. 6G-Bryan Gossel[5]; 7. 14G-Gene Ackland[2]; 8. 51-Mike Boston[7]; 9. 2F-Frank Galusha[11]; 10. 21V-Justin Henderson[13]; 11. 32-Adam Gullion[14]; DNF 17B-Jason Becker[15]; DNF 28-Rocky Klabunde[8]; DNF 03-Shayle Bade[12]; DNS 36-Jason Martin
B Feature 2 (12 Laps): 1. 11X-Gregg Bakker[1]; 2. 11W-Wyatt Burks[4]; 3. 98-J.D. Johnson[6]; 4. 76-Jay Russell[9]; 5. 17W-Cole Wood[8]; 6. 12-Tyler Drueke[13]; 7. 2J-Zach Blurton[2]; 8. 81-Jon Freeman[5]; 9. 24B-Jeremy Campbell[14]; 10. 21K-Ryan Kitchen[3]; 11. 31-Mark Pace[7]; 12. 17-Gage Dorr[12]; 13. 91-Jeff Stasa[10]; DNF 52-Nick Bryan[11]
A Feature (30 Laps): 1. 1M-Danny Lasoski[4]; 2. 21-Brian Brown[15]; 3. 41-Jason Johnson[6]; 4. 18-Tony Bruce Jr[2]; 5. E85-C.J. Johnson[14]; 6. 48-Jake Martens[9]; 7. 11W-Wyatt Burks[18]; 8. 14-Josh Riggins[3]; 9. 4X-Jason Danley[8]; 10. 23-Seth Bergman[17]; 11. 4-Jordan Boston[7]; 12. 71-Tige Jensen[5]; 13. 1B-Robby Wolfgang[19]; 14. 45-Jeff Lowery[10]; 15. 11X-Gregg Bakker[16]; 16. 18R-Ryan Roberts[12]; 17. 98-J.D. Johnson[20]; DNF 53-Jack Dover[1]; DNF 35-Trevor Grossenbacher[13]; DNF 77-John Klabunde[11]