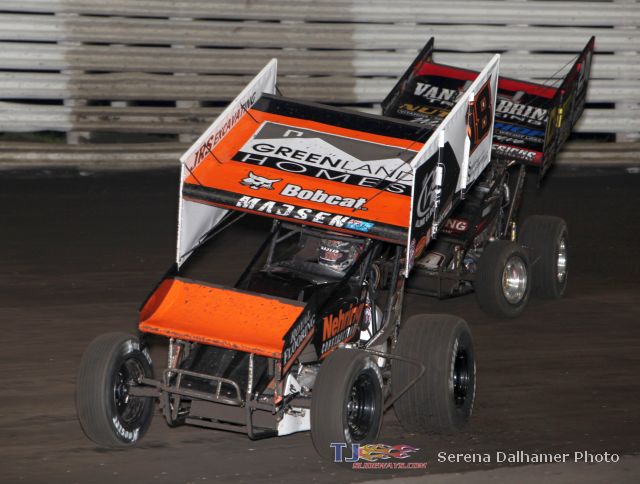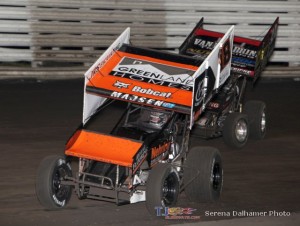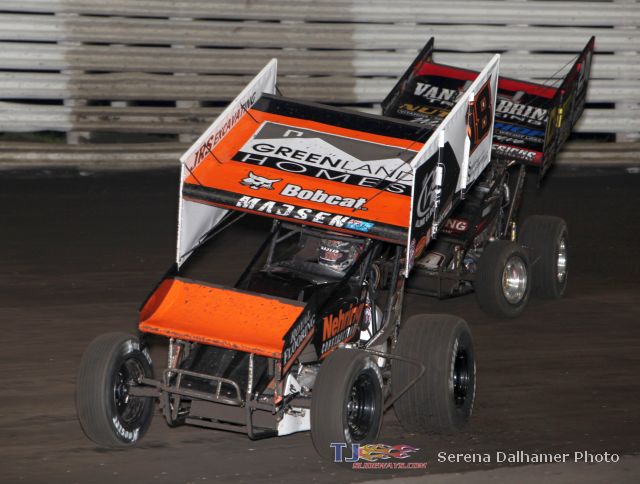 Brandon, SD (9-8-13) – By Mark Tassler Sunday night, September 8th, marked the end of another season of racing at Huset's Speedway. $10,000 was on the line for the winner of the top class of Outlaw Sprints and it was the season championship for all classes.
Ian Madsen won the 25 lap main event and cashed in on the big money from Dollar Loan Center. Madsen originally from St. Mary's, New South Wales, Australia, captured his third win of the season at Huset's Speedway. The other two races he won there paid $5000 each, so it was a profitable year for him at the facility. Mark Dobmeier came in second and earned $5000. Terry McCarl was third after setting the quick time in qualifying for a season best six times and four consecutive events. Scott Winters finished fourth and Dave Glennon riunded out the top 5.
Matt Juhl of Esterville, IA drove to the win in 360 Sprint action. It was Juhl's second Huset's Speedway win of the year.
In the 600cc Micro Sprints, Trey Thesenvitz of Jasper, MN got his first ever win at the track. The 15 year old led all 12 laps and was very excited in victory lane telling the crowd that he grew up watching the races at Huset's and it was a dream come true to be standing in victory lane.
In the Late Model Street Stocks, it was a huge event for another driver. Shaun Taylor of Sioux Falls had won 20 features in the Hobby Stock class before moving up to Street Stocks last year. He finally got the one he's worked on two seasons long and that was a Late Model Street Stock victory.
Denny Lottman drove to his first Huset's Speedway USRA B-Modified win of 2013 and Dustin Gulbrandson is close to having a private parking spot in victory lane for his Hobby Stock as he stopped there for a fifth time this year.
Dollar Loan Center 410 Outlaw Sprint Cars
Qualifications: 1. 24-Terry Mccarl, Altoona, IA, 10.867; 2. 91-Dustin Zomer, Sioux Falls, SD, 10.947; 3. 13-Mark Dobmeier, Grand Forks, ND, 10.953; 4. 82-Scott Winters, Butterfield, MN, 10.986; 5. 12-Lynton Jeffrey, Prairie City, IA, 11.003; 6. 18-Ian Madsen, Knoxville, IA, 11.007; 7. 44-Chris Martin, Ankeny, IA, 11.013; 8. 25-Dylan Peterson, Sioux Falls, SD, 11.168; 9. 17A-Austin Mccarl, Altoona, IA, 11.184; 10. 5-Dave Glennon, Casselton, ND, 11.298; 11. 12L-John Lambertz, Sioux Falls, SD, 11.342; 12. 14-Jody Rosenboom, Rock Rapids, IA, 11.356; 13. 17B-Ryan Bickett, Ramona, SD, 11.585; 14. 101-Chuck Mcgillivray, Madison, SD, 11.625; 15. 0-Alex Schriever, Sioux Falls, SD, 11.733
Heat #1: 1. 17A-Austin Mccarl, Altoona, IA (2); 2. 12L-John Lambertz, Sioux Falls, SD (1); 3. 12-Lynton Jeffrey, Prairie City, IA (4); 4. 24-Terry Mccarl, Altoona, IA (6); 5. 13-Mark Dobmeier, Grand Forks, ND (5); 6. 44-Chris Martin, Ankeny, IA (3); 7. 17B-Ryan Bickett, Ramona, SD (7); 8. 0-Alex Schriever, Sioux Falls, SD (8)
Heat #2: 1. 14-Jody Rosenboom, Rock Rapids, IA (1); 2. 25-Dylan Peterson, Sioux Falls, SD (3); 3. 82-Scott Winters, Butterfield, MN (5); 4. 18-Ian Madsen, Knoxville, IA (4); 5. 5-Dave Glennon, Casselton, ND (2); 6. 91-Dustin Zomer, Sioux Falls, SD (6); 7. 101-Chuck Mcgillivray, Madison, SD (7)
A Feature: 1. 18-Ian Madsen, Knoxville, IA (5); 2. 13-Mark Dobmeier, Grand Forks, ND (8); 3. 24-Terry Mccarl, Altoona, IA (10); 4. 82-Scott Winters, Butterfield, MN (7); 5. 5-Dave Glennon, Casselton, ND (1); 6. 12-Lynton Jeffrey, Prairie City, IA (6); 7. 91-Dustin Zomer, Sioux Falls, SD (9); 8. 14-Jody Rosenboom, Rock Rapids, IA (12); 9. 12L-John Lambertz, Sioux Falls, SD (11); 10. 101-Chuck Mcgillivray, Madison, SD (14); 11. 17B-Ryan Bickett, Ramona, SD (13); 12. 0-Alex Schriever, Sioux Falls, SD (15); 13. 17A-Austin Mccarl, Altoona, IA (2); 14. 25-Dylan Peterson, Sioux Falls, SD (3); 15. 44-Chris Martin, Ankeny, IA (4)
Coffee Cup Fuel Stops 360 Championship Sprints
Heat #1: 1. 9-Matt Juhl, Estherville, IA (1); 2. 17B-Ryan Bickett, Ramona, SD (2); 3. 21-Dustin Beenken, Sheldon, IA (3); 4. 5W-Jody Rosenboom, Rock Rapids, IA (8); 5. 47-Brant O'banion, Sioux Falls, SD (6); 6. 75-Tommy Barber, Brandon, SD (5); 7. 7-Clinton Bruns, Little Rock, IA (4); 8. 20K-Keith Lambertz, Valley Springs, SD (7)
Heat #2: 1. 612-Isaac Schreurs, Sioux Falls, SD (1); 2. 2D-Dusty Ballenger, Harrisburg, SD (3); 3. 23V-David Ekern, Brookings, SD (5); 4. 12L-John Lambertz, Sioux Falls, SD (4); 5. 1-Justin Glaser, Sioux Falls, SD (6); 6. 63-Terry Chester, Sioux Falls, SD (7); 7. 3Z-Matt Ziebarth, Flandreau, SD (2)
A Feature: 1. 9-Matt Juhl, Estherville, IA (1); 2. 2D-Dusty Ballenger, Harrisburg, SD (4); 3. 17B-Ryan Bickett, Ramona, SD (3); 4. 5W-Jody Rosenboom, Rock Rapids, IA (7); 5. 47-Brant O'banion, Sioux Falls, SD (9); 6. 1-Justin Glaser, Sioux Falls, SD (10); 7. 12L-John Lambertz, Sioux Falls, SD (8); 8. 75-Tommy Barber, Brandon, SD (11); 9. 21-Dustin Beenken, Sheldon, IA (5); 10. 7-Clinton Bruns, Little Rock, IA (13); 11. 3Z-Matt Ziebarth, Flandreau, SD (14); 12. 63-Terry Chester, Sioux Falls, SD (12); 13. 612-Isaac Schreurs, Sioux Falls, SD (2); 14. 23V-David Ekern, Brookings, SD (6); 15. 20K-Keith Lambertz, Valley Springs, SD (15)