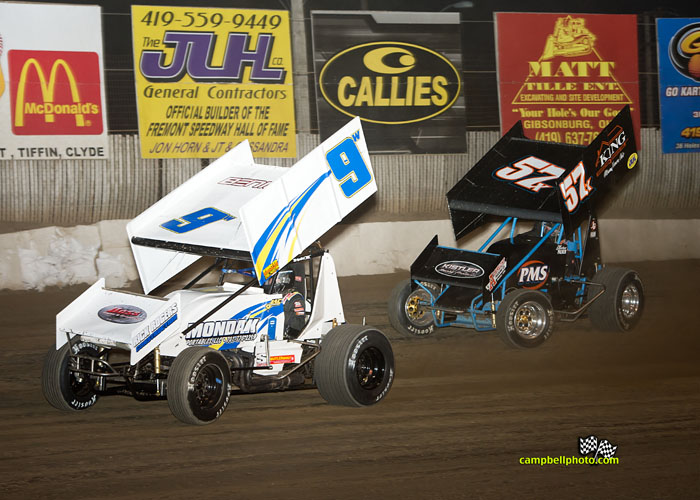 PETERSEN MEDIA
 Spending the weekend in Fremont, OH with the All Star Circuit of Champions, Jac Haudenschild and the Destiny Motorsports team scored a top-10 on Friday, before a 14th place finish on Saturday night.
Kicking the weekend off on Friday night, "Haud" timed the Mondak Portables/Rick Rogers Construction/Speedmart backed No.9 machine in 22nd fastest against the 41 drivers on hand.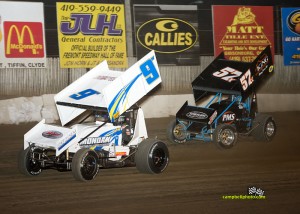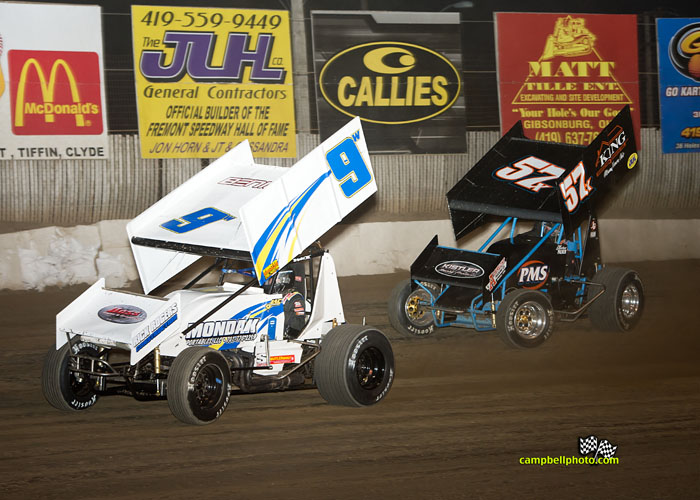 Lining up on the front row of his heat race, the Wooster, OH pilot slipped back to the third spot, where he would finish, but still put the Keizer Wheels/Triple X/Benic Enterprises entry into the night's feature event, though he would be buried in the 20th spot.
On the extremely slick surface, 'The Wild Child' dazzled the crowd as he put on a show using the entire surface, to work his way forward.
When the dust settled on the event, Haudenschild brought home a hard fought 10th place finish, and earn 'Hard Charger' honors for the evening.
Back at the Fremont Speedway on Saturday night, Haudenschild kicked things off by timing in 24th fastest, again putting himself on the front row of his heat race.
A sluggish start saw him again slip back to the third spot, where he would go on to finish, and transfer to the feature event for the second night in a row.
Lining up in the 19th spot for the 50-lap feature event, Haudenschild's 14th place effort was not indicative of the run he had, as he made several bold moves to work up towards the top-10 again, but could not make some of his moves stick.
"We thank Jac Haudenschild for competing with our team for the weekend," Rick Rogers, Destiny Motorsports Owner said. "He has other commitments this year, and we wish him the best as he finishes out this season. This weekend Lucas Wolfe is available, and he will drive for us at Eldora and Lernerville."
Destiny Motorsports would like to thank Mondak Portables, Rick Rogers Construction, Speedmart, Wesmar Racing Engines, Keizer Wheels, Triple X Chassis, Driver Websites, and Benic Enterprises for their support through the 2013 season.
2013 DESTINY MOTORSORTS BY THE NUMBERS: Starts-53, Wins-1, Top 5's-7, Top 10's-12
ON TAP: Destiny Motorsports will return to action this weekend at the Eldora Speedway on Friday night and at the Lernerville Speedway on Saturday night with Lucas Wolfe in the seat.
STAY CONNECTED: Stay updated with Destiny Motorsports by connecting via social media, www.facebook.com/destinymotorsports, and on Twitter, @DestinyMS9. You can also check us out on the web at www.destinymotorsportsinc.com.
PETERSEN MEDIA: Petersen Media is a promotional agency that can handle your public relations, marketing, and any other promotional needs. Petersen Media utilizes multiple tactics to help you reach your intended audience, to boost awareness.
For more information contact sales@petersenmediainc.com, by phone at 916-342-3424, visit www.petersenmediainc.com,  www.facebook.com/PetersenMedia, or follow www.twitter.com/petersen_Media.