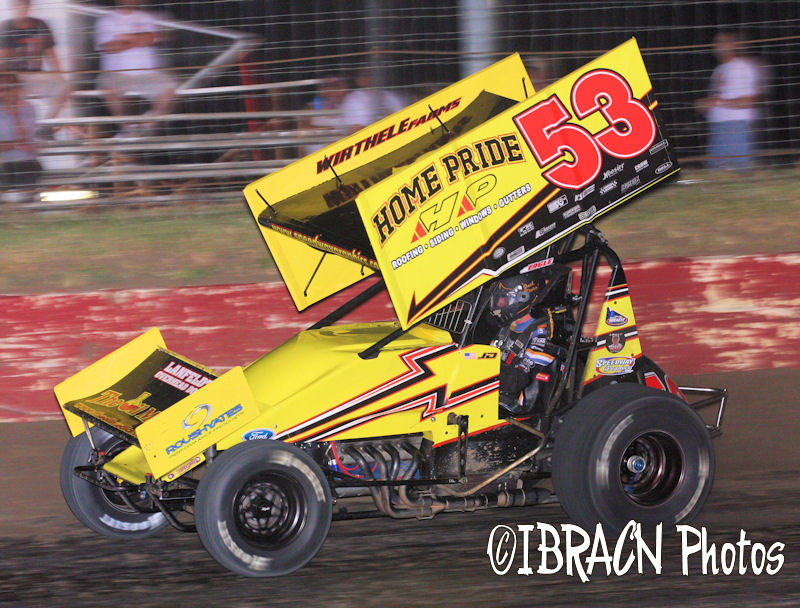 Greenwood, NE — (September 20, 2013) — Repeating his success from one year ago, Jack Dover parked the Home Pride No. 53 in victory lane to open the I-80 Speedway's Fall Brawl with the Speedway Motors Midwest Region.The difference this time is the preliminary night victory has set Dover up for a potential $20,000 bonus in the Durst Motorplex and Zoz Farms Double Down Back-to-Back Challenge if the Springfield, Neb. driver can make it a weekend sweep.Beginning fourth, Dover surged past pole sitter Danny Lasoski on Lap 3. Trading slide jobs for a short time, Dover was able to break away and go unchallenged the remaining revolutions. Lasoski raced the Burch Motorsports No. 1m to a runner up finish with Wayne Johnson completing the podium. Don Droud, Jr. and Jonathan Cornell made up the top five.
Brooke Tatnell crossed sixth followed by Clint Garner. B-Main transfer Terry McCarl was as high as sixth before spinning. The Altoona, Iowa driver clawed his way back to eighth to earn the night's Hard Charger with Tyler Drueke and Billy Alley completing the top ten.
Don Droud, Jr. picked up an extra $300 courtesy of Electrical Systems Inc.
The Fall Brawl continues at the I-80 Speedway on Saturday, September 21. For more information, log onto http://www.i-80speedway.com.
Speedway Motors Midwest Region
Fall Brawl II – I-80 Speedway – Greenwood, Neb.
Friday, September 20, 2013
Car Count: 36
Heat 1 (8 Laps): 1. 77X-Wayne Johnson; 2. 75-Tommy Barber; 3. 4X-Jason Danley; 4. 4-Jordan Boston; 5. 6-Terry McCarl; 6. 47-Brant O'Banion; 7. 41P-Jeff Carlson; 8. 52-Nick Bryan
Heat 2 (8 Laps): 1. 53-Jack Dover; 2. 21-Brian Brown; 3. 82-Brooke Tatnell; 4. 28X-Rocky Klabunde; 5. 18-Ryan Roberts; 6. 3-Billy Alley; 7. 17B-Jason Becker
Heat 3 (8 Laps): 1. 28-Jonathan Cornell; 2. 17-Gage Dorr; 3. 24B-Jason Martin; 4. 17H-Ryan Bickett; 5. 9N-Wade Nygaard; 6. 44K-David Kubart; 7. 13V-Seth Brahmer
Heat 4 (8 Laps): 1. 2-Don Droud Jr; 2. 12-Tyler Drueke; 3. 6-Terry McCarl; 4. 4J-Lee Grosz; 5. 77-John Klabunde; 6. 03-Shayle Bade; 7. 42-Kevin Kay
Heat 5 (8 Laps): 1. 1M-Danny Lasoski; 2. 40-Clint Garner; 3. 2F-Frank Galusha; 4. 91-Dusty Zomer; 5. 1B-Robby Wolfgang; 6. 12L-John Lambertz; 7. 18T-Terry Richards Jr
B Feature 1 (12 Laps): 1. 17H-Ryan Bickett; 2. 6-Terry McCarl; 3. 3-Billy Alley; 4. 91-Dusty Zomer; 5. 1B-Robby Wolfgang; 6. 9N-Wade Nygaard; 7. 18-Ryan Roberts; 8. 13V-Seth Brahmer; 9. 77-John Klabunde; 10. 47-Brant O'Banion; 11. 41P-Jeff Carlson; 12. 03-Shayle Bade; 13. 18T-Terry Richards Jr; 14. 44K-David Kubart; DNF 2F-Frank Galusha; DNF 42-Kevin Kay; DNF 28-Jonathan Cornell; DNF 52-Nick Bryan; DNS 12L-John Lambertz; DNS 17B-Jason Becker
A Feature (25 Laps): 1. 53-Jack Dover; 2. 1M-Danny Lasoski; 3. 77X-Wayne Johnson; 4. 2-Don Droud Jr; 5. 28-Jonathan Cornell; 6. 82-Brooke Tatnell; 7. 40-Clint Garner; 8. 6-Terry McCarl; 9. 12-Tyler Drueke; 10. 3-Billy Alley; 11. 4-Jordan Boston; 12. 91-Dusty Zomer; 13. 4J-Lee Grosz; DNF 4X-Jason Danley; DNF 17H-Ryan Bickett; DNF 24B-Jason Martin; DNF 75-Tommy Barber; DNF 56-Davey Heskin; DNF 21-Brian Brown; DNF 17-Gage Dorr
Lap Leader(s): Danny Lasoski (1-3), Jack Dover (4-25)