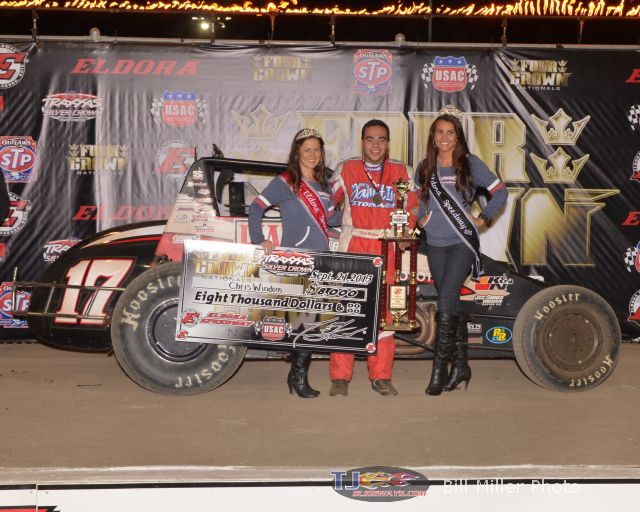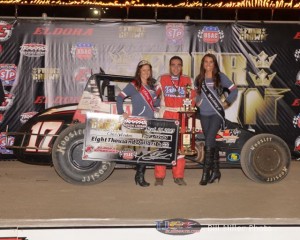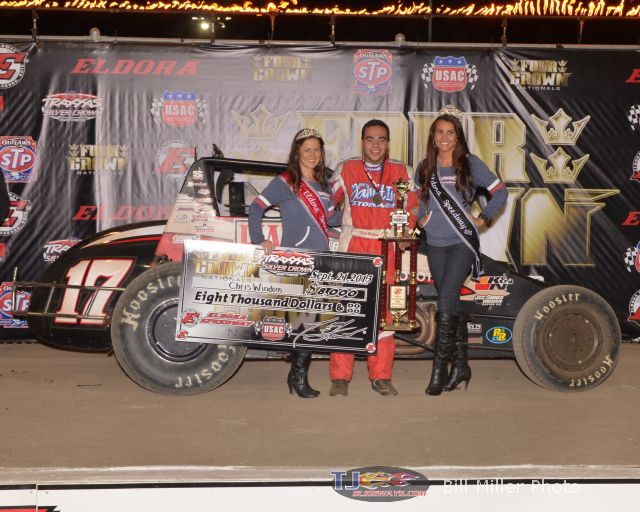 By T.J. Buffenbarger
Rossburg, OH — (September 21, 2013) — Chris Windom capped off an amazing night by winning the Traxxas USAC Silver Crown Series feature Saturday night during the 32nd 4-Crown Nationals at Eldora Speedway. Windom, who had won the sprint car feature prior to the Silver Crown event, took the lead from Bobby East on lap four and held off late race challenges from Tracy Hines and Matt Westfall to score the victory.
"This is pretty amazing, I don't know what to say," said Windom after his double feature winning performance. "The Silver Crown car just drove itself around the track. I made a mistake when Bell and I were racing, sorry to him. I knew Hines was there, but this car was on a rail. Evan's got this thing tuned in to take off really nice. I could use the moisture off four and run down the hill, and that way key on restarts. Plus the car was awesome. This can't be a way to close out the season."
Bobby East and Tracy Hines started on the front row for the 50-lap main event. East led the first three laps while Windom and Bell raced for second. After a lap three caution for a spin by Mitch Wissmiller that damaged the car of DuQuoin winner Chris Urish, Windom took the lead on the restart from East. One lap later Jerry Nemire and Kellen Conover brought out the caution flag when they tangled in turn one.
Windom and Bell continued to race for the lead until lap 14 when Windom got sideways and Bell ran into him while running first and second. Somehow both drivers kept going, but Tracy Hines shot into the lead. Before Hines could officially lead at the start finish line the caution came out for Bell blowing a right rear tire.
After the restart Windom and Hines raced nose to tail with Hines occasionally challenging for the lead, but Windom holding the top position. Then with one lap to go Hines flipped in turn four on the final lap for the second time on Saturday night. During the restart Windom had to hold off a last lap challenge from Westfall to collect his second feature win of the night.
After Jerry Coons, Jr. had mechanical problems earlier in the race East secured the Silver Crown championship with a sixth place finish.
TRAXXAS USAC SILVER CROWN RACE RESULTS: September 21, 2013 – Rossburg, Ohio – Eldora Speedway – 32nd "4-Crown Nationals"
QUALIFICATIONS: 1. Bobby East, 10, Stewart/Curb-Agajanian-16.517; 2. Tracy Hines, 16, Lightfoot-16.598; 3. Christopher Bell, 21, Six-R-16.749; 4. Matt Westfall, 19, Longworth-16.750; 5. Chris Windom, 17, RW/Curb-Agajanian-16.879; 6. Jerry Coons Jr., 27, RW/Curb-Agajanian-17.031; 7. Kody Swanson, 25, Sachs-17.163; 8. Mitch Wissmiller, 7, RW/Curb-Agajanian-17.200; 9. Dave Darland, 26, Pierce-17.207; 10. Shane Cockrum, 15, Hardy-17.589; 11. Chris Urish, 77, Urish-17.817; 12. Joe Liguori, 99, Gormly-18.137; 13. Taylor Ferns, 35, Ferns-18.140; 14. Jarett Andretti, 14, McQuinn-18.267; 15. Patrick Lawson, 2, Lawson-18.413; 16. John Hunt, 91, Hunt-18.509; 17. Jerry Nemire, 176, Nemire-18.763; 18. Kellen Conover, 76, Conover-19.024; 19. Tad Roach, 84, Spivey-19.255; 20. Robert Ballou, 63, DePalma-NT.
FEATURE: (50 laps) 1. Chris Windom, 2. Matt Westfall, 3. Shane Cockrum, 4. Taylor Ferns, 5. Dave Darland, 6. Bobby East, 7. Joe Liguori, 8. Kody Swanson, 9. Tracy Hines, 10. Patrick Lawson, 11. Jarett Andretti, 12. Jerry Nemire, 13. Robert Ballou, 14. Jerry Coons Jr., 15. Christopher Bell, 16. Tad Roach, 17. John Hunt, 18. Kellen Conover, 19. Mitch Wissmiller, 20. Chris Urish. NT
———————————
**Ballou flipped during practice. Hines flipped on lap 49 of the feature.
FEATURE LAP LEADERS: Laps 1-3 East, Laps 4-50 Windom.
FINAL TRAXXAS USAC SILVER CROWN POINTS: 1-East-387, 2-Windom-381, 3-Hines-359, 4-Coons-359, 5-Swanson-349, 6-A.J. Fike-272, 7-Brian Tyler-249, 8-Ferns-213, 9-Shane Hollingsworth-182, 10-Cockrum-165.