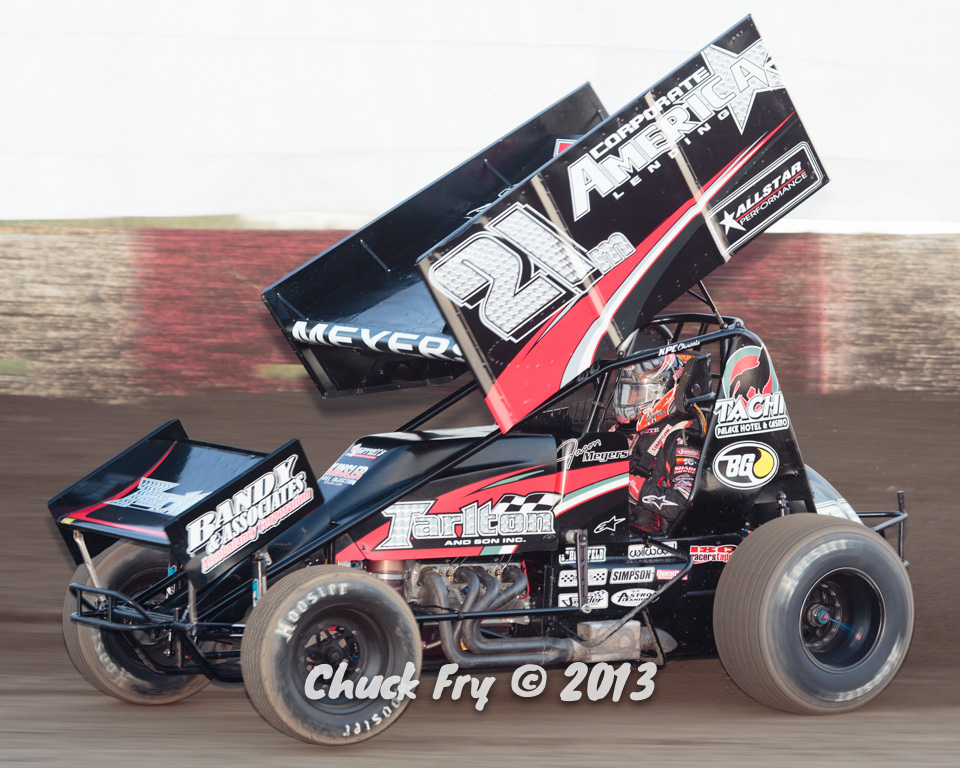 PETERSEN MEDIA
 Battling with Tim Kaeding on Saturday night at the Cotton Classic, Jason Meyers took the white flag in the lead, but a last lap battle with Tim Kaeding brought the crowd to their feet, but saw Meyers slip to second at the line.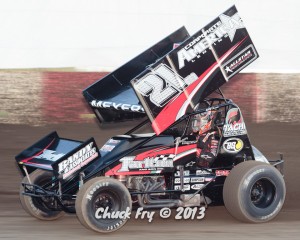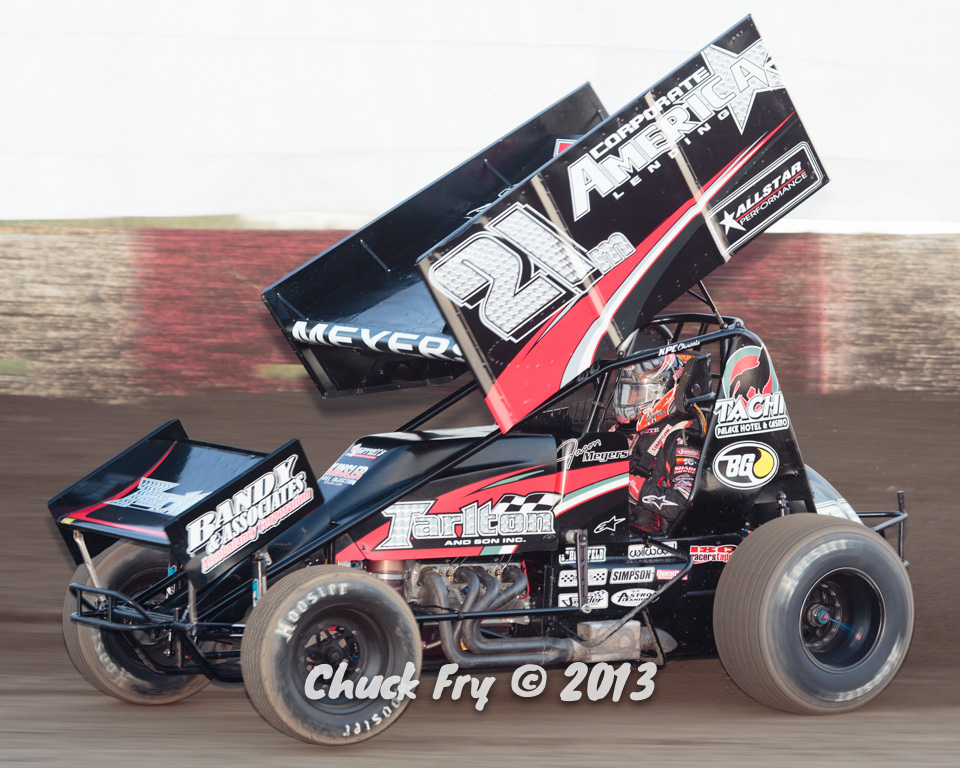 "I just got schooled on that last lap by Tim Kaeding," Meyers said with a smile. "That race was a ton of fun, and I can't thank the Tarlton's, Paul Baines, and everyone who makes this possible for me."
With 27 cars on hand at the Kings Speedway in Hanford, CA, Meyers timed the Corporate America Investments/Tarlton and Son/Tachi Palace Hotel and Casino backed entry in fourth fastest.
Heat race action saw the Clovis, CA pilot score a fourth place finish after a late restart, transferring him into the feature event, as well as the night's Dash.
Lining up in the second row for the Dash, Meyers was able to move into the third spot as he chased DJ Netto and Kyle Hirst across the line, putting him in the second row for the 30-lap feature event.
When the green flag dropped in the main, Meyers jumped into the second spot, as he battled with Kyle Hirst like he has in his previous KWS starts in 2013.
Running the bottom of the speedway in the second spot, Meyers kept Hirst in shouting distance, but began feeling pressure from Tim Kaeding until the caution flag waived on the 10th lap.
The ensuing restart saw 'Hotfoot' slip back to the third spot as Kaeding took second, but the two-time World of Outlaw Champion, was not out of this fight yet.
With the two Roth Motorsports cars battling in front of him, Meyers held his own in third, until he took advantage of a Kyle Hirst mistake on the 19th lap, and took the second spot.
Chasing after Tim Kaeding, Meyers was able to take the lead from him on the 26th lap in traffic, as he had Kaeding now on his rear bumper.
Taking white flag with Kaeding hot on his tail, the crowd rose to their feet as this exciting battle was far from over.
Going into turn one, Kaeding executed a brilliant pass on Meyers, and Meyers was unable to counter and settled for the second spot.
"That was a great race," Meyers said. "Running TK and with Hirst like that all race long so hard, and so clean, you can't be too disappointed with second. We just got beat. I have to thank Tarlton and Son, Corporate America Investments, Tachi Palace and Casino, among all of the other sponsors for letting us have some fun."
Tarlton Racing would like to thank Corporate America Investments, Tarlton and Son, Tachi Palace Hotel and Casino, Bandy and Associates, Pro Signs, BG Lubricants, All Star Performance, Winters Performance, XYZ Machining, Factory Kahne, Carillo Rods, Victory Valves, Kinser, Fel Pro, Bosch, Brown and Miller, and Astro Titanium for their continued support.
2013 BY THE NUMBERS: Races-20, Wins-3, Top 5's- 5, Top 10's-10.
ON TAP: Meyers and the Tarlton Racing team will be back in action this Friday night at the Thunderbowl in Tulare, CA for the 20th Annual Trophy Cup.
STAY CONNECTED: Stay connected with Jason by visiting www.eliteracing.net or follow @Tarlton_Racing on Twitter.