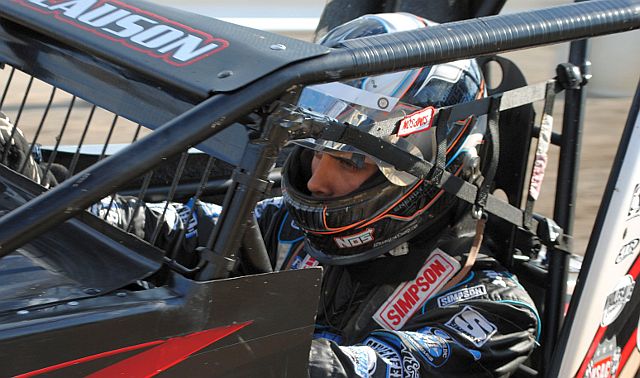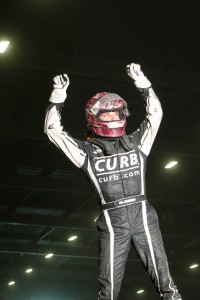 From Brisbane International Speedway
Brisbane, AU — (January 25, 2014) — 2014 Chili Bowl winner Bryan 'The Bullet' Clauson only landed in Australia on Friday! He had been awake since 3am yesterday yet the 24yr old from Indiana steered the United Truck Parts Insley Racing#USA39 King/Esslinger into first place across the line, in the Preliminary Feature race for Round 4 of the inaugural World POWRi Midget Championship at Supercheap Auto Archerfield Speedway last night.
"This place is really neat, I love it. It's a little bit closer to what we have at home than maybe what we see in New Zealand. I think that's why you saw the Americans rise to the top in the end of that one (the Feature) 'cause we feel right at home here," said Clauson.
He continued "They've got the track in really good shape for the weather they've fought all week and I'm excited to see what they give us for tomorrow night."
Fellow countryman and 2013 USAC Midget Champion #USA2 Christopher Bell dazzled onlookers with a courageous drive from position 10 to cross the checkers in second place while chasing down Clauson. Bell laid down the fastest lap of the feature with a 14.489 second lap of the Queensland circuit.
Clauson may have been first passed the chequer, but it's the 2013 USAC National Midget Pavement Champion #USA91 Darren Hagan who now leads the point's score heading into tonights final. The Californian claimed two heat wins and third fastest in time trials (with a 14.040s lap) and a gutsy third place in the Preliminary Feature resulting him with 143 points; clear of Clauson by just 21 points.
There were a number of quick Kiwi's last night; four of them are in the top ten and its New Zealander #NZ96 Chris McCutchen who holds third place with 120 points following night 1. He was off to a good start as fourth fastest in time trials with a 14.124s lap then capitalised with a third place finish and first in his heats.
Two Aussies are flying the flag in the top ten, defending Australian Midget Car Champion and Sydneysider #N7 Nathan Smee has locked down fourth place in points (118), posting second fastest in time trials; and one of only two drivers to break into the 13s bracket with a 13.954s lap before the track slickened off. Smee's first two heats were sluggish but he dialled in to take the win in his final heat.
Kiwi #NZ7 Brad Mosen holds fifth (115), Queenslander #25 Anthony Chaffey is in sixth (112) tied with ex-Kiwi #NZ89 Michael Kendall (112), #USA2 Christopher Bell is eighth (111), #NZ3 Hayden Williams is ninth (109) and #USA29 Alex Bright (104) rounds out the top ten.
Bright put in some scintillating drives, namely in heat 7 when he dived through the pack from sixth into the first turn and came out the other side in third. The closing laps saw him and Clauson fight wheel-to-wheel before Bright got the heads up off the final turn; this is just a taste of what the fans on the enjoyed all night.
It was the 'Missouri Missile' who posted Quick Time; Andrew Felker capably piloted the CJR Motorsport #USA82 Breka/Toyota around the 400m track clocking a 13.906s lap. He was on the charge in his second heat and up into third before mechanical issues then affected the remainder of his night. He qualified for the front row of the B-Main but was unable to make the start; the crew will replace the differential today.
And what of our three-time Australian Speedcar champion #A1 Adam Clarke? He's still in with a shot in twelfth on 93 points following a heat win, a third and a fourth. He qualified 14 for the A-Main and drove a consistent race to eventually finish the Feature in seventh. The Australian POWRi SSS leader #Q69 Brett Thomas got off to a rocky start following contact amid traffic during his first heat. The crash cost him his second heat but the crew worked hard to get him back out for the third and he drove the wheels off the Illuminated Industries rocket from 15th to 6th in the B-Main.
Two cars won't make it back for tonight's racing. The #Q91 car of Rob Stewart is out, as is #22 Ashley Jarvis. In his first full season racing a Midget Car, Jarvis and the team are having to dig deep. Ashley clipped the wall out of turn four at the end of his second lap in Time Trials which ended his night.
Two support divisions competed last night. In the Lightning Sprint Feature #6 Jim Kennedy was just too good, #22 Peter Campbell finished second but he had his work cut out for him though he raced with a damaged wing as a result of a roll-over earlier in the night; #20 Mark Sinton filled the minor placings. The AMCA Feature ran 20-laps non-stop and it was #98 Nathan Durston who dominated the entire race. He led flag to flag, negotiated lapped traffic from the 8-to-go mark and finished a full straight-away ahead of #32 Steve Potts and #77 Jason Molle.
Archerfield Speedway Promoter John Kelly immediately started prepping the track after presentations. Three days of heatwave earlier in the week then 100mm of rain on Thursday was certainly testing but he's aiming for more stability in the track surface tonight.