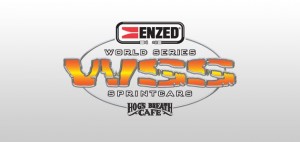 From WSS
Brooke Tatnell scored his second WSS main event win of the season when he claimed Round 11 of the ENZED World Series Sprintcars Championship on Krikke Motorsport home turf at QUIT Bunbury Speedway.
The 8 times series champion timed the use of his Joker card to perfection by scoring maximum points; a strategy that he credited to KMS crew chief Dylan Buswell.
"To be honest Shane (Krikke) and I didn't really want to play the joker tonight," explained Tatnell in ENZED Victory Lane, "it was Dylan who really thought we should go for it. I really have to give him the credit for it."
Tatnell led every lap of the 30 lap A-Main in what may turn out to be a championship defining moment for two-times WSS champion James McFadden who was sent to the rear of the field in his Totally Workwear #25 Cool after making heavy contact with Shane Stewart's Milwaukee Power Tools J&J with only two laps remaining.
Stewart flipped heavily whilst holding down third place when McFadden attempted an inside pass in turn four.
Officials, who had earlier disqualified Luke Dillon in his second heat for contact with Jason Kendrick (which resulted in Kendrick's #11 92.9 entry flipping violently in a similar position on the track), then sent McFadden to the rear at the restart for his part in the Stewart result.
The crash elevated Shaun Bradford to third place where remained in the #57 GKR Transport behind Championship leader in second place as the chequers fell.
For Shane Stewart and the Monte Motorsport team the crash took the shine off what had been the most promising night all series with a possible podium finish not out of the bounds of reality.
Coming into the Top 8 Shootout Stewart was the highest point scorer and raced for many laps in second place during the A-Main before Steven Lines shot by.
In an eerily similar situation to the previous night where Steven Lines had all but dislocated his right shoulder in a heat race incident at the Perth Motorplex (he still went on to win the main event later in the night) Brooke Tatnell injured his back and neck in the Amadio Wines Top 8 Shootout when the chassis rail bottomed out on the choppy surface and drove to victory in significant discomfort.
"It doesn't feel too bad right now," admitted Tatnell after the main event, "but tomorrow morning it might not be that way. We'll just get to a chiropractor this week and get through to next weekend. It's Valentines Day back in the USA right now so I'd like to dedicate this win to my wife Amy. It's not a dozen roses this win, but it'll have to do."
Tatnell now moves from fifth to second and only 125 points off Lines' lead with the final round looming in Perth.
Lines was businesslike all evening after setting quick time in Revolution Racegear qualifying and placing second in the main event.
"We just need to keep racking up points, driving smart and importantly finishing races," he explained, "we're not getting ahead of ourselves. There's still two nights left in this deal."
Shaun Bradford recorded his second career podium with third place in a move that rewarded sponsor GKR (Kevin Small) for purchasing a motor from Luch Monte earlier in the day to go racing that night.
Bradford had one of the most remarkable things ever seen in WSS happen to him in the Top 8 Shootout when the entire floor pan in the #57 Cool was ripped from under his feet when he hooked a rut in turn three.
"I don't know I didn't get really hurt, I guess I do have some luck after all. I looked down at my feet and all I could see was the racetrack, it was pretty scary really."
Robbie Farr (Hi-Tec Oils Maxim) forged from the seventh row of the grid to finish a strong fourth just ahead of Ian Madsen's Kenerick Racing #29 entry who had come from position nine.
Jamie Veal brought his Mototech #35 Maxim from the seventh row to an eventual sixth place ahead of seventh place Luke Dillon in the Bunbury Autogroup Maxim after the South Aussie hard charger moved from an original #15 starting spot.
James McFadden sped back to an eventual eighth by the fall of the chequers ahead of South Aussie second year WSS talent Daniel Pestka in the Gawler Farm Machinery J&J in ninth, David Priolo (Budget Forklifts Cool) in tenth, Jamie Maiolo's LJM Produce #99 Maxim eleventh, Mark Wells (Hoppy's Auto Parts J&J) twelfth and Jackson Delamont (who used his provisional to start in the A-Main) rounding out the final finishing field in the Mad Harry's Steel KPC in thirteenth.
DNF's included Shane Stewart (rollover) Dylan Jenkin (flat right rear tyre) Matt Egel (crash) Daniel Harding (flat right rear) Brad Maiolo, Ian Loudoun, Trent Pigdon (who had almost completely rebuilt his car with the help of several teams after he snapped an axle and rolled over in the Top 8 Shootout) and Jason Kendrick (DNS).
Awards on the night included:
Hog's Breath "Go the whole hog" award: Dylan Jenkin
American Racer "Hard charger" award: Luke Dillon
Amadio Wines Top 8 Shootout award: Brooke Tatnell
Revolution Racegear Qualifying: Steven Lines
The Championship points after eleven rounds and with only one round (over two nights to go) remaining are:
Steven Lines 3063
Brooke Tatnell 2934
James McFadden 2820
Luke Dillon 2746
Jamie Veal 2602
Dylan Jenkin 2157
Shane Stewart 2064
Robbie Farr 2022*
Daniel Pestka 1975
Jackson Delamont 1967
David Murcott 1701*
Garry Brazier 1569
Daniel Harding 1554*
Ian Madsen 1499*
Jordyn Brazier 1178