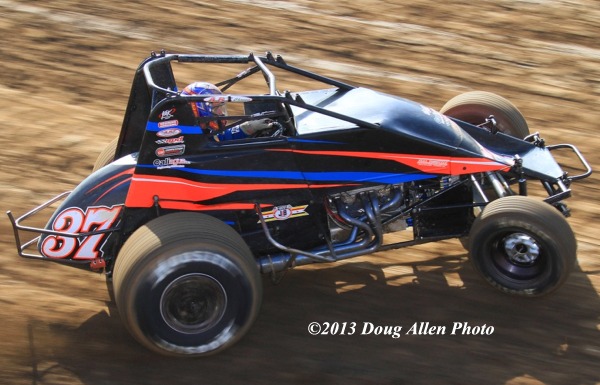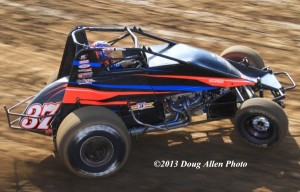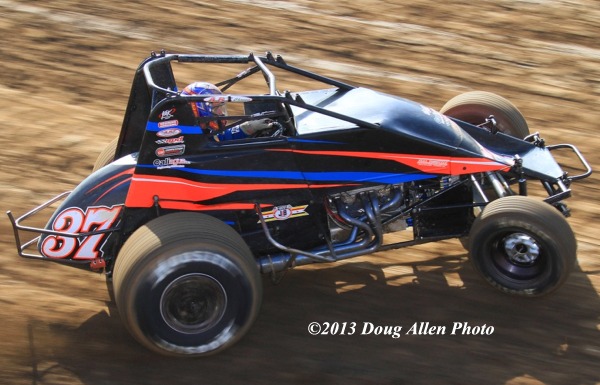 PETERSEN MEDIA
For two weeks in a row, Yorba Linda, CA driver, Mat Mitchell, had some bad luck as he was penalized for missing tech in Las Vegas, and on Friday night he got caught up in a wreck running in the third spot, but on Saturday night at the Perris Auto Speedway, Mitchell turned in a gutty performance as he finished fourth in the Sokola Shootout.
"It has a been an eventful year already, but it was nice to finish up front in Perris," Mitchell said. "My car has been awesome all year, and it really is a testament to the people who help me out."
Kicking his weekend off on Friday night at the Thunderbowl in Tulare, CA with the USAC West Coast 360's, Mitchell timed his Pit Boss Jacks/Campbell Brothers Storage/MPD No. 37 machine in second fastest, and worked his way up to a second place finish in his heat.
Lining up in the third row of the feature event, Mitchell got off to a great start, as he worked his way up to the third spot, as he waited for the leaders to bobble, as they raced each other very hard.
In the waning laps, the leaders did bobble, but it was not to his avail, as he got caught up in their battle and brought his machine to a stop. He would be credited with an 11th place finish.
Resuming his USAC/CRA season on Saturday night at the PAS, Mitchell continued to show speed, as he timed in fourth fastest, before finishing third in his heat race.
Lining up third in the feature event, Mitchell ran up front during the feature event, as he was in what seemed like a constant battle with Nic Faas, Ronnie Gardner, and Mike Spencer.
As you could throw a blanket over the trio for much of the event, Mitchell's night ended as he scored a fourth place finish.
"Saturday night was a really fun race," Mitchell said. "There was some close, hard racing that went on, and it's nice to finish up front."
Matt would like to thank Pit Boss Jacks, Campbell Brothers Storage, MPD, and ART Speed Equipment for their support in 2014.
2014 BY THE NUMBERS: Races-5, Wins-0, Top 5's-0, Top 10's-2
ON TAP: Matt Mitchell will follow the USAC West Coast 360 Series to the Bakersfield Speedway in Bakersfield, CA on Saturday night.