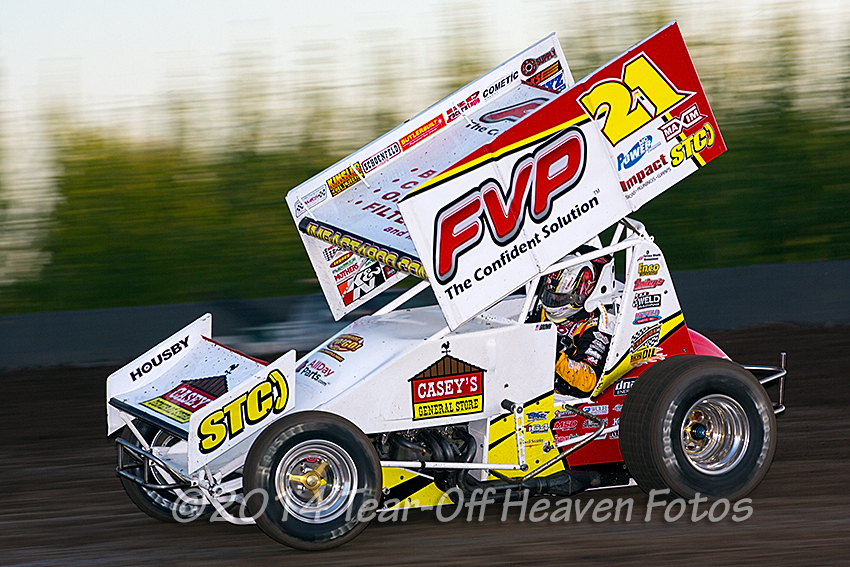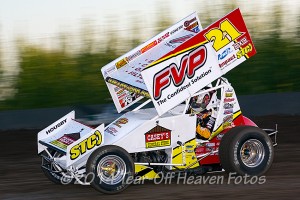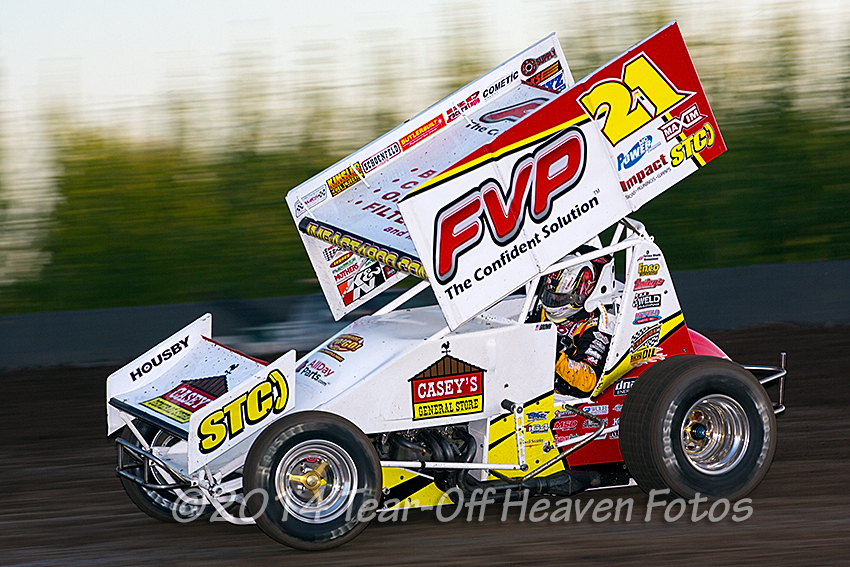 From Bill W
April 1, 2014 – The west coast swing continues Saturday and Sunday for the Brian Brown Racing Casey's General Stores/FVP #21 racing team.  California's Calistoga Speedway will play host to the World of Outlaws this weekend.  Last week, an early motor change put the team behind the 8-ball at Merced Speedway.
Things didn't start ideally for you at Merced last Friday did they?
We started off a little bit rough with an ignition issue during hot laps.  That kind of put us under the gun and we changed motors before qualifying.  Chad (Morgan), Zach (Thomas) and Beau (Stewart) did a great job getting it changed.  Sometimes, bringing new guys in, you lack the chemistry when things go bad, but those guys are doing a tremendous job working together and they got it done.
That led to a rush to get the car qualified.
Unfortunately, we didn't have time to make any changes or see what was going on with the track.  We ended up being 22nd quick, which kind of buried us for the rest of the night.
You suffered a DNF in the heat, but you were able to grab a transfer in the B main.
We had another issue that caused us to pull off in the heat.  We were able to run fourth in the B and make the show.
How did the feature go?
We made a few laps.  I wasn't going to go anywhere, so I called it a night.  We saved it for another day.  It was kind of par for the course.  Our whole west coast swing hasn't really been what we hoped for.  That doesn't mean we have stopped trying to get better.  Every night, we're looking to get better, starting with Calistoga.
It would seem that Calistoga would be to your liking this weekend.
Out of all of the California tracks, Calistoga is the one we circled.  It should be exciting, and we have the opportunity to have a good run.  We've heard the Abreu family has done some great things with the facility.  We're looking forward to getting there, and having a good couple of nights.
How long will you be sticking out on the west coast?
We're planning on Hanford and Perris next weekend before we head for home.  We need a couple of good nights before we come back to the Midwest.
Follow Brian on the Web, Twitter and Facebook!
Follow Brian at his website located at www.BrianBrownRacing.com!
Also keep up with FVP, Casey's and Brian on Facebook and Twitter at the following links…
Twitter Links – @BrianBrown21, @FVPRacing, @CaseysGenStores
Facebook Links
Brian Brown Racing – www.facebook.com/pages/Brian-Brown-Racing/200630163294222
Casey's General Stores – www.facebook.com/pages/Caseys-General-Stores/112073528804354
FVP Racing –  http://www.facebook.com/FVPRacing?ref=ts&fref=ts
Other Web site info
Casey's: www.caseys.com
FVP: www.fvpparts.com
Brown's Bits
Brian won with the Rebel Cup Series at King's Speedway in Hanford, California on April 6, 2013.  Kyle Hirst ran second, ahead of Craig Stidham, Justyn Cox and Tommy Tarlton.