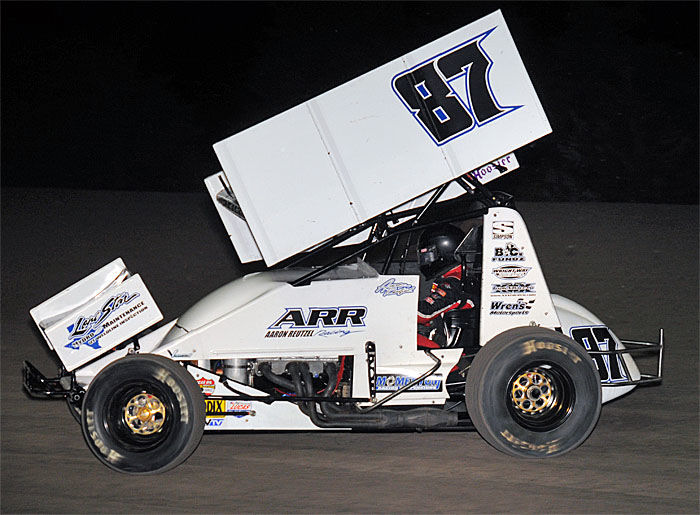 Lonnie Wheatley
CLUTE, Texas (April 8, 2014) – Aaron Reutzel has Little Rock's I-30 Speedway in his sites coming off another strong weekend that included a pair of top-five runs for the Stafford Performance-powered Bob and Christie Miller's Car Parts Machine/Wren's Motorsports No. 87 Triple-X chassis.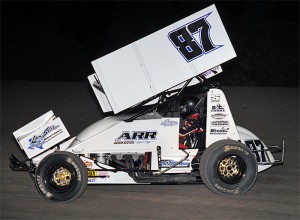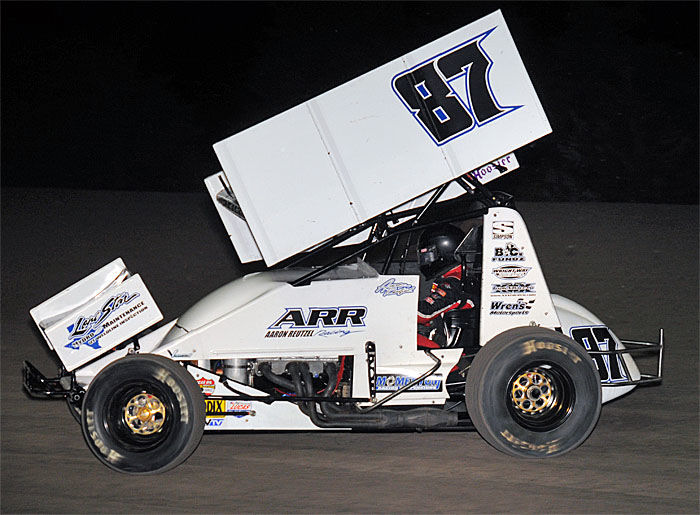 While Lucas Oil ASCS National action resumes Saturday in Arkansas, Reutzel took advantage of an idle National weekend to take in two ASCS Gulf South nights close to his Clute, TX, home.
The Battleground Speedway double in Highlands, TX, proved to be another good weekend for the Momentum Racing Suspensions/Danny Sander Construction/ButlerBuilt team with a runner-up finish in Friday's main event before finishing fourth on Saturday.
"It was a good weekend," Reutzel commented.  "We're really happy with our engine program and the car right now."
A bad draw worked out just right for Reutzel as action got going on Friday night.  "We drew bad for the heat, but it was the right heat to draw a bad number so it worked out."
Reutzel raced from the tail of the heat to finish third and ranked second in passing point aboard the Lone Star Hydro Maintenance/BC Fundz/Wright Way Logistics mount to get in the redraw where he drew the pole position for the feature.
"It was dead slick top to bottom, it was one of those things where we really weren't sure where we needed to run," Reutzel explains.  "I rolled the bottom the first couple of laps and Sam (Hafertepe) and Seth (Bergman) got by."
"I moved the wing back and moved up the track and started diamonding off the corner, we got back by Sam and ran down Seth.  I thought I was going to get him in traffic, but he never once made a wrong decision."
Reutzel had one run at Bergman for the win that nearly ended in disaster just a handful of laps from the finish.  "I dove underneath coming off the corner and we drag raced down the frontstretch.  Seth cut down getting into one, I tried to miss him and miss the infield tires but we hit, I ended up spinning and Seth cut through the infield," Reutzel explains of the wild chain of events.
"We kept it going but we fell back to fourth, a caution came out then for someone else and we got our spot back."
"I didn't get a good start on the restart so then we just never could get back up there to do anything with him," Reutzel explains of the late-race restart.  "We just didn't capitalize on starting from the pole."
With a season-best runner-up finish logged into the books on Friday, Reutzel redrew the sixth starting position for Saturday's main event and fell back even further in the blink of an eye.
"The car in front of us got a horrible start to begin with then got sideways, we probably fell all the way back to tenth," Reutzel explains.
The chances of getting back up front were minimized further by track conditions.
"It ended up being one lane around the bottom so it was tough," Reutzel comments.  "We got our way back there to fourth and that was all we could do, we were the same speed as the rest of the top four."
With a strong weekend in the books, Reutzel is pleased with the No. 87 car as the first stop of the year at I-30 Speedway looms this Saturday.
"We've got good speed right now, if we can just keep our luck going with it we'll have some good finishes and gain some points."
As for I-30 Speedway, "I like it when it's completely dusted off or when there's a big ol' curb right around the top," Reutzel explains. "Maybe a little treacherous getting in, it's fun that way, you really have to get your elbows up."
A first-time visit to West Siloam Speedway in West Siloam Springs, OK, for the ASCS Sooner Region season-opener on Sunday is tentatively on the docket as well.
2014 Quick Stats:  14 races, 5 top-fives, 9 top-tens, 1 heat race win, 2 "B" Main wins.
Up Next: ASCS National Tour at Little Rock's I-30 Speedway on Saturday and ASCS Sooner Region at West Siloam Speedway on Sunday.
Keep Track:  Keep track of Aaron Reutzel's on track-action including schedule and results at http://www.aaronreutzelracing.com/, on Facebook at https://www.facebook.com/pages/Aaron-Reutzel-Racing/117666254913127 or on Twitter at @AaronReutzel.  You can also e-mail Aaron at aaronreutzel@yahoo.com.
If you would like Aaron Reutzel Racing press releases e-mailed directly to you, send your e-mail address to Lonnie Wheatley at lonniewheatley@gmail.com.
Penning the recurring series of "The Wheatley Chronicles" articles on racinboys.com, Lonnie Wheatley provides media, public relations and more for select tracks, drivers and events.  For more information, Wheatley may be contacted at lonniewheatley@gmail.com.