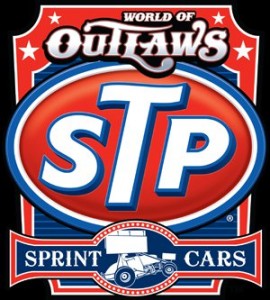 From Sam Martin
Hanford, CA — (April 11, 2014) — Cody Darrah drove Kasey Kahne Racing to its third consecutive World of Outlaws STP Sprint Car Series victory on Friday night at Kings Speedway.
Darrah slid in front of Joey Saldana coming out of turn two on lap 16, then held him off to the checkered flag to earn his first victory of the season. Darrah and his Ollie's Bargain Outlets car becomes the third different KKR driver to win in the past three races, joining last weekend's Calistoga feature winners Brad Sweet and Daryn Pittman.
Saldana led the field to the green and maintained the lead over the first 15 laps after collecting his sixth World of Outlaws STP Sprint Car Series quick-time award. Saldana held onto second for his fifth consecutive top-five finish with Paul McMahan in third, Tim Kaeding charging from 13th to fourth and Donny Schatz earning the KSE Hard Charger Award by finishing fifth after starting 18th.
Saldana took the early lead in the Motter Equipment/HE&M Saw #71M. California's Kyle Hirst picked up two positions in the first two laps going from fourth to second. Caution flew on lap 8 for Kraig Kinser spinning in turn one, but Saldana again returned the lead on the restart.
Mayhem ensued on a lap 15 restart. Saldana chose the bottom on the double-file restart with the KKR trio of Sweet, Darrah and Pittman filed in behind. Saldana and Sweet were locked side-by-side down the front stretch when they made contact slowing Sweet. Pittman ran up the back of Sweet's #49 car and tipped over to bring out a red.
On the ensuing restart, Saldana led the field single-file down the front stretch. He went to the top of turn one while Darrah dove to the bottom. Darrah charged through the corner to steal the lead in what wound up being the pass for the victory.
"This win means so much for us, for my team," said Darrah, of Red Lion, Pa. "First and foremost I've got to thank Kasey, he's given me such an opportunity to come out here and drive this car. A couple of weeks ago he called me up and said if we don't run any better we might have to pull off the road. We're out here racing for more than a win, we're racing for a job and to make him proud and show him we can do it.
"On these restarts I had a little more drive than Joey did. It's hard to slide Joey Saldana, it's hard to get through the next corner without getting slid again, but we did it."
Saldana held off McMahan to secure a second-place finish.
"We had a decent car, we just got to free there, but I want to apologize to the 49 guys, Brad Sweet," said Saldana, of Brownsburg, Ind. "I got some traction and we got together. That's not how you want to race and I'm sure they're pissed off about it. Congratulations to Cody Darrah, he had a hell of a run tonight he did exceptionally well. This track was pretty demanding, pretty tricky. We just came up short on that one single-file restart, don't know why I went to the top. I'd been running the bottom all night. But we'll take it and head on to Perris."
McMahan battled Hirst for the third spot on the lap-15 restart. Hirst held off McMahan for a bit but McMahan was able to make his way around the bottom to earn a podium finish in the CJB Motorsports Bair's Tree Service #51.
"It's always great to see Cody winning, but I'd rather see me winning," joked McMahan, a native of Elk Grove, Calif., who now lives near Nashville. "Everybody at CJB motorsports gave me a great race car. I was working the bottom for a little bit and that gave up on me and I had to get up top. Once you get up there you've got to be right on their bumper to slide somebody, but then you've got to get it 'whoaed' up a bit so you don't blow it off the top."
Five-time champion Donny Schatz's consistency is beginning to pay off as he increased his lead in the World of Outlaws STP Sprint Car Series championship standings to 12 points over McMahan and 24 points of Pittman.
The World of Outlaws STP Sprint Car Series finishes off its California Spring Break on Saturday night in Southern California at Perris Auto Speedway.
KINGS SPEEDWAY TRACK NOTES – Joey Saldana was the fastest qualifier around the semi-banked, 3/8th-mile of Kings Speedway with a time of 13.128 seconds and earn five championship points. Also earning points were Brad Sweet (4 points), Paul McMahan (3), Kraig Kinser (2) and Daryn Pittman (1). Jason Sides, Kyle Hirst, and Cody Darrah won heat races. … The dash draw was a 0 for the 2nd time this year… Joey Saldana won the dash for the first time this year.
World of Outlaws STP Sprint Car Series Statistical Report; Kings Speedway; Hanford, Calif.; April 11, 2014
A-Main – (35 Laps): 1. 4-Cody Darrah [5] [$10,000]; 2. 71M-Joey Saldana [1] [$5,500]; 3. 51-Paul McMahan [3] [$3,200]; 4. 83-Tim Kaeding [13] [$2,800]; 5. 15-Donny Schatz [18] [$2,500]; 6. 83JR-Kyle Hirst [4] [$2,300]; 7. OOX-Cory Eliason [17] [$2,200]; 8. 1S-Logan Schuchart [15] [$2,100]; 9. 83SA-David Gravel [9] [$2,050]; 10. 11-Steve Kinser [12] [$2,000]; 11. 21M-Jason Meyers [19] [$1,500]; 12. 7S-Jason Sides [6] [$1,200]; 13. 21-Brian Brown [11] [$1,100]; 14. 11K-Kraig Kinser [7] [$1,050]; 15. 1-Sammy Swindell [10] [$1,000]; 16. O-Bud Kaeding [16] [$900]; 17. 9-Daryn Pittman [8] [$800]; 18. 5W-Lucas Wolfe [21] [$800]; 19. OO-Jason Statler [20] [$800]; 20. 49-Brad Sweet [2] [$800]; 21. 4F-Mike Faria [22] [$800]; 22. 88N-DJ Netto [24] [$800]; 23. 29-Kerry Madsen [14] [$800]; 24. 44W-Austen Wheatley [23] [$800]. Lap Leaders: Joey Saldana 1-15, Cody Darrah 16-35. KSE Hard Charger Award: 15-Donny Schatz [+13]
Qualifying – 1. 71M-Joey Saldana, 13.128; 2. 49-Brad Sweet, 13.130; 3. 51-Paul McMahan, 13.148; 4. 11K-Kraig Kinser, 13.160; 5. 9-Daryn Pittman, 13.166; 6. 83SA-David Gravel, 13.189; 7. 1-Sammy Swindell, 13.245; 8. 83JR-Kyle Hirst, 13.281; 9. 4-Cody Darrah, 13.292; 10. 7S-Jason Sides, 13.304; 11. 21-Brian Brown, 13.308; 12. 11-Steve Kinser, 13.393; 13. 83-Tim Kaeding, 13.398; 14. 29-Kerry Madsen, 13.421; 15. 1S-Logan Schuchart, 13.435; 16. O-Bud Kaeding, 13.468; 17. OOX-Cory Eliason, 13.472; 18. 15-Donny Schatz, 13.496; 19. 88N-DJ Netto, 13.579; 20. 21M-Jason Meyers, 13.631; 21. OO-Jason Statler, 13.672; 22. 5W-Lucas Wolfe, 13.679; 23. 4F-Mike Faria, 13.732; 24. 41-Dominic Scelzi, 13.765; 25. 44W-Austen Wheatley, 13.840; 26. 1A-Jacob Allen, 13.984; 27. 99-Shawn Wright, 14.015; 28. 26-Tayler Malsam, 14.017; 29. 2-Todd Wanless, 14.148; 30. 5-Collin Markle, 14.523; 31. 78-Mark Barroso, 15.541
Heat 1 – (8 Laps – Top 6 finishers transfer to the A-feature): 1. 7S-Jason Sides [1]; 2. 71M-Joey Saldana [4]; 3. 1-Sammy Swindell [2]; 4. 83-Tim Kaeding [5]; 5. 11K-Kraig Kinser [3]; 6. O-Bud Kaeding [6]; 7. 88N-DJ Netto [7]; 8. 44W-Austen Wheatley [9]; 9. 5W-Lucas Wolfe [8]; 10. 26-Tayler Malsam [10]; 11. 78-Mark Barroso [11]
Heat 2 – (8 Laps – Top 6 finishers transfer to the A-feature): 1. 83JR-Kyle Hirst [2]; 2. 21-Brian Brown [1]; 3. 9-Daryn Pittman [3]; 4. 49-Brad Sweet [4]; 5. 21M-Jason Meyers [7]; 6. 29-Kerry Madsen [5]; 7. 4F-Mike Faria [8]; 8. 1A-Jacob Allen [9]; 9. 2-Todd Wanless [10]; 10. OOX-Cory Eliason [6]
Heat 3 – (8 Laps – Top 6 finishers transfer to the A-feature): 1. 4-Cody Darrah [2]; 2. 11-Steve Kinser [1]; 3. 51-Paul McMahan [4]; 4. 15-Donny Schatz [6]; 5. 83SA-David Gravel [3]; 6. OO-Jason Statler [7]; 7. 41-Dominic Scelzi [8]; 8. 1S-Logan Schuchart [5]; 9. 99-Shawn Wright [9]; 10. 5-Collin Markle [10]
Dash – (6 Laps, finishing order determined first 6 starting positions of A-feature): 1. 71M-Joey Saldana [1]; 2. 49-Brad Sweet [2]; 3. 51-Paul McMahan [3]; 4. 83JR-Kyle Hirst [4]; 5. 4-Cody Darrah [5]; 6. 7S-Jason Sides [6]
Last Chance Showdown – (12 Laps – Top 6 finishers transfer to the A-feature): 1. 1S-Logan Schuchart [1] [-]; 2. OOX-Cory Eliason [2] [-]; 3. 5W-Lucas Wolfe [4] [-]; 4. 4F-Mike Faria [5] [-]; 5. 44W-Austen Wheatley [7] [-]; 6. 88N-DJ Netto [3] [-]; 7. 41-Dominic Scelzi [6] [$200]; 8. 1A-Jacob Allen [8] [$180]; 9. 99-Shawn Wright [9] [$175]; 10. 2-Todd Wanless [11] [$160]; 11. 26-Tayler Malsam [10] [$150]; 12. 78-Mark Barroso [13] [$150]; 13. 5-Collin Markle [12] [$150]
World of Outlaws STP Sprint Car Series Championship Standings