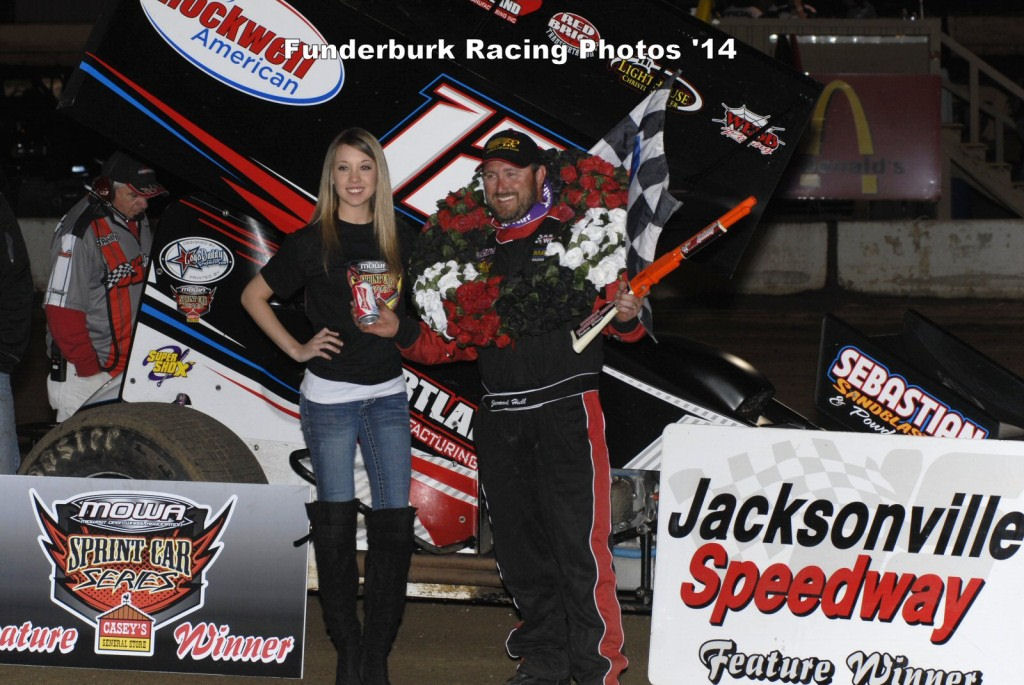 By Dewain Hulett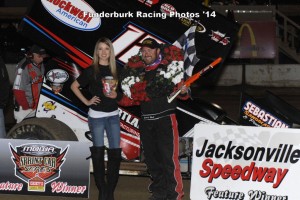 JACKSONVILLE, Ill. (April 11, 2014) – Three-time and defending Midwest Open Wheel Association Series champion Jerrod Hull, made it known, Friday, that he plans on making a serious run at a fourth title.
Hull led all 25 laps of the MOWA sprint car series presented by Casey's General Stores main event at Jacksonville Speedway to pick up the series' opening night win.
Hull started beside Wayne Johnson outside the front row of the feature event and jumped to the lead at the drop of the green flag.
While Kevin Swindell, in the Blazin Racin 82 who started sixth, began to move forward, Johnson gave chase as he followed Hull into lapped traffic.
Hull got a break from lapped traffic on lap 11 when Cole Wood brought out the caution flag.
Johnson would again work to find a way around Hull on the restart, but would pull to the infield on lap 15 with mechanical problems.
Swindell had moved to third, and then took over second when Johnson pulled off. He was perhaps the fastest car on the track one lap later when he committed to the outside of turns three and four. After getting even with Hull in the middle of the corner, Wood slowed in front of Swindell. Swindell got into the outside wall and flipped hard in turn four.
The next challenge for Hull came from Brad Loyet, who started 14th. Loyet restarted second after the Swindell flip, and had another shot at a restart on lap 20, but had nothing for Hull.
Hull secured the win, while Loyet settled for second and Joey Moughan took the third spot.
Ben Wagoner got upside on the start after making contact with Jim Moughan, who had started fourth.
Brett Sammonds also got upside down hard in heat race action in turn three. Sammonds was okay, but his car was not. According to reports, the cage broke during the impact with the turn three wall. It was great to see him walk away only bruised and sore.
Results
Heats
Heat 1: 1 ? Jerrod Hull 12H(4), 2 ? Jimmy Hurley 35(1), 3 ? Jim Moughan 1M(8), 4 ? Logan Faucon 52F(3), 5 ? Cole Wood 17W(9), 6 ? John Dines 31(2), 7 ? Randy Myers 18(5), 8 ? Terry Babb 88(7), 9 ? Brett Samonds 47(6), 99 ? Jimmy Davies 99(10),
Heat 2: 1 ? Kevin Swindell 82(4), 2 ? Wayne Johnson 77x(3), 3 ? Ben Wagoner 84(6), 4 ? Korey Weyant 99(7), 5 ? Cory Bruns 42(10), 6 ? Ryan Kempin 2K(2), 7 ? Caleb Wankel 5(8), 8 ? Levi Curry 25(9), 9 ? Paul Nienhiser 9(5), 10 ? Bret Tripplett 22(1),
Heat 3: 1 ? Tiffany Wyzard 5(1), 2 ? Joey Moughan 83(2), 3 ? Jeremy Standridge 10s(3), 4 ? Brad Loyet 05(5), 5 ? Ian Madsen 18(9), 6 ? Chris Urish 77u(7), 7 ? Joe B Miller 51B(4), 8 ? Kory Bales 5(8), 9 ? Brian Armitage 7(10), 99 ? A.J. Bruns 44(6),
Dash Results
1 ? Wayne Johnson 77x, 2 ? Jerrod Hull 12H, 3 ? Tiffany Wyzard 5, 4 ? Jim Moughan 1M, 5 ? Ben Wagoner 84, 6 ? Kevin Swindell 82,
B-Main Results
B-Main 1: 1 ? John Dines 31 (2), 2 ? Levi Curry 25 (4), 3 ? Joe B Miller 51B (6), 4 ? Ryan Kempin 2K (3), 5 ? Kory Bales 5 (7), 6 ? Caleb Wankel 5 (1), 7 ? Jimmy Davies 99 (13), 8 ? Randy Myers 18 (5), 9 ? Brian Armitage 7 (9), 10 ? Terry Babb 88 (8), 11 ? Brett Samonds 47 (10), 12 ? Paul Nienhiser 9 (11), 13 ? Bret Tripplett 22 (12), 14 ? A.J. Bruns 44 (14),
A-Main Results
1 ? Jerrod Hull 12H (2), 2 ? Brad Loyet 05 (14), 3 ? Joey Moughan 83 (9), 4 ? Ian Madsen 18 (11), 5 ? Cory Bruns 42 (7), 6 ? Chris Urish 77u (16), 7 ? Jimmy Hurley 35 (12), 8 ? Tiffany Wyzard 5 (3), 9 ? Jeremy Standridge 10s (13), 10 ? Levi Curry 25 (18), 11 ? Ryan Kempin 2K (20), 12 ? Korey Weyant 99 (8), 13 ? Kevin Swindell 82 (6), 14 ? Cole Wood 17W (10), 15 ? Wayne Johnson 77x (1), 16 ? John Dines 31 (17), 17 ? Logan Faucon 52F (15), 18 ? Joe B Miller 51B (19), 19 ? Jim Moughan 1M (4), 20 ? Ben Wagoner 84 (5),