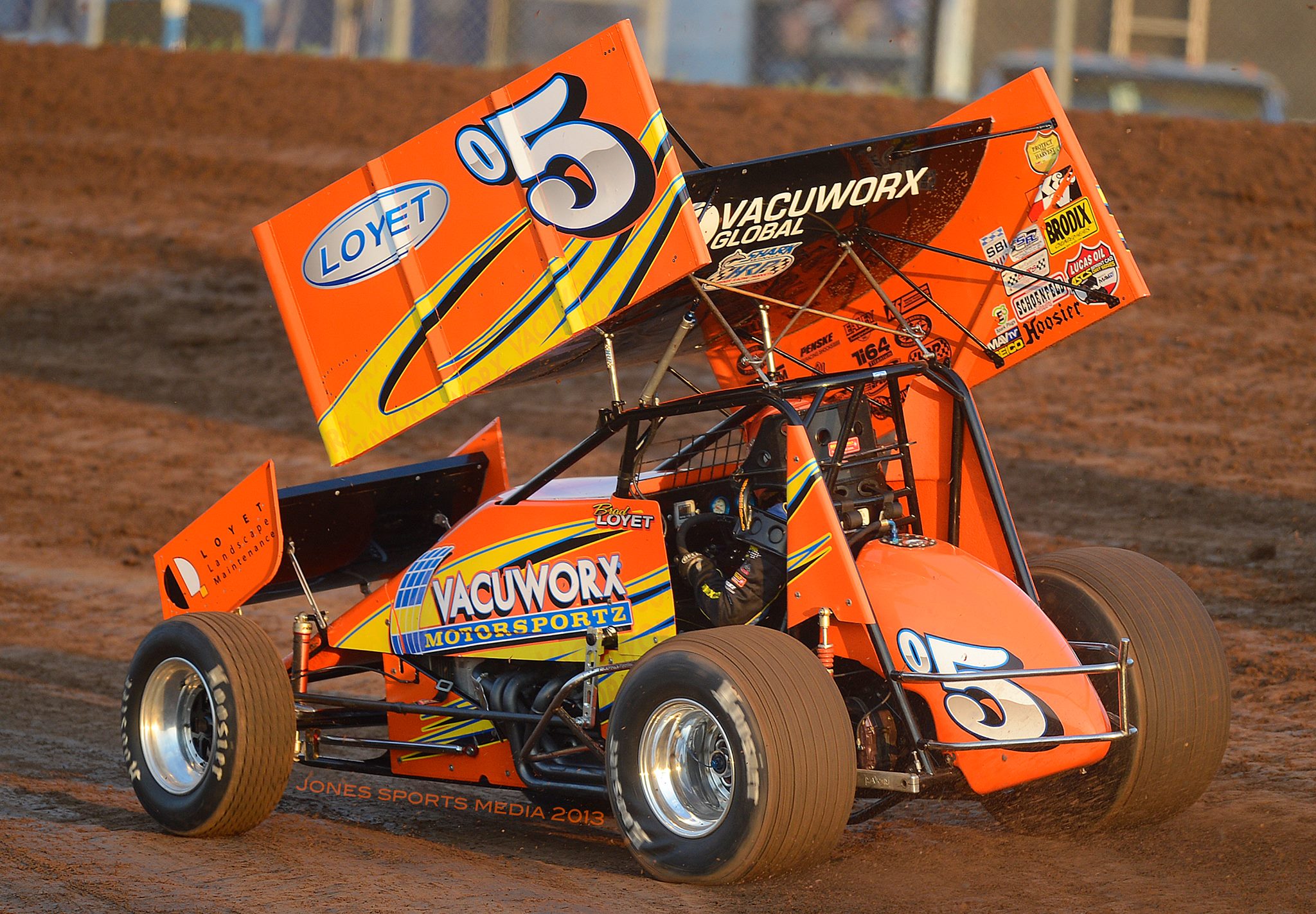 By Bill W
April 16, 2014 – A mixed bag of 410 and 360 racing yielded success for Brad Loyet and the Vacuworx Global/Miller Truck Lines #o5 team last weekend.  A scintillating charge from 14th to 2nd thrilled fans in Jacksonville, Illinois with the MOWA series on Friday.  Saturday, the Sunset Hills, Missouri driver finished on the podium with the Lucas Oil ASCS Series at I-30 Speedway near Little Rock, Arkansas.  This weekend, the team will be back in action with the big iron under the hood with the World of Outlaws at Devil's Bowl Speedway in Mesquite, Texas.
Friday's heat in Jacksonville saw Brad finish fourth after starting fifth.  "We had a good start, but we had a nozzle line knocked off there the first lap," he says.  "So we were running without full power in the heat.  That put us behind the 8-ball, but we made the show and we couldn't do anything about it at that point."
Brad is no stranger to putting on a show at the banked ¼-mile oval, so starting 14th just added some excitement.  "I had come from the back before at Jacksonville in a midget, so that was the mindset heading into the feature," he says.  "It worked out for us."
Track conditions played into his hands.  "When you looked at the track before the feature, you thought it was heavy," says Brad.  "Pretty much as soon as the green flew, it slicked off though.  It got to be pretty racy on the top, but you needed a car that was able to get around up there yet still hooked up enough to get off the corner.  Fortunately, we had both."
Brad put on a charge, and was soon on the leader, Jerrod Hull, with the laps winding down.  "There was a yellow with about five to go," he says.  "We had just gotten up to second, and we had run Jerrod down.  We were getting into lapped traffic.  We really didn't need that yellow.  I think we may have had something for him.  Even after the restart, we were on him to the checkers and maybe with a couple more laps we could have had it done."
The team was happy with the runner-up finish.  "Overall, it was a really good night for us, and a solid finish with the 410," says Brad.  "Running the 410 is definitely more fun than the 360.  This year, we're trying to run as many as we can, whether it be with the Outlaws or with MOWA.  The next two weeks, there will be nothing but 410 racing.  For someone that runs with ASCS it isn't common, but it seems to slow everything down when I go back."
After the long tow Saturday to Little Rock, Brad won the heat from the pole.  "It was normal I-30," he says.  "I usually just dread going there.  It was still fairly narrow in the heats, and we were lucky enough to start up front.  It was our heat race to lose.  We tried a setup there that we came up with over the winter.  It definitely worked for us, and hopefully, when we go back we'll have more success."
Brad redrew a starting spot inside row three for the feature.  "The redraw was pretty much how you were going to finish," he says.  "Honestly, I felt we had the best car in the race.  If we could have started on the pole, we'd have been tough to beat.  We were able to get up to third.  (Sean) McClelland was just good enough that we couldn't get around him, but if I could have, I think we could have raced with (Aaron) Reutzel.  I had a really good racecar.  It was kind of putt-putt around the bottom, but we were really good on the straightaways."
Brad's start with the Outlaws at the Devil's Bowl will be his first with the series since Tucson in March.
Brad's Weekly Releases
If you'd like to be added to Brad's e-mail list for weekly releases, e-mail sprntcar@hotmail.com with "Loyet" in the Subject Line.
Brad and the Loyet Motorsports team would like to thank primary sponsors: Vacuworx Global, Miller Truck Lines, and Loyet Landscape Maintenance. Associate sponsors: Maxim Race Cars, J and D Performance Racing Engines, Butlerbuilt Professional Seat Systems, Meramec Heights Collision Center, KSE Racing, Weld Wheels, Penske Shocks, Wilwood Disc Brakes, Hepfner Racing Products, DMI, Saldana Racing Products, Rod End Supply, Bell Helmets, TI 64, Conroy Control, The Engine Heater, Ealey Transportation, and Speedway Motors.