By Pete Walton
April 25, 2014 – ANDERSON, S.C. – Total domination…Those are the two words to describe Johnny Bridges' drive to the www.rockauto.com USCS victory lane on Friday night during the United Sprint Car Series Outlaw Thunder Tour Filtercharged by K&N Filters main event at Anderson Motor Speedway. Bridges, out of Cherryville, North Carolina, drove past Morgan Turpen on Lap 7 of the 35-lap main event and never looked back, holding off the charge of 10-time USCS National Champion Terry Gray to win his second USCS sprint car feature of 2014. "The car was on a rail," Bridges said in www.rockauto.com Victory Lane. "I didn't win all of last year, but I tell you what, this sure makes up for it.  It's fun racing again, and fun to be back on the pavement. I enjoyed this a lot tonight."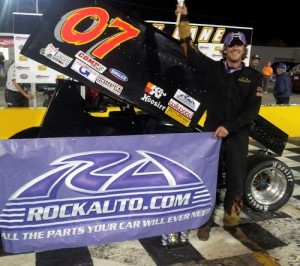 Gray, from Bartlett, Tennessee, chased Bridges to the checkered flag but could never get through lapped traffic in position to mount a challenge for the win and finished five car lengths back in the runner-up spot. His teammate Morgan Turpen, the K&N Fast Time Award winner and female hot-shoe out of Cordova, Tennessee, came home in the third position to notch the K&N Podium Award.
Those three drivers were the only three cars on the lead lap at the conclusion of the feature event, which went from green to checkered without a caution as Bridges set a blistering pace around the 3/8 mile oval. Indian Trail, North Carolina's Brandon McLain, in his first-ever asphalt race, scored a career-best fourth place finish and Asphalt veteran Tom Paterson, from Argos, Indiana completed the top five finishers.
Joe Larkin, from Suwannee, Georgia set fifth quick time and then led the second group of drivers, scoring a career-best USCS finish in sixth place. Jeff Willingham from Ripley, Mississippi came home in seventh and Mooresville, North Carolina's Tim Perry finished eighth. Bill Moore in ninth (Mount Ulla, N.C.) and Jason Troutman (Vale, N.C.) completed the top ten at the finish.
Morgan Turpen successfully defended her USCS all-time track record at Anderson Motor Speedway with a quick lap of 13.34 seconds to claim the K&N Fast Time Award. Johnny Bridges then kicked off the evening's racing action by winning the six cars, six lap Hoosier Speed Dash. Terry Gray won the Engler Machine and Tool First Heat and Brandon McLain scored his first-ever USCS heat race victory in the Butlerbuilt Second Heat. Morgan Turpen then received her time back after heat race action to grab the K&N Filters Pole Position. Jeff Willingham advanced the most positions (four) in the A-Main to earn the Wilwood Disc Brakes Hard Charger Award.
The next event for the USCS Outlaw Thunder Tour winged sprint cars will be Round #2 of the USCS "Road to Atlanta" Asphalt Thunder Tour on Saturday, April 26th at the 4/10 mile Southern National Motorsports Park in Kenly, North Carolina.  For rules, schedules and other info on the 2014 and 18th annual USCS Outlaw Thunder Tour winged sprint car series please visit www.uscsracing.com or call 770-460-7223 or 7770-865-6097.

USCS Outlaw Thunder presented by K&N Filters results at Anderson Motor Speedway Friday, April 25, 2014: 
K&N Fast Time Award: Morgan Turpen – 13.34 seconds (3/8 mile pavement)
Hoosier Speed Dash: Johnny Bridges, Morgan Turpen, Terry Gray, Tom Paterson, Joe Larkin and Jeff Willingham.
Engler Machine and Tool First Heat: Terry Gray, Johnny Bridges, Tom Paterson, Morgan Turpen, Joe Larkin and Jeff Willingham.
Butlerbuilt Second Heat: Brandon McLain, Jay Dunham, Tim Perry, Doug Gold, Bill Moore, Jason Troutman and Jim Blenkarn.
USCS Friday of Power at Anderson Speedway Main Event: 35-laps
1. 07 Johnny Bridges, Cherryville, NC
2. 10 Terry Gray, Bartlett, TN
3. 10M Morgan Turpen, Oakland, TN
4. 21B Brandon McLain, Indian Trail, NC
5. 100 Tom Paterson, Argos, IN
6. 33 Joe Larkin, Suwanee, GA
7. 28 Jeff Willingham, Ripley, MS
8. 36 Tim Perry, Mooresville, NC
9. 06 Bill Moore, Mooresville, NC
10. 4 Jason Troutman, Vale, NC
11. 07G Doug Gold, Concord, NC
12. 51 Jay Dunham, Augusta, GA
13. 46 Jim Blenkarn, Murfreesboro, TN
14. 67b Brian Thomas – DNS
USCS Outlaw Thunder Tour presented by K&N Filters Race Awards:
K&N Filters Fast Time Award: 10M – Morgan Turpen
USCS Sprint Hoosier Speed Dash: #07 – Johnny Bridges
Engler Machine and Tool First Heat: #10 – Terry Gray
Butlerbuilt Second Heat Award: #21B – Brandon McLain
K&N Filters Pole Award: #10M – Morgan Turpen
JE Pistons Top Guns Award: #07 – Johnny Bridges
K&N Filters Podium (3rd place) Award: #10M – Morgan Turpen
Wilwood Disc Brakes Hardcharger Award: #28 – Jeff Willingham
Keizer Aluminum Wheels Top Five Award: #100 – Tom Paterson
Saldana Racing Products Super Sixth Award: #33 – Joe Larkin
Pyrotect Racing Cells Lucky Seven Award: #28 – Jeff Willingham
DMI/Bulldog Rear Ends Top Ten Award: #4 – Jason Troutman
The United Sprint Car Series presented by K&N Filters would like to gratefully thank its sponsoring partners for their involvement in the 2014 and 18th anniversary USCS Outlaw Thunder Tour: K&N Filters, www.rockauto.com, Engler Machine and Tool, Butlerbuilt, Wilwood Disc Brakes, Saldana Racing Products, Pyrotect Racing Cells, DMI/Bulldog Rear Ends. KSE Racing Products, Schoenfeld Headers, DSR Fuel Systems, Brown and Miller Racing Solutions and Safety-Kleen.